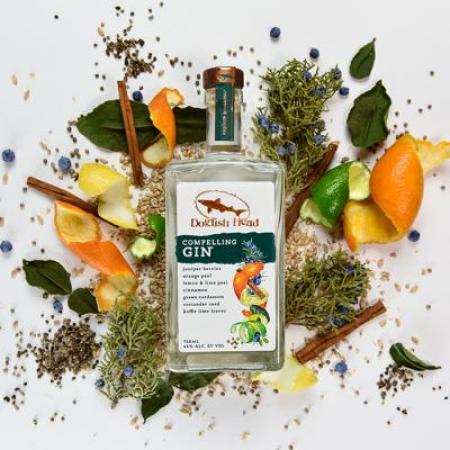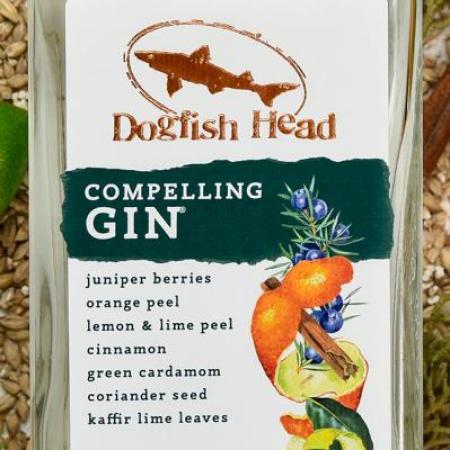 Compelling Gin
A bright & citrusy scratch-made Gin!
Strength:
44% ABV / 88 proof
---
Ingredients:
Analog Vodka redistilled with Juniper, Coriander Seed, Angelica Root, Black Peppercorn, Lemon Peel, Green Cardamom, Hibiscus, Orris Root, Orange Peel, Lime Peel, Lime Leaves and Cinnamon
---
Availability:
DE, MD, VA, DC, PA, NJ
---
Tasting Notes:
Peppery citrus zest followed by baking spices and a lemon-lime finish
---
Most of our beer recipes start as ideas born out of what can be found in the Brewpub kitchen. Compelling Gin is no different, made from scratch using a culinary-inspired botanical mix.
"Since the start, our off-centered ales have been inspired by what was found in the spice drawer or cooler of our brewpub's kitchen. The recipe for Compelling Gin came together the same way, by pulling a medley of compelling ingredients and whatnot from our brewpub." – Dogfish Head founder & president Sam Calagione
Gin is simply vodka distilled with juniper berries and other botanicals. And what better base to start with than our very own scratch-made Analog Vodka. We pot distill using a gin basket burting with a citrus-forward botanical mix, Bright orange, lemon and lime peel take the lead, with the juniper berries rounded out by flavors of cinnamon, green cardamom, coriander seed and lime leaves. Enjoy peppery citrus zest flavors followed by baking spices and a lemon-lime finish.. Bright & citrusy, this highly mixable gin transforms a few go-tos such as Gin & Tonics and Bloody Marys, or as a back bone to the classics.
Silver medal winner in the 2019 USA Spirits Ratings at 86 points.
DOGFISH HEAD Compelling Gin. Other Gin. 44% Alc/Vol. Dogfish Head Distilling Co., Milton, DE
Dogfish Head Compelling G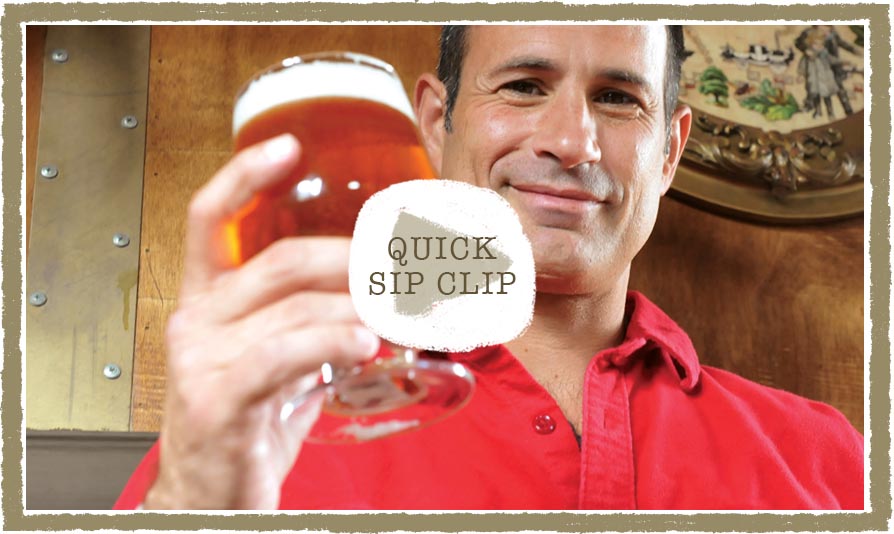 ---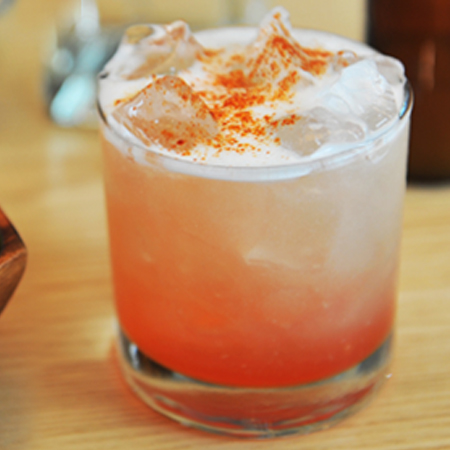 Ingredients:
Club Soda
1 Egg White
2 Dashes Lemon Bitters
1/2 oz. Simple Syrup
1/2 oz. Fresh lemon juice
3/4 oz. Aperol
1 1/2 oz. Dogfish Head Compelling Gin
Crushed Cardamom
Directions:
Dry shake Gin, lemon juice, simple syrup, lemon bitters and egg white in a shaker. Add ice and shake for 10 to 15 seconds, until frothy. Strain into a cocktail glass. Pour Aperol into center of cocktail (it will sink to bottom). Sprinkle Cardamom on top.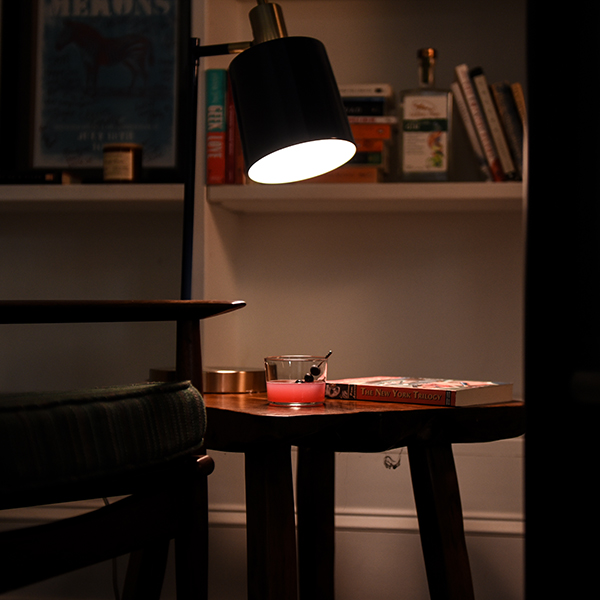 Ingredients:
2 oz. Compelling Gin
1 oz. Fresh Lime Juice
1 oz. Simple Syrup
8 Blueberries
Directions:
Add Blueberries, simple syrup and muddle. Add the rest of ingredients. Shake Hard For 10 seconds. Double Strain into a chilled Martini or Coupe glass. Garnish With skewer of blueberries.