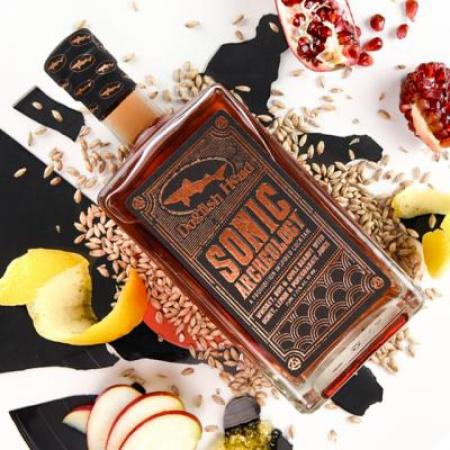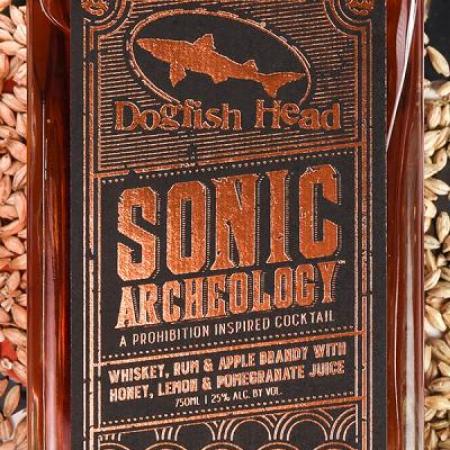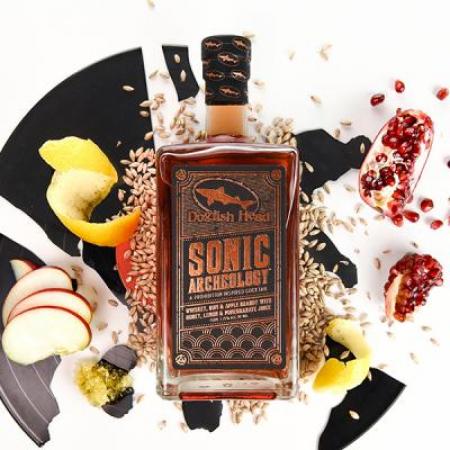 Sonic Archeology
A Prohibition Inspired Bottled Cocktail
---
Ingredients:
Dogfish Head whiskey, rum & brandy, with honey, lemon & pomegranate juices
---
Availability:
DE, MD, VA, DC, PA, NJ
---
Tasting Notes:
Brick red color with aromas of candied fruits, citrus and rose petal with woody undertones. Balanced sweet/tart flavor of tropical fruit, lemon and a pleasant oaky astringency. 
---
Music has been a part of Dogfish since we opened our doors in 1995 as the smallest craft brewery in America.

- Sam Calagione, Dogfish Head Founder

The 1920s saw the combination and convergence of several genres of American music to be the foundation for Rock & Roll. At the same time prohibition sparked a boom of cocktailing in bustlingspeakeasys throughout the country. Sonic Archeology is our liquid tribute to the blending of sounds & spirits, a ready to drink bottled cocktail inspired by the roaring '20s & reimagined for today.
Sonic Archeology is a melding of Dogfish Head whiskey, rum and apple brandy, with honey and real lemon & pomegranate juices to create a totally original drinking experience.
Now you don't need to sacrifice flavor complexity for convenience when you are wanting a cocktail but dont have all the fixins'. Sonic Archeology combines a trifecta of spirits & real fruit juices to create flavors of balanced sweetness & tropical fruits, lemon and a pleasant oak character. Just pour over ice & enjoy as the perfect evening cocktail.
DOGFISH HEAD Sonic Archeology. Blend of Whiskey, Rum and Apple Brandy flavored with Honey, Lemon and Pomegranate Juice. 25% Alc/Vol. Dogfish Head Distilling Co., Milton, DE
Dogfish Head Sonic Archeo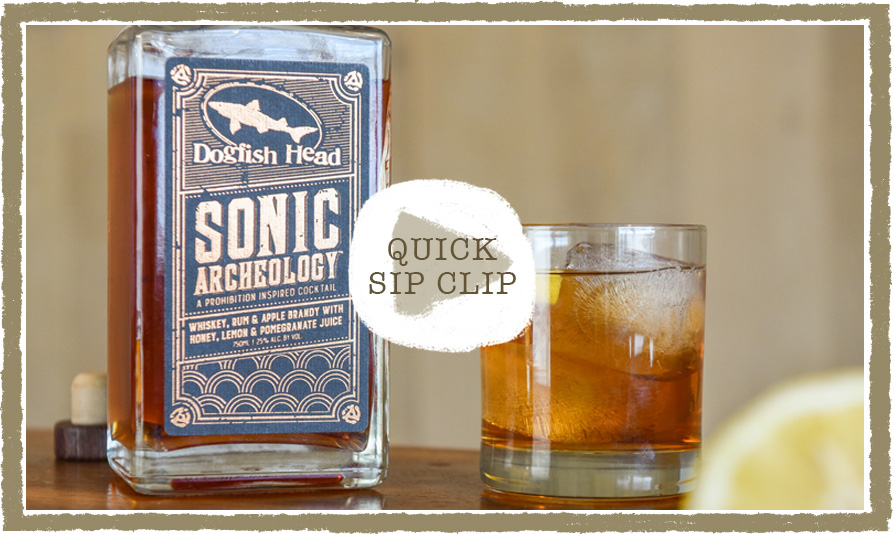 ---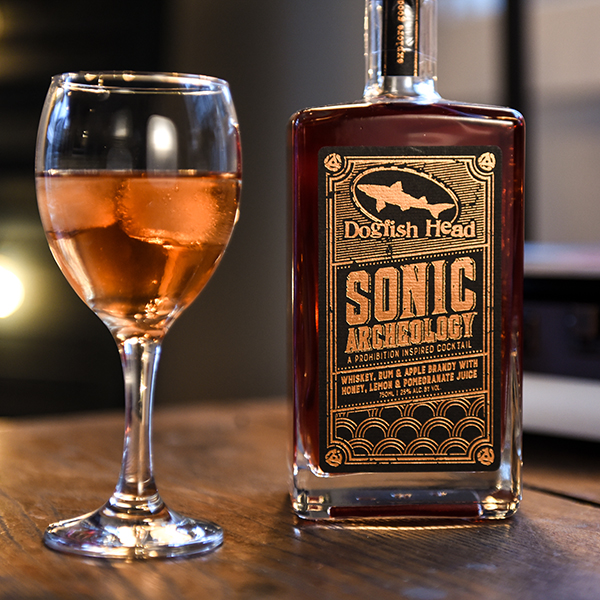 Ingredients:
2 oz Sonic Archeology
2 oz Sauvignon Blanc
Directions:
Add equal parts over ice.