The story of Dogfish Head began in June of 1995 when we opened Dogfish Head Brewings & Eats - the first state's first brewpub - in Rehoboth Beach, Delaware. The plan was to bring original beer, original food and original music to the area … and we did just that!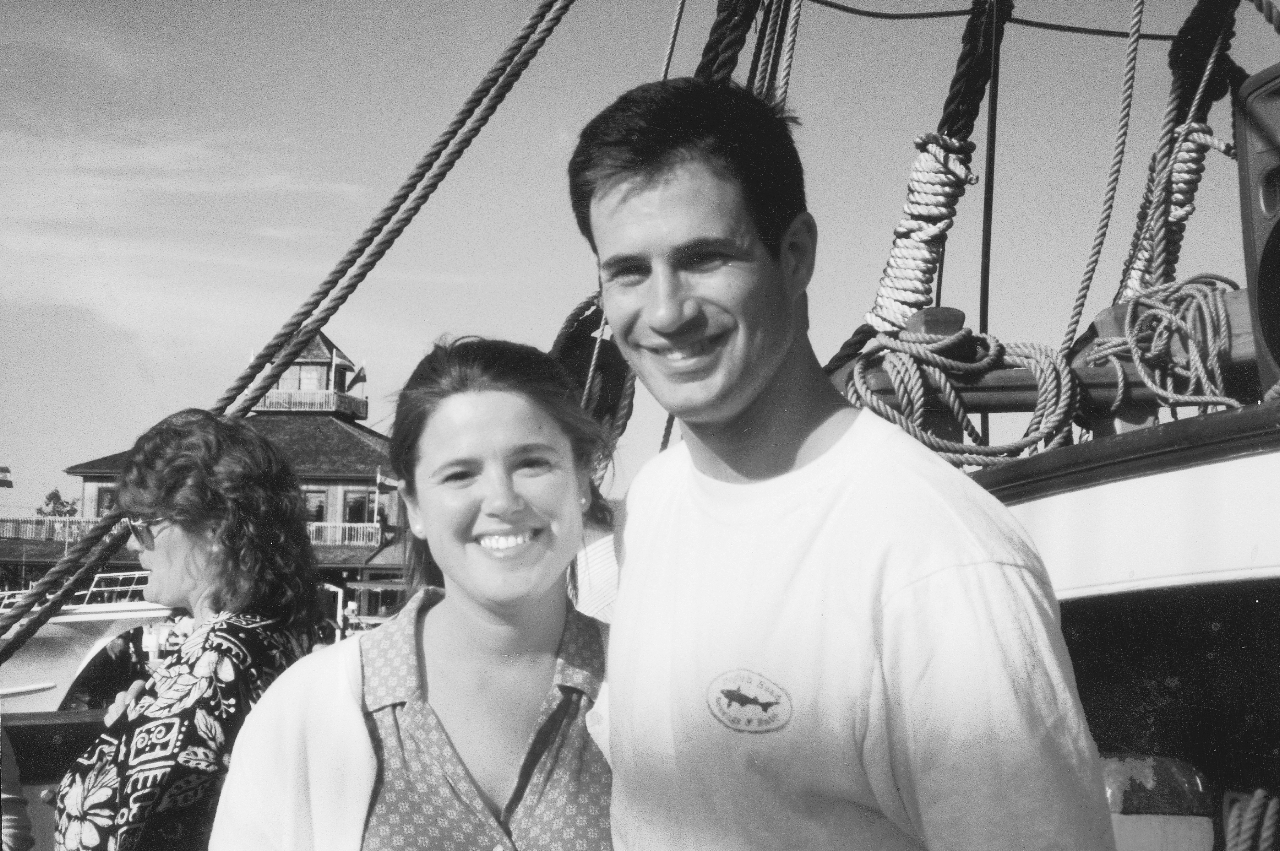 Dogfish Head founders Sam & Mariah Calagione
Not only was Dogfish Head Delaware's first brewpub, it was the smallest commercial brewery in America. With our very first batches brewed on a system that was essentially three little kegs with propane burners underneath, we were brewing 12–gallon batches of beer for a whole restaurant. It proved to be more than a full time job and when the doors to the brewpub first opened, we brewed three times a day, five days a week! The benefit? Brewing on such a small system gave us the ability to try out a myriad of different recipes.
Insert 'off-centered ales for off-centered people.' Our hunger for weird ingredients and venturing off the beaten path was just getting started.
Fast-forward to 2002 and after spotting a stainless-steel bin in a rural Delaware scrapyard, our wandering eye led us to explore the wild and wonderful world of spirits. Sam worked with engineers and welders to reshape the tank in the form of a pot still – lovingly named 'Frankenstill' – and Dogfish Head's days of hand-distilling gin, rum and vodka began. We've since expanded our distillery operations to our Milton campus with Frankenstill standing guard.
The off-centered fun doesn't start and stop with beverages though … oh no. Here at Dogfish Head, we have places to eat, places to drink and places to play. The missing link? A place to stay. That's why in 2013 we designed a basecamp for both beer lovers and adventure seekers alike – the Dogfish Inn. Located in historic downtown Lewes, it's chock-full of style, quality and craft … let's spend the night together!
But before we get ahead of ourselves, we have a bit more to tell you. With connections to both the Maine and Chesapeake regions from our founders Sam and Mariah, it only makes sense that our coastal roots would lead to our very own seafood restaurant, and in 2016 we opened the geographically enamored Chesapeake & Maine. Featuring fresh seafood sourced exclusively from the coastal waterways between the Chesapeake & Maine, you'll find our take on coastal dishes, handcrafted cocktails and Dogfish beers in a casual, nautical-themed atmosphere.
And just when you think there couldn't possibly be more…
Still motivated by non-conformity, by spontaneity and by experimentation, Dogfish Head turned the page of our American craft beer story in May of 2019 and started our next chapter by merging with our longtime friends-in-beer – The Boston Beer Company. With complementary portfolios and a band of like-minded co-workers, we combined our own superpowers in the beer, spirits and off-centered experience worlds with Boston's superpowers in building strong, diverse and innovative brands in craft beer and beyond-beer.
With a never ending thirst for exploring new waters, in 2021 we swam south for our next great adventure - Dogfish Head Miami. Located in the Wynwood neighborhood, this off-centered outpost was a place to celebrate all of our favorite things - innovative ales, tasty eats, and immersive art. Sadly, due to significant rent increases throughout the Miami area, we made the difficult business decision to permanantly close our Dogfish Head Miami doors in Nov. 2022. 
At every turn, our restless desire to create what hasn't yet been imagined keeps us bringing new stories, new tastes, and new experiences to you.
Because we don't jump on the bandwagon, we are the funky drummer.
Every day is an exploration. A thoughtful search through a crowded world, we search for that thing that makes us pause - that idea that excites us, the inspiration we can't ignore. The journey can be unpredictable … but that's what makes it kind of magical.
If you haven't had the chance to taste Dogfish Head, find a beer, track down one of our spirits or visit one of our restaurants! You'll quickly see why international beer writer Michael Jackson called Dogfish Head "America's most interesting and adventurous small brewery."