Friday, September 11 to Sunday, September 13

Dogfish Inn
105 Savannah Rd.
Lewes, Delaware 19958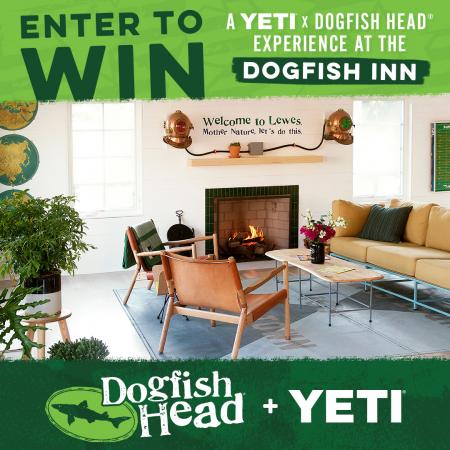 When it comes to adventure, our friends at YETI know how to do it up. Which is  why we're teaming up with them to offer one epic weekend here in coastal Delaware later this year. That's right, we're pulling out all the stops to get our wild on with the folks who know it best. With the Dogfish Inn as your basecamp, here's what you can expect from the YETI x Dogfish Head Weekend! *Bookings will go live at noon on Wednesday, Jul. 15 - call 302-644-8292 to book!*
Friday
Once you arrive Friday evening, settle in and get ready to kick things off with our new friend Tuffy Stone ... yes, that Tuffy Stone! He'll be grilling up some small bites on our Cowboy Cauldron while Dogfish Head founder Sam Calagione walks you through the perfect beer to sip during a Fireside Chat (socially distanced, of course).
Saturday
Come Saturday, it's all about what YOU want to explore! You'll have a choice of three different excursions for Saturday morning / afternoon that include:
Excursion Options – DAY
Cooking (and tasting) with Tuffy
Padding Excursion along the coastal Delaware waterways
Bike Excursion that includes a 20-mile loop to Rehoboth Beach and back
Once you've had your fill of all things adventure, the night is yours! Our shuttle will be available to help you travel to and fro' Rehoboth where you can enjoy Dogfish Head Brewings & Eats or our geographically-enamored seafood restaurant Chesapeake & Maine. Even better, we'll be hosting Benevolence Night at both restaurants with a portion of the dine-in proceeds going to the Lewes-Rehoboth Canal Improvement Project! You'll also discover a YETI pop-up shop in our Rehoboth courtyard featuring a selection of YETI's most popular items, with those sales also benefitting the Lewes-Rehoboth Canal Improvement Project. 
Sunday
Time to pack it up and head on out. We'll be hosting brunch at Brewings & Eats so we can both get our fill of this amazing weekend one last time!
Swag in the rooms!
You didn't think we'd let you go a whole weekend without some goodies to take home, did you? In each and every room at the inn, you'll find...
Dogfish branded YETI Roadie Cooler + YETI swag
Note: We're also going to hook you up with two UBER codes for travel ease and safety - one for Friday night and one for Saturday Night.
Want to make sure you snag a room for this INNcredible weekend? *Bookings will go live at noon on Wednesday, Jul. 15 - call 302-644-8292 to book!*
BUT WHAT IF YOU COULD WIN YOUR WAY TO THE YETI X DOGFISH HEAD WEEKEND…
Spoiler alert: you can!
There's nothing we love more than seeing our off-centered ales out in the real world and through your eyes. Whether you've captured them while you're kayaking, hiking, post-surfing or even disc-golfing, we love all the ways you've brought us (and our cans) along for the ride!
Now we're giving you a chance to win a trip to hang with the YETI x Dogfish Head crew here in coastal Delaware!
Simply post a picture* to Instagram using #offcenteredYETI AND #DogfishEntry during the month of July (7/1/20 – 7/31-20). We'll choose our favorite photo and you'll be on your way to a weekend trip for two to the home of Dogfish Head!
*must have both hashtags in order to qualify.
So what EXACTLY are we looking for in this photo? Well, here's the nitty gritty…
But what EXACTLY are you winning?
All the amazingness outlined above (for you & 1 friend!) + a signed copy of "Cool Smoke: The Art of Great Barbecue: Tuffy Stone Cookbook"
Winner will be announced in August. Full Terms & Conditions available here.
*current dates for the YETI weekend are subject to change.
---
Sunday, September 27

Dogfish Head Craft Brewery
6 Cannery Village Center
Milton, Delaware 19968
Dogfish Dash 2020 Canceled
After many long discussions and exploring a myriad of scenarios of how we could bring this year's run to life, we've made the very difficult decision to cancel the 2020 Dogfish Dash. We know it's hard to hear, it's hard to say. This was not a decision that we took lightly, but we feel it is the responsible decision to help us all get through these uncertain times, and back to sharing beers together while running for nature!
Stay safe, stay healthy, and we'll see you next year!
Questions? Please shoot an email to our Dogfish Dash Sorter Outer Mark Carter at mark.carter@dogfish.com.
What's more off-centered than 3.6 miles of coastal Delaware that starts and ends at Dogfish Head?! Now in its 15th year, the 2020 Dogfish Dash is set for Sunday, Sept. 27! As our largest Beer & Benevolence event, the Dash continues to benefit The Nature Conservancy's efforts in Delaware, raising more than $979,600 to date.
---
With deep roots in coastal Delaware, the Dash is just one of many ways we're able to give back to a community that has helped us nourish those roots and the beautiful surroundings we're fortunate to call home. 
When you run the Dash, you're not only helping a great cause, you're sure to have fun while doing it! Whether it's the off-centered distance, the post-race beers or the recycled costume contest, this an event like no other. So lace up those sneakers and get ready to run for nature!
Special message – We know these are uncertain times due to continued concerns around COVID-19 and should things change on our end, we will be sure to provide updates. But as it stands now … we're excited to lace up our sneakers and run for nature this September!
---
Saturday, October 3

Dogfish Head Craft Brewery
6 cannery Village
Milton, Delaware 19968
Dogfish Head's Tasting Room & Kitchen will close at 3 p.m. for a private event on Saturday, October 3.
---