Chesapeake & Maine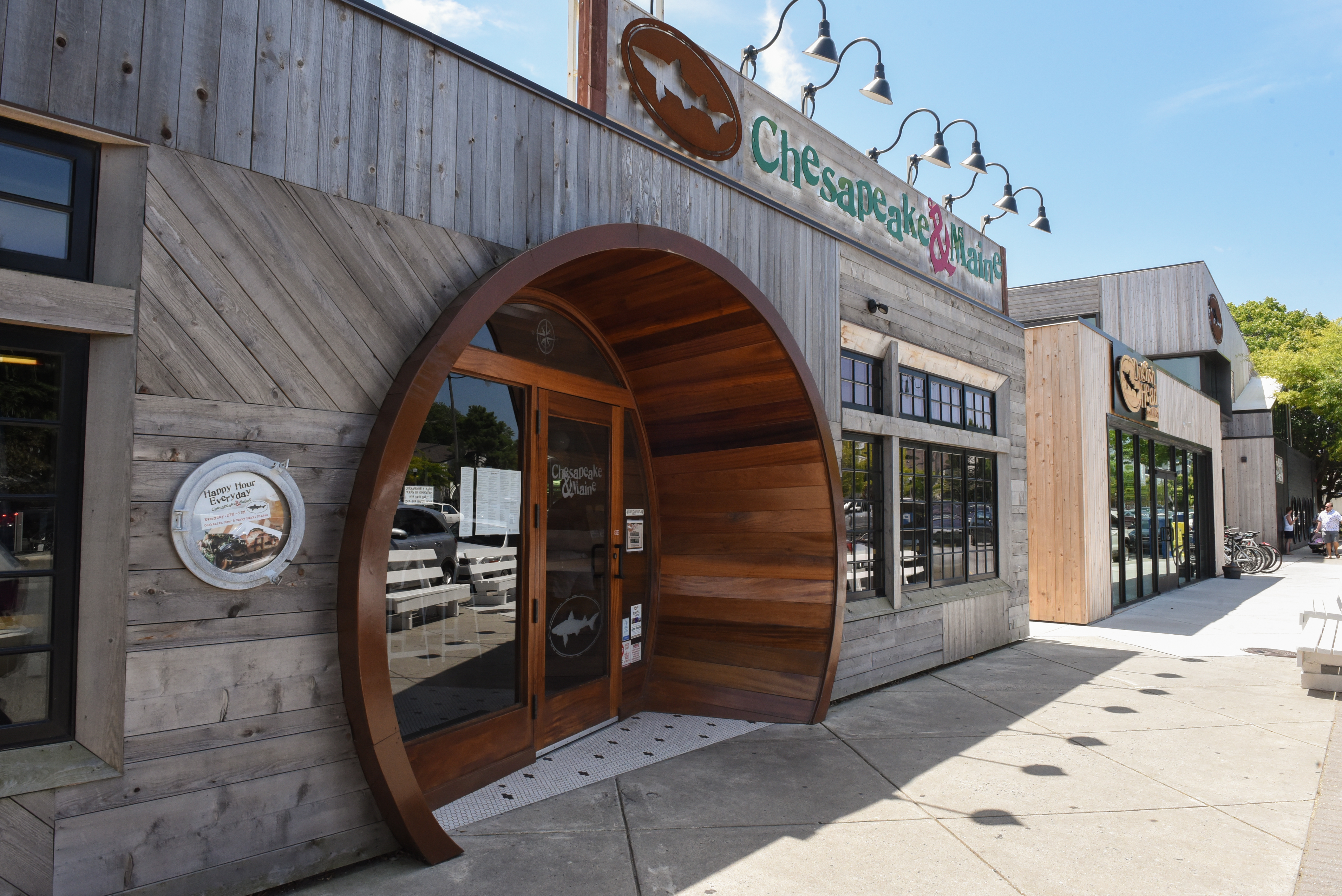 Hours
Address
316 Rehoboth Ave.
Rehoboth Beach, DE 19971
(302) 226-3600  
Reservations
Do we take reservations? Heck yeah! We accept reservations for inside dining, as well as patio tables day of and weather permitting. A credit card is required for reservations. Cancellations or no-shows within 24 hours of the reservation will be charged $20 per person.
Exclusives on tap
Weekly Specials
: $15 1.25 lb whole lobsters all day, sides à la carte
: Locals Night: 25% off total check
: All Day Happy Hour
: $12 crab cakes, sides a la carte
Off-Centered Society Members Double Points
: Enjoy a chef curated $45 dinner for two that changes weekly
: 25% off all oysters including roasted, half-dozen, and dozen orders!
: 15% off cases of Dogfish Head beers and cocktails. Mix and match your own 24 pack case.
Upcoming Events
We are officially open for on-site eating/drinking! Open from 3 - 10 p.m. daily indoor seating! Limited outdoor seating available. Reservations aren't required, but they are recommended - give us a jingle at 302-226-3600 to make your reservation! Curbside pick-up/take-out is no longer available.
*Please note that we are not seating more than 8 guests together, any parties larger than 8 will be seated at separate tables.*
Inspired by founder Sam Calagione's summers spent in Maine and Dogfish Head's connection to the Chesapeake region, Chesapeake & Maine is Dogfish Head's Seafood & Cocktails spot. With seafood sourced exclusively from the Chesapeake to Maine regions (starting to see where the name came from?), you'll find our off-centered take on coastal dishes, handcrafted cocktails and Dogfish beers in a casual, nautical-themed atmosphere.
A custom-built raw bar serves an ever-rotating selection of oysters, clams and seafood from the waters of our namesake regions, as well as our innovative 'Smoke in the Water' oysters. Developed in collaboration with our friends at Hoopers Island Oyster Aquaculture Company, these unique oysters are settled in holding pens filled with Chesapeake Bay water infused with culinary wood-smoked salt, making for the most off-centered bivalve in the US! 
As a James Beard Award semi-finalist nominee for 'Best Bar Program,' Chesapeake & Maine's inventive cocktail program highlights our scratch-made spirits from Dogfish Head Distilling Co. Holding true to Dogfish Head fashion, you'll find an offbeat approach from our mixologists with new inspired drinks, keg-conditioned cocktails and of course, off-centered ales.
With original artwork from artist Jon Langford, the restaurant is playfully decorated with seafaring interpretations of country and rock music icons who anchor Chesapeake & Maine's playlist: Billie Holiday, Chet Baker, John Coltrane, Miles Davis, Elvis Presley and Patsy Cline. Other artists include Travis Louie who created otherworldly sea characters to adorn the walls, as well as Tony Millionaire who crafted an alley of sea monsters and fantastical nautical maps.
We currently work with the DE Center for the Inland Bays and participate in their "Don't Chuck Your Shucks" program. All oyster shells shucked in house are saved and re-distributed to the team at the DE Center for Inland Bays. The program reuses the shells in local habitat restoration projects such as Living Shorelines and Oyster Gardening which helps to improve water quality in the Chesapeake Bay which in return betters the quality of seafood we put on our plates at Chesapeake & Maine. We are involved with The Surfrider Foundation Ocean Friendly Restaurants Program. This program focuses on reducing plastic pollution and carbon footprint in restaurants. We highlight avoiding the use of plastic/Styrofoam, having more innovative vegan/vegetarian options for our guests, and ensuring our seafood is sourced sustainably. We look to showcase this program and continue to grow our relationship with local organizations in 2021.
---
Stroller Policy

As much as we love when our little off-centered fans come to see us, we do have a strict no stroller policy within the restaurant. We know it's hard to hear, it's hard to say! Due to safety reasons (both for our guests and co-workers), we need to ensure that all aisles and exits are clear at all times. Our team is happy to help you find a place outside to store your stroller during your visit, but unfortunately we cannot allow them inside the building.
Reservation Policy

Do we take reservations? Heck yeah! We accept reservations 30 days in advance for inside dining only. Patio reservations are available but are only taken the day of and weather permitting*. A credit card is required to hold your reservation due to no-shows and last-minute cancellations. Any cancellations or no-shows within 24 hours of the reservation, will be charged $20 per person.

*If the weather happens to turn bad, we may not have a table available for inside dining, but we will do our very best to accommodate.