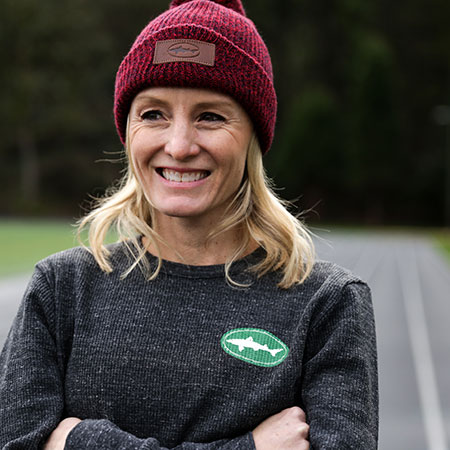 Calling all beer drinkers, running enthusiasts and those seeking a healthy balance of work and play in their day-to-day lives – welcome to the Dogfish Head Run Club!
 
Created with both runners and beer lovers in mind, the Dogfish Head Run Club is a virtual community that offers training tips, workout regimens, inspirational advice and nutritionally-balanced recipes (including beer pairings!) … all carefully curated by Run Club ambassador and American long-distance runner, Shalane Flanagan.
 
As a four-time Olympian, Shalane's career is decorated with noteworthy accomplishments, including winning a silver medal for the 10,000m at the Beijing Olympics in 2008, becoming the first American woman in 40 years to win the New York City Marathon in 2017 and releasing two New York Times best-selling cookbooks, 'Run Fast. Eat Slow.' and 'Run Fast. Cook Fast. Eat Slow.'
"For me, life is all about balance; balancing flavor and nutrition, and indulgence and nourishment. That's why, instead of counting calories, I focus on eating and drinking foods and liquids made only with wholesome, natural ingredients – and yes, that includes beer. Dogfish Head's focus on using culinary ingredients to brew its beers fits my lifestyle perfectly! I can treat myself to a 90 Minute Imperial IPA after a hard workout, spend a Saturday sharing some Slightly Mightys with friends, create the perfect food and beer pairing with a classic 60 Minute IPA or sip on a SeaQuench Ale after a sweaty, summertime run."
 
Now she's here to help guide you. Take a look around and get ready to run 2020!
Want to track your runs? Stay connected with fellow Dogfish Head Run Club runners? Or even join us for our next meet-up? Follow us here!