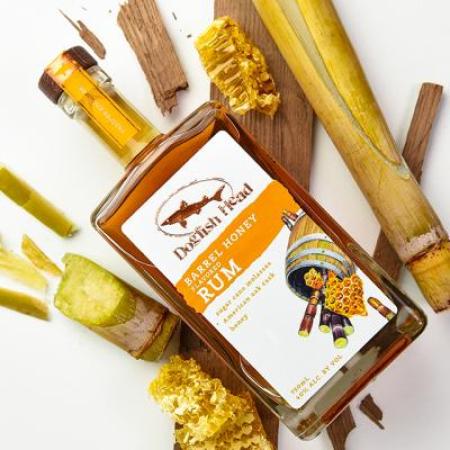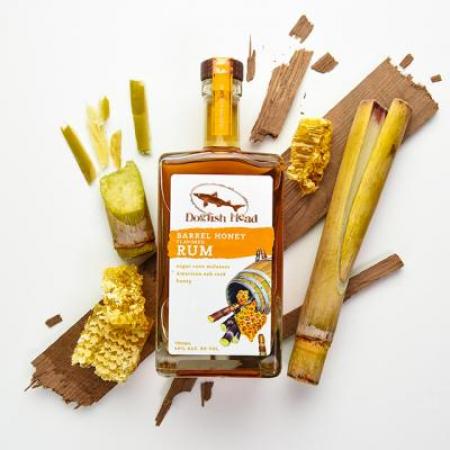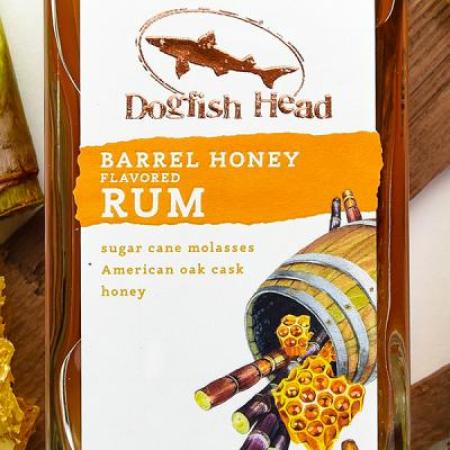 Barrel Honey Rum
Smooth, Rummy Goodness
Strength:
40% ABV / 80 proof
---
Ingredients:
Grade A fancy molasses, fermented using our flavorful 'Doggie' yeast, sweetened with a touch of local honey, aged in new char # 3 American Oak Barrels 
---
Availability:
DE, MD, VA, DC, PA, NJ
---
Tasting Notes:
Off the bat you get baking cocoa, charred wood followed by flavors of butter cookies and caramel, with a warming finish of fruitcake spice, vanilla and honey.
---
A twist on our local favorite
"We got our start in 2002 initially distilling off-centered rums, using Rehoboth's connection to the coast as inspiration for a great sipping rum. Over the years the hands-down local favorite has been our Brown Honey Rum, subtly sweet and smooth sipping rum. Barrel Honey Rum is an evolution of this original favorite, distilled in a manner which celebrates the unique Dogfish Head ingredients & process" – Dogfish Head founder & president Sam Calagione
How it's Made
It all starts in the Brewhouse, right alongside our off-centered ales. Unlike Analog Vodka which uses 2-row barley as its sugar source, rum must be made from cane sugars. We choose Grade A fancy molasses as our sugar source. We like molasses rather than cane juice or table sugar because it results in a richer rum spirit, better suited for aging. On the way to the cellars we add our proprietary 'Doggie' yeast – we chose this because the yeast imparts fruity esters, which add a ripe banana character.
In the distillery, Head Distiller Graham Hamblett runs the wash through our 500-gallon copper pot still. The alcohol is stripped, and out comes 80-proof low wine. He then runs the low wine through its spirit run on the same pot still, cutting out the heads and tails to capture the hearts, the cleanest part of the spirit. The rum is proofed down to barrels strength (~110 proof) and we age it in new #3 char American oak Barrels.
Once the distiller determines the spirit is ready, we dump the barrels into a tank proof down with water to bottle strength (80 proof), add a touch of honey and then bottle.
DOGFISH HEAD Barrel Honey Rum. Flavored Rum. 40% Alc/Vol. Dogfish Head Distilling Co., Milton, DE
Dogfish Head Barrel Honey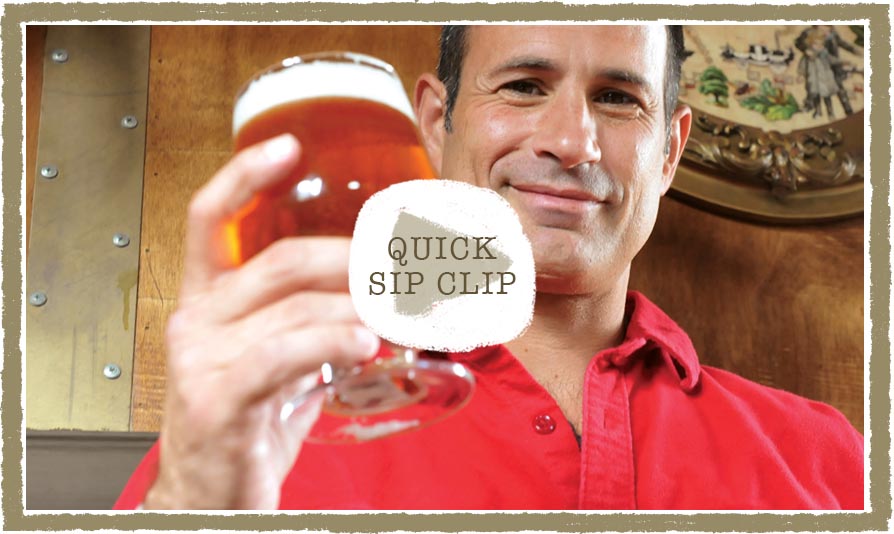 ---
Ingredients:
1.5 oz. Barrel Honey Rum
1 oz. Agave Syrup
1 oz. Lemon Juice
2 oz. Tea
6 Mint Leaves
Shake all ingredients with ice & strain over ice. Garnish with mint sprig. 
Directions:
Fresh black tea, lemon juice, mint agave syrup, & Dogfish Head Barrel Honey Rum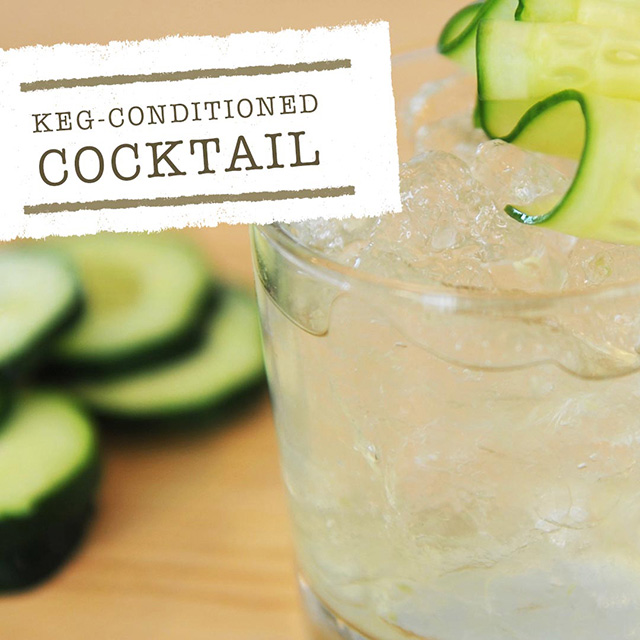 Ingredients:
Dogfish Head Distilling Co. Mixing Rum
Dogfish Head Distilling Co. Barrel Honey Rum
Orange Juice
Lime Juice
Passion Fruit Juice
Grenadine syrup
Simple Syrup
Lime Wheel and Orange Slice (garnish)
Directions:
Fresh lime, orange, & passion fruit juice, grenadine, simple syrup, & Dogfish Head Barrel Honey Rum.