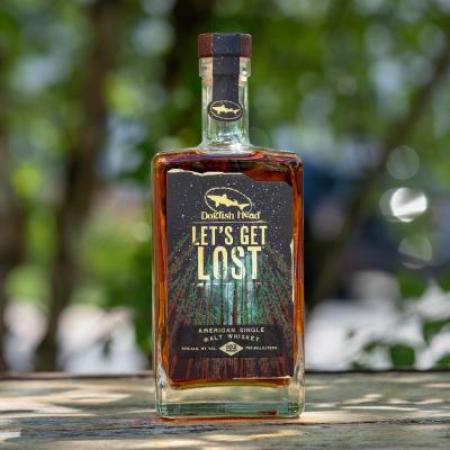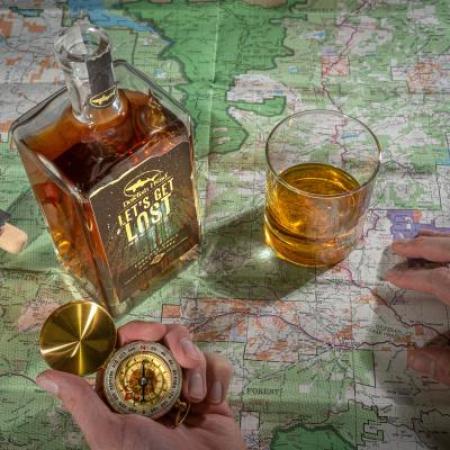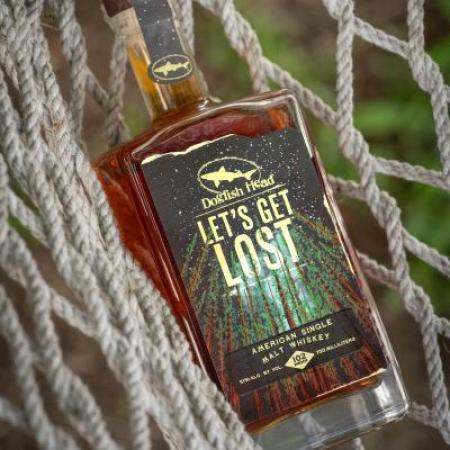 Let's Get Lost Whiskey
Gold Medal Winner - American Single Malt Category - 2020 L.A. Spirits Awards
Strength:
51% ABV / 102 Proof
---
Ingredients:
Same high-quality ingredients used in Dogfish Head Ales
4 grains blend, selected over 20 years of brewing: Pale Malt, Crystal Malt, Coffee Kiln Malt, high ratio of Applewood smoke Malt
We selected Applewood Smoke Malt in lieu of Peat Smoke often associated with Scotch, because it 'domesticated' the profile a bit. 
Fermented with doggie ale yeast, to add a banana sweet note.
---
Availability:
Delaware, Maryland, Virginia, New Jersey and Washington
---
---
We've been distilling for two decades here at Dogfish Head. We've introduced a portfolio of award-winning whiskeys, each scratch-made with their unique, off-centered story and process. Now introducing our most robust, high end, most special whiskey ... 'Let's Get Lost, American Single Malt Whiskey'. Distilled from scratch using a custom blend of malted barley and aged over three years in charred oak barrels, it's an an intensely immersive whiskey, layered and nuanced, both warming and enticing! Like with music, a good whiskey has an alluring, inviting quality which draws you in and fuels your soul. It rouses your senses and invites you on an introspective journey. Each sip can energize you, calm you, excite you – expressing itself better than words can articulate. This contemplative whiskey is meant to be shared and sipped slowly.

'Let's Get Lost' will officially hit shelves (where our full-proof spirits are sold) in 750 ml. bottles in July of 2021, just ahead of fall whiskey drinking season!
Gold Medal Winner - American Single Malt Category - 2020 L.A. Spirits Awards
DOGFISH HEAD 'Let's Get Lost, American Single Malt Whiskey. 51% Alc/Vol. Dogfish Head Distilling Co., Milton, DE
Dogfish Head Let s Get Lo