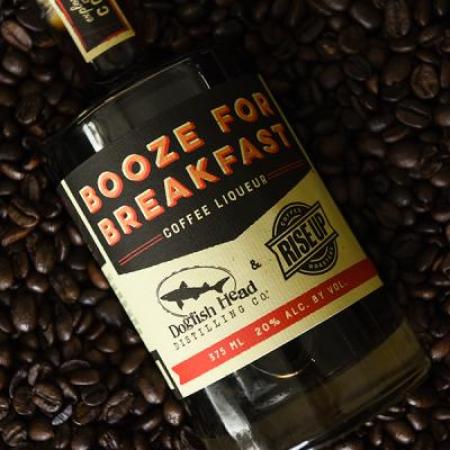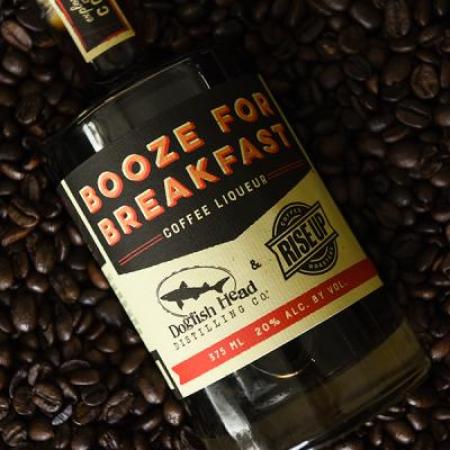 Booze for Breakfast
An exploration of goodness with Rise Up Coffee Roasters
---
Ingredients:
2-row malt, coffee, maple syrup, molasses, scrapple, nutmeg, cinnamon, brown sugar
---
Availability:
Rarity - Dogfish Head properties
---
Tasting Notes:
COLOR: Deep mahogany
AROMA : Spicy of sage, nutmeg and cinnamon.
FLAVORS : Warming sensations of cinnamon & nutmeg with pleasant coffee notes.
MOUTHFEEL : Smooth, creamy & coating
---
This all started back in 2017 when our distillers borrowed some Beer for Breakfast. Brewed with all sorts of breakfast ingredients, they took this tricked out stout, distilled it, and let it age in used bourbon and new char American oak barrels ... for two years! The result? A medium-bodied whiskey with a delicate malt caramel backbone, and a bit of spiciness from the scrapple. Yes, scrapple ... it's one of those breakfast ingredients we mentioned earlier.
From there, our distiller Darren had an idea of how to elevate and celebrate that hint of spiciness by creating our very own spin on a Mexican spiced coffee, called Café de Olla.
Working with our friends at Rise Up Coffee Roasters (who happen to now have a location just down the street from our Rehoboth Beach brewpub!), we tasted several blends of whiskey and coffee, and collectively landed on a final combination. We then brewed up a batch of Rise Up's Organic House Roast Coffee in our 50 gallon R&D still - making it the first ever pot-still brewed coffee! - before blending it with ground nutmeg, cinnamon and a touch a dark brown sugar.
The ultimate coffee liqueur, Booze for Breakfast encompasses our commitment to exploring goodess while celebrating the spirit of collaboration.
Available only at our Milton brewery and Rehoboth brewpub while supplies last.
DOGFISH HEAD Booze for Breakfast. Coffee Liqueur. 20% Alc/Vol. Dogfish Head Distilling Co., Milton, DE