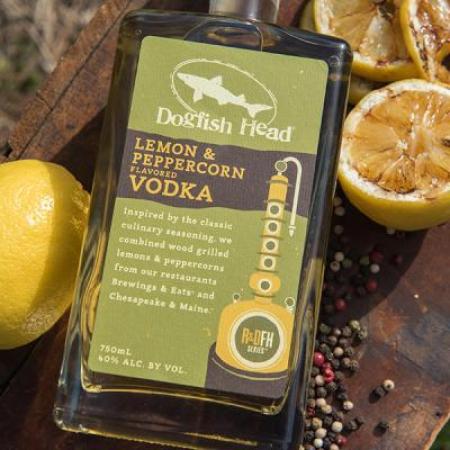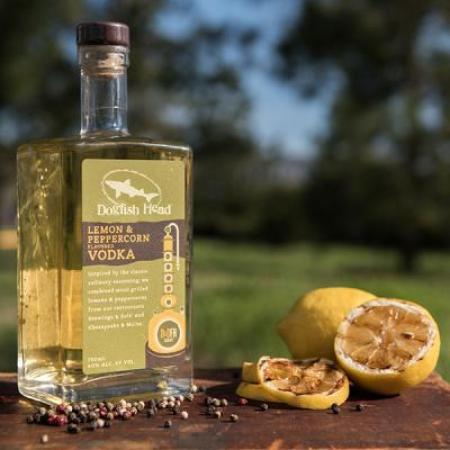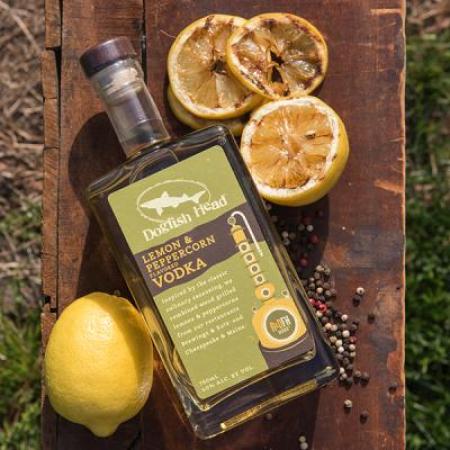 Lemon & Peppercorn Vodka
Summer cocktail seasoning!
---
Ingredients:
2- row barley , R-O Water, lemon peel, grilled lemons, peppercorn medley
---
Availability:
Dogfish Head Brewings & Eats, Chesapeake & Maine, Milton Tasting Room & Kitchen
---
Tasting Notes:
Pale blonde color with aromas of candied lemon, subdued cracked peppercorn and distant campfire smoke. Sweet citrus flavors with a mild tongue tingling peppery zing. Light and refreshing with a delicate smoky finish. 
---
A vodka that captures and celebrates the spirit of both of our Rehoboth restaurants. Looking to bring these two worlds together we were inspired to combine the quintessential seafood seasoning found at Chesapeake & Maine, with a wood fire smoked twist done at Brewing & Eats.
Using Analog Vodka as our base we first distill a spirit with dried lemon peel & a medley of peppercorns. We then use this citrus-peppery spirit as a base to macerate hand-sliced, wood-fire grilled lemons from our Brewing & Eats.
DOGFISH HEAD Lemon & Peppercorn Flavored Vodka. 40% Alc/Vol. Dogfish Head Distilling Co., Milton, DE