Innovation, experimentation and R&DFH
Wednesday, July 31, 2019
---
You've likely heard of research and development – often abbreviated to a simple R&D – but what about R&DFH? A combination of R&D and Dogfish Head (DFH … get it?), it's the off-centered approach we take to creating some of our most creatively adventurous beers.
Located in the heart of our Milton campus, the R&DFH brewery is a 7-barrel system that was designed to be an exact replica of our 200-barrel brewhouse. From the oxygen injection system to the continual hopper, and even the ingredient pot, this brewery may be smaller, but it uses the same processes and processing times to ensure consistencies when scaling up a recipe.
But scaling up a recipe isn't quite as easy as it sounds. It takes countless iterations, a bit of trial and error, and a strong brewing wherewithal before we can take a draft-only tasting room exclusive and get it to the point of a national release. And when you have Dogfish founder Sam Calagione coming to you with ideas like a vibrant red super gose made with eight different ingredients, experimental brewing can get a little, well, interesting. Hello, SuperEIGHT.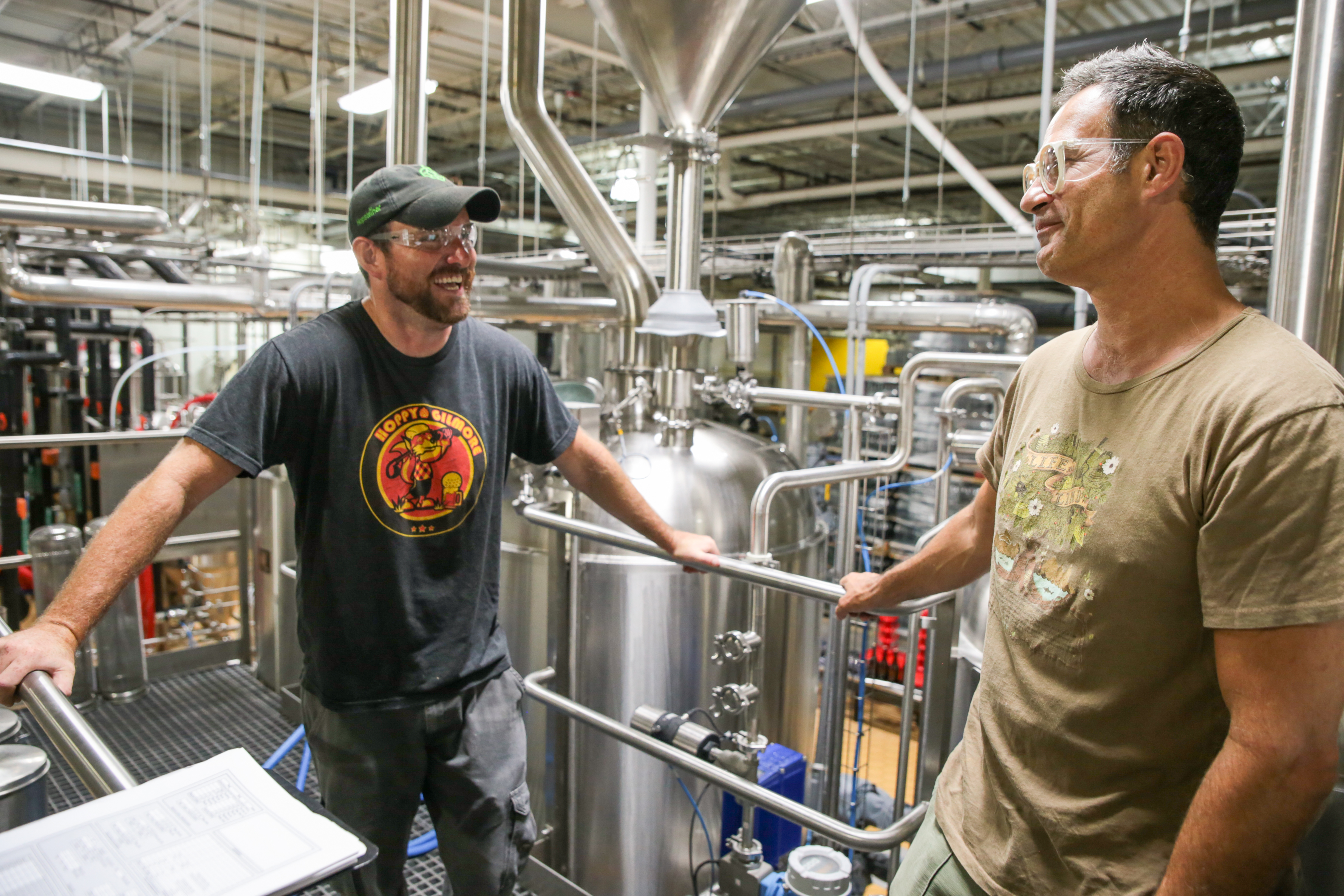 Lucky for us, we have innovation brewer Dan Weber to help navigate those uniquely off-centered ales and bring Sam's visions to life.
With a BS in Engineering from the University of Iowa, it's not all that surprising that Dan's aptitude for figuring out how to build things would ultimately lead him to building out off-the-wall beer recipes. But before he started brewing, he did a bit of reppin'.
"Before I became a brewer, I was actually a chemical rep," says Dan. "I didn't mind what I was doing, but I had a passion for homebrewing, so I started exploring the idea of making it my full-time gig."
His thirst for beer – coupled with his uber supportive wife Megan – led him to Millstream Brewing Co. in Amana, Iowa where he got a crash course in brewing for about a year and a half before obtaining a Master Brewers Certificate from the highly acclaimed UC Davis in 2011. Upon completion of the rigorous six-month program, Dan found himself headed east to hone his craft here at Dogfish as a production brewer before tackling the position of brewing supervisor, and finally innovation brewer.
"I was really excited when I learned that we were going to be installing a R&D system," he says. "I loved the idea of experimenting with new ingredients and the chance to perfect a recipe on a smaller scale before we started brewing it in larger batches."
After a year and a half of planning and installing, the R&DFH brewery was commissioned in August of 2017, and experimenting is exactly what Dan has done over the past two years. From juicy IPAs to a barleywine brewed with all parts of a tree, the R&DFH brewery has seen over 195 brews to-date.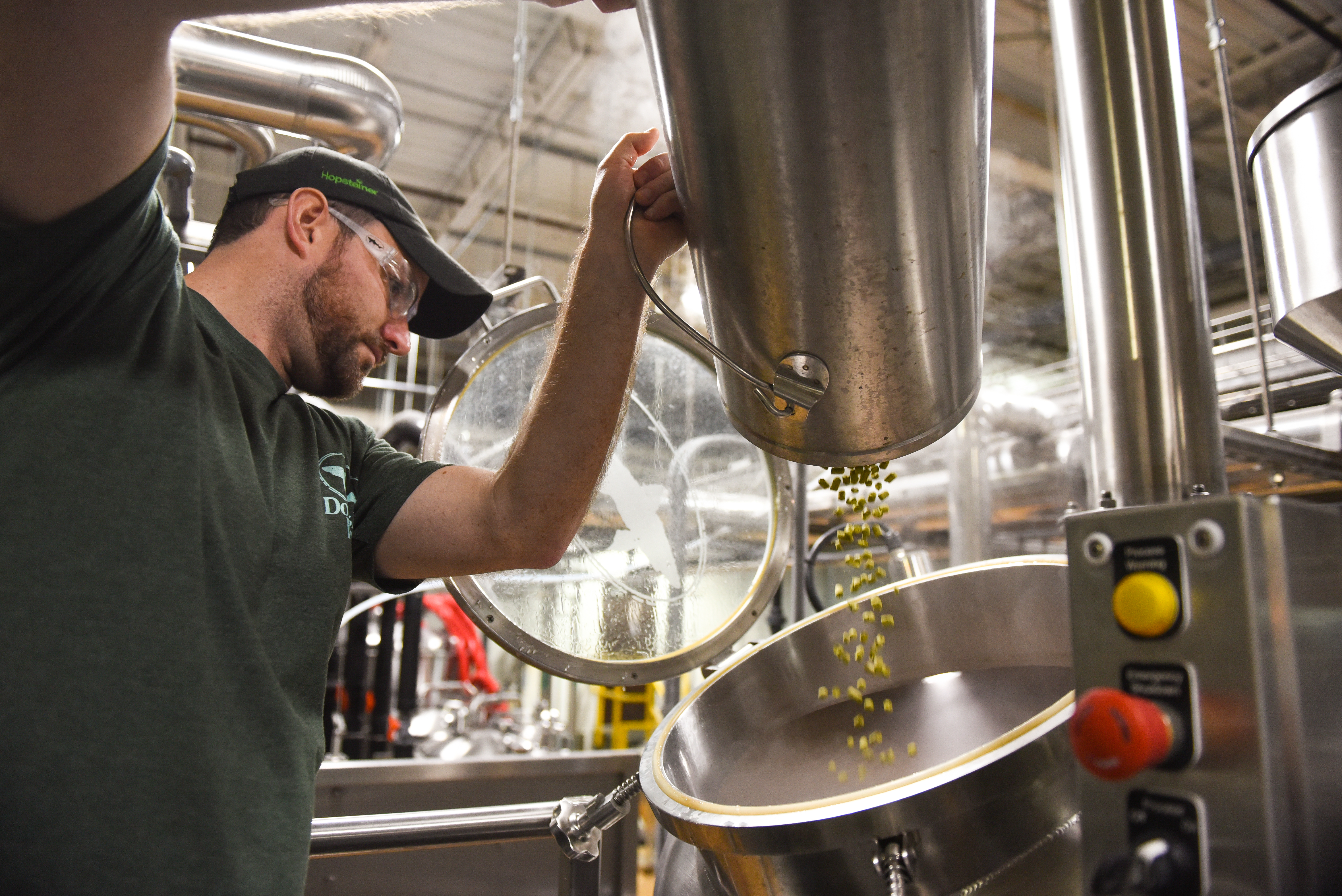 "We're typically cranking out about two new beers every week," says Dan. Known around the brewery for his quick wit and infectious laugh, he was brought to a pause when asked what his favorite has been thus far. "Oh man, that's really tough. I have too many to remember." Given enough time (and badgering) he managed to rattle off a solid two that have stood out from the rest … Juicy McJuicyman (turned The Perfect Disguise) and Suddenly Comfy (releasing this fall). "These were two of the first Beer Exploration Journal brews that really took off in the tasting room and made it into bottles for a national release, so that's pretty exciting."
Wait … Beer Exploration Journal? We've always believed in the positive power of collaboration here at Dogfish, which is why we've created the Beer Exploration Journal. Designed to give you a peek into the world of R&D, the Beer Exploration Journal not only gives you the inspiration behind upcoming beers, but a direct line of feedback to our team … particularly Dan. A form with just six simple questions, you're asked to evaluate and rate new beers on tap exclusively in our Milton tasting room and down at our Rehoboth brewpub.
But there's more to the R&DFH program than finding our next national release. Every other month you'll find limited edition bottle releases in Milton. Some of the wildest and wackiest, we've released everything from a raucous barleywine by the name of Hordeum Vulgarity to Bourbon Barrel-Aged Palo Santo Marron, America the Brettiful, Grisette About It! and more.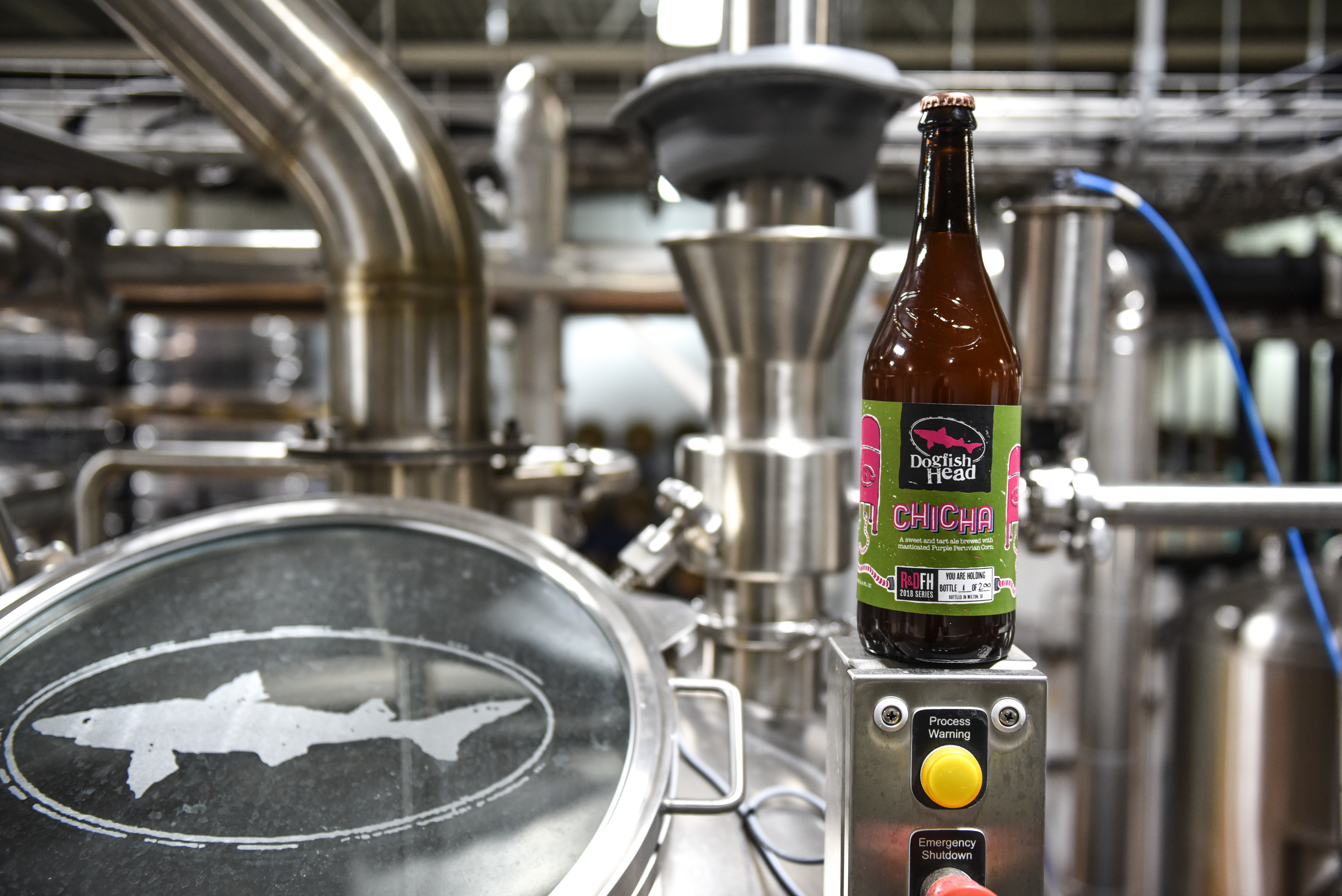 The R&DFH brewery is our chance to experiment with new and old favorites alike, and a commitment to keeping our adventurous spirit alive. So the next time you find yourself in our neck of the woods, be sure to swing by our Milton tasting room to try one of Dan's latest creations … we can promise you won't find anything else like them.