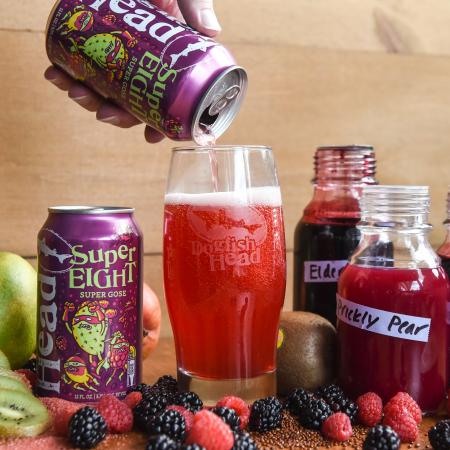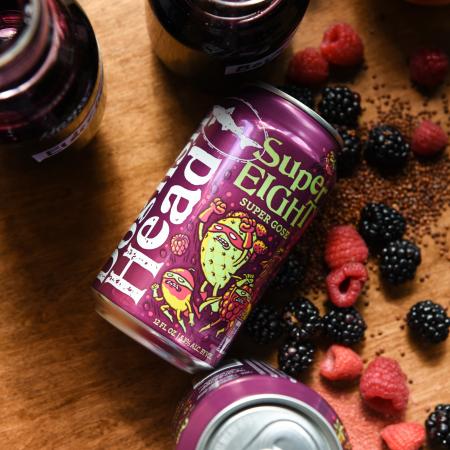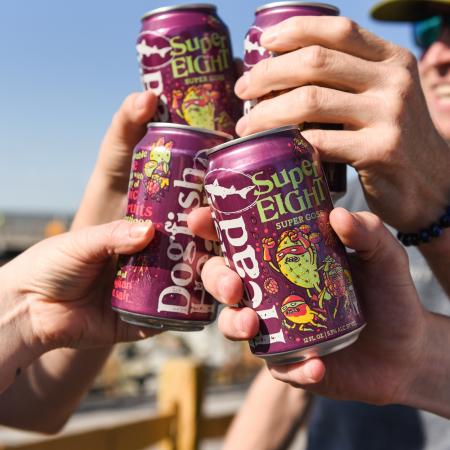 SuperEIGHT
A super gose made with eight heroic ingredients
We have a saying here at Dogfish Head, 'Analog beer for the digital age.' Whether it's a blissfully inefficient brewing process, high-quality (and often obscure) ingredients, or simply the handcrafted care that goes into the making of an off-centered ale, you'll find it's at the heart of everything we do.
That same spirit can be found in our latest collaboration with the analog creators at Kodak. They're bold. They're storytellers. And well, they're our kind of people. Which is why we've teamed up with them to 'develop' a one-of-a-kind partnership that's full of creative chemistry.
It all started when Dogfish founder & CEO Sam Calagione learned during a Kodak podcast that if the pH of a beer is low enough, it just might be able to develop their Super 8 film. Challenge accepted.
Insert SuperEIGHT (the beer). This sessionable ale brewed with eight heroic ingredients: prickly pear, mango, boysenberry, blackberry, raspberry, elderberry, kiwi juices, toasted quinoa and an ample addition of red Hawaiian sea salt! Okay, so technically that's nine, but it 'gose' without say that there's going to be salt. These unique ingredients give this beer a vibrant red color, with delicious flavors of berries and watermelon, along with a tart - yet refreshing - finish.
But that's not all … it also effectively develops Kodak's Super 8 film. From the can to the stop bath, there's a whole lot of science and alternative processing that takes place to bring the imagery to life. And it's so totally worth it.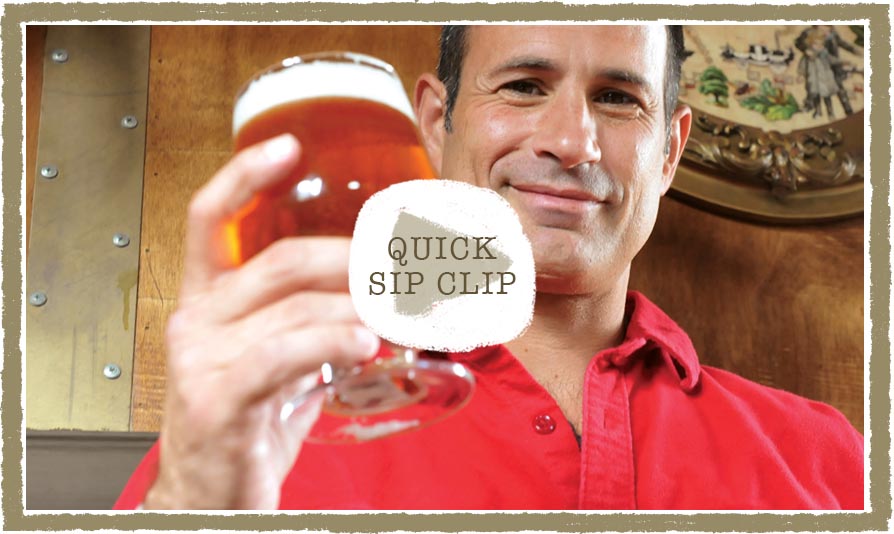 ---
Specs
---
Release:
April - December
---
---
---
Experience
---
Watermelon, berry, fruit, citrus, cherry
---
Salted watermelon, berry, citrus, tart & quenching
---
---
Off-Centered Gear