A fresh look for our spirited goodness
Tuesday, October 31, 2017
---
After a 15-year journey with an expansion just two years ago, we've got a new look for our scratch-made spirits!
When founder and CEO Sam Calagione opened Dogfish Head, innovation wasn't just an option—it was the foundation for building an off-centered brand. Much like our beer packaging redesign last year, Dogfish Head Distilling Co.'s new packaging sets out to honor that foundational spirit of off-centered innovation and imagination by highlighting our legacy of exploring goodness through real ingredients.
Through vivid drawings of rich and colorful ingredients, our new packaging showcases our commitment to that continued exploration of culinary ingredients. While real ingredients may not always be easy (and certainly not cheap), we know it makes all the difference. You'll now find them proudly displayed on the front of our bottles with a cocktail recipe on the back for your imbibing pleasure!
Analog Vodka
Analog Vodka isn't your average Vodka. Made from a base of malted barley that we mill in-house, this sipper is fermented with our signature Doggie ale yeast before batch-distilling to maintain the goodness of those base grains. Clean and crisp with subtle grainy sweetness, you'll find hints of pear and cherry that make for a smooth finish.
Citrus Cooler
2 oz Analog Vodka
1 oz Fresh Orange Juice
½ oz Fresh Lemon Juice
½ oz Simple Syrup
Shake all ingredients with ice, strain into a rocks glass, garnish with an orange twist.
COMPELLING GIN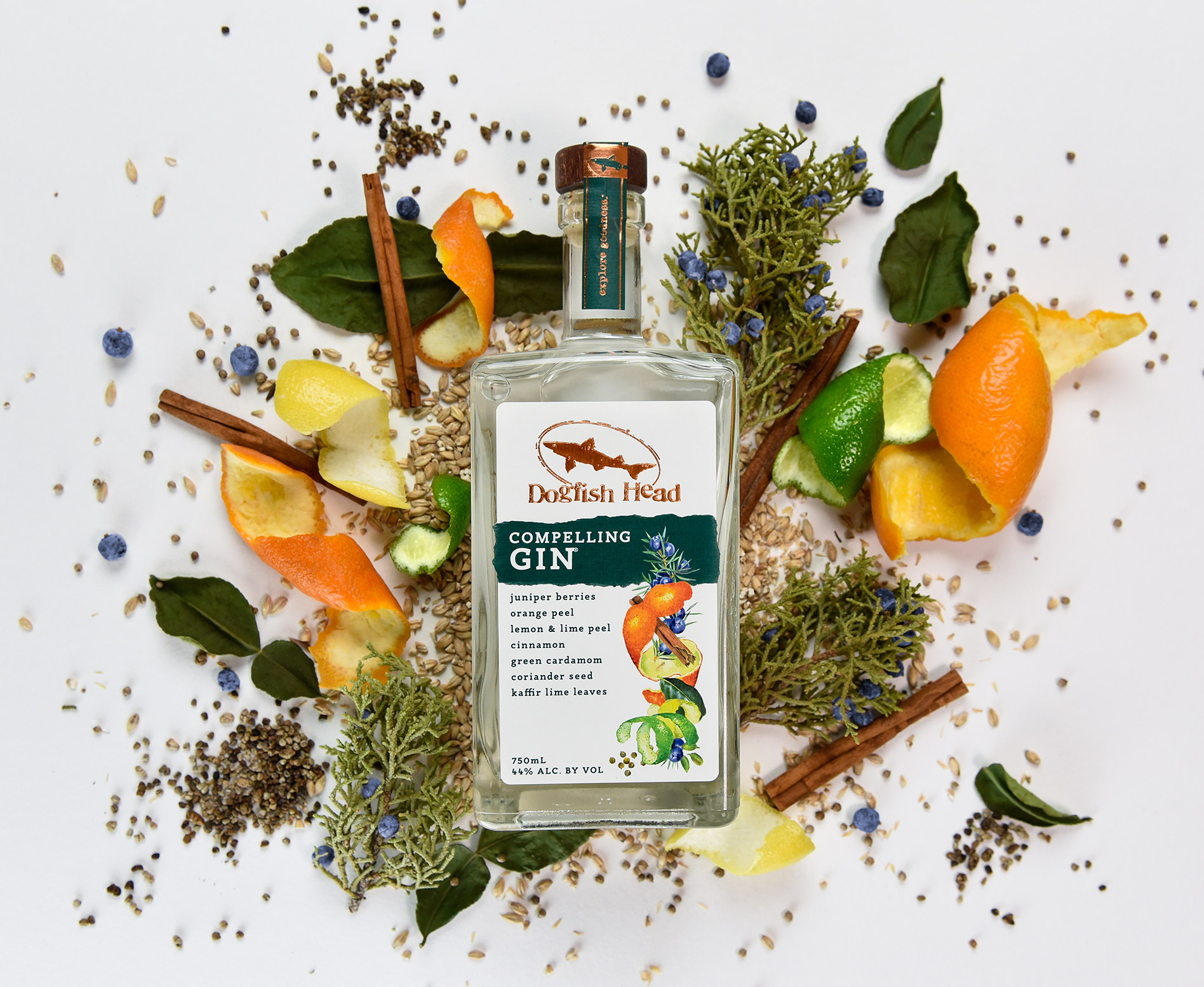 With Compelling Gin we wanted to highlight the citrus-forward botanical mix that leads the backbone of this culinary-inspired gin. Bright orange, lemon and lime peel take the lead, with the juniper berries rounded out by flavors of cinnamon, green cardamom, coriander seed and kaffir lime leaves. Enjoy peppery citrus zest flavors followed by baking spices and a lemon-lime finish.
Compelling Collins
2 oz Compelling Gin
1 oz Fresh Lime Juice
1 oz Simple Syrup
Club Soda
Shake all ingredients with ice, except club soda. Strain over ice in a tall collins glass, add club soda, stir and garnish.
WHOLE LEAF GIN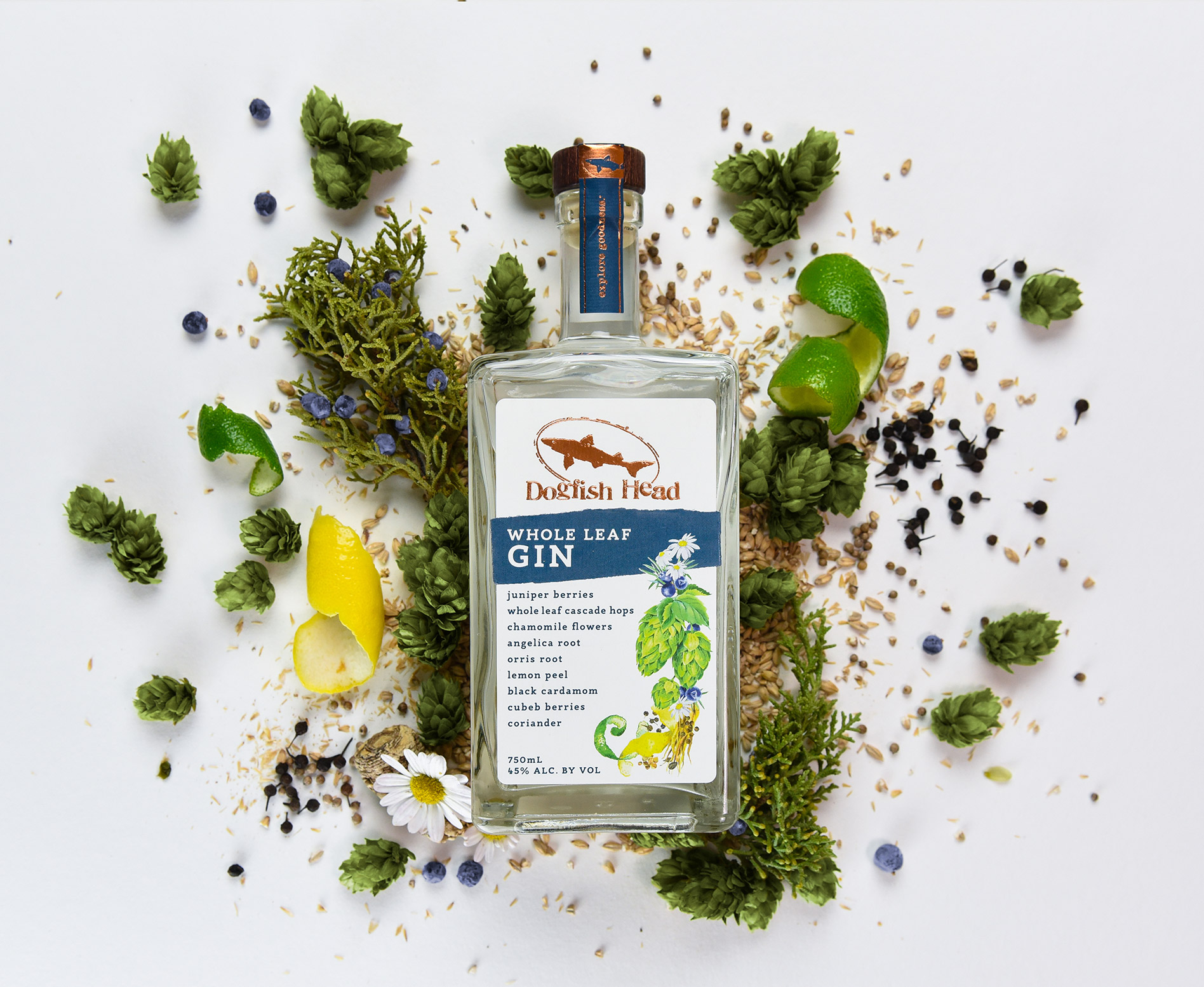 We are pretty fond of hops at Dogfish Head, and they are the star of our Whole Leaf Gin. We continually hop the distillate with whole leaf cascade hops for over 48 hours, then pot distill using a gin basket bursting with more hops alongside juniper berries, chamomile flowers, angelica root, orris root, lemon peel, black cardamom, cubeb berries and coriander. Enjoy notes of floral hops and green tea, with a drying juniper that melds into a floral chamomile and eucalyptus finish.
Whole Leaf Gimlet
2 oz Whole Leaf Gin
¾ oz Fresh Lime Juice
¾ oz Simple Syrup
Dash of Celery Bitters (optional)
Shake all ingredients with ice, strain into rocks glass, garnish with lime wheel.
Use our Fish Finder to look out for Dogfish Head spirits in your liquor isle and be sure to swing by for a visit us on your next trip to Delaware!