Barrel-Aging … we've got time for that.
Friday, May 29, 2020
---
Patience ... is there a better word to sum up 2020 than that? We think not. Luckily for us, patience tends to yield amazing results ... specifically some bad-a$$ barrel-aged brews like Rye Barrel-Aged 120 Minute, Bourbon Barrel-Aged Fruit-Full Fort, America The Brettiful, and more!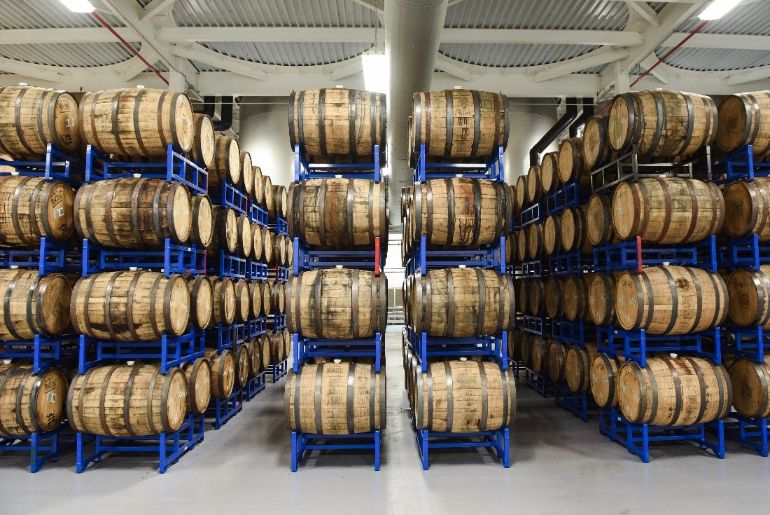 The art of barrel-aging can be traced back to the Bronze Age, and while the process has been a bit modernized, the classic rule of "If it ain't broke, don't fix it" is still at its heart. However, history has taught us that not all beers are up to the challenge of thriving and surviving inside a wood barrel. Those with a high ABV and / or robust flavor profile tend to withstand (and even benefit) from their time in a barrel. The oxidation gradually smooths and mellows these hearty sippers, creating sought-after rarities full of complexity. While beers with a light profile generally don't stand to gain anything by waiting it out in barrel, which is why they're few and far between.
But what is it about barrel-aging that takes an already full-bodied beer to a whole other level? The secret lies in the past. So much of the flavor imparted into the beer comes not just from the previous contents of the barrel, but also how the barrel was made! Spirit barrels, for instance, tend to be built a lot looser to allow for oxidation to enhance the flavor, while wine barrels are built very tight so no air can seep in and spoil the wine. Every barrel brings its own strength to the table and adds its own character to the brew. Looking for some lighter, floral notes? Check out a gin-barrel aged beer. Prefer a complex and intense brew? Bourbon-barrel aging is where it's at.
Here at Dogfish Head, we've tried our hand at a myriad of barrel-aged beers. Usually only available as part of our R&DFH series, these limited-edition brews are bottled 750 mLs at a time and released almost exclusively from our Milton Tasting Room & Kitchen. Some of our most popular releases have included…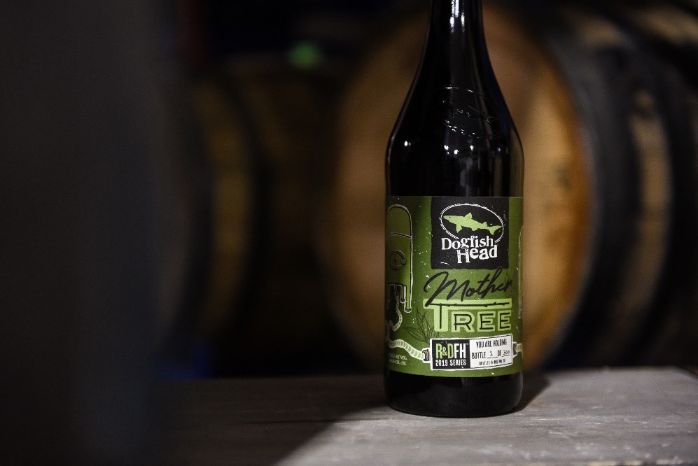 Mother Tree – an ecocentric barleywine-style ale that spent 7 months aging in bourbon barrels before coming out the other side with bold notes of wood, and a smoothness that only time could create.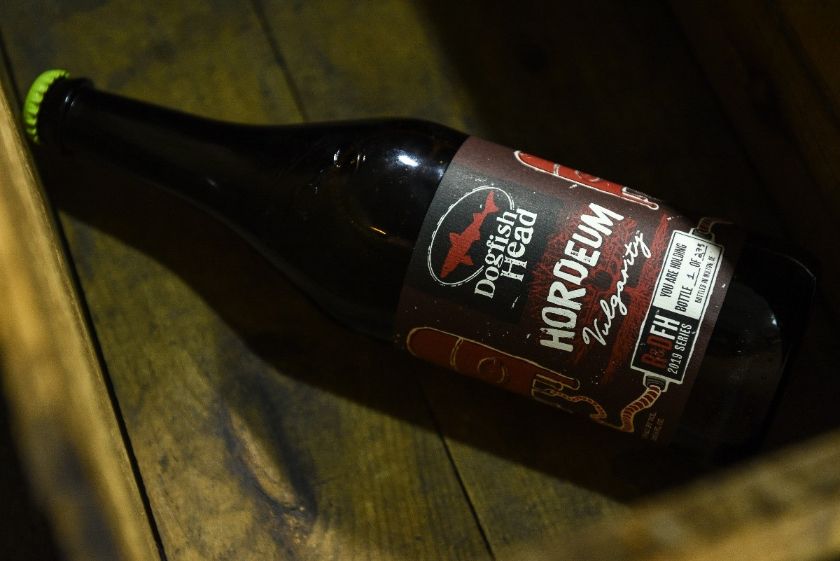 Hordeum Vulgarity fully lived up to the term "barleywine." Quite literally, Hordeum vulgare is the scientific name for barley malt … see what we did there? An ode to the barrage of malts we incorporated into the brew process, once finished fermenting it took an 8-month hiatus in apple brandy casks that we swiped from our very own distillery!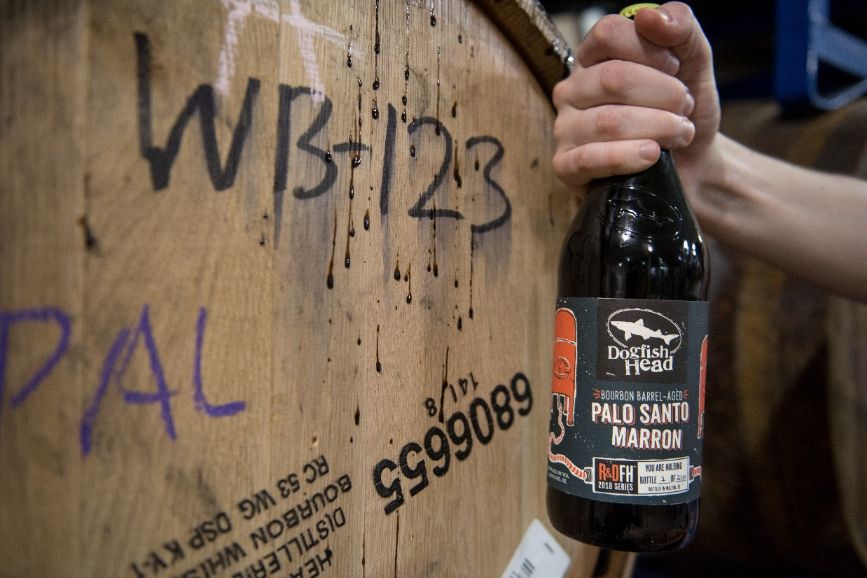 And there may be no greater love letter to the art of wood-aging than our unfiltered and unapologetic Bourbon Barrel-Aged Palo Santo Marron. This beloved brown ale spent its first month on a "spiritual" vision quest in our handmade 10,000-gallon tanks made from the wood of the mystical Palo Santo tree, found on the coast of South America. After that, it spent 4 months in bourbon barrels soaking up all of those delicious notes of vanilla and oakiness from its whiskey predecessor.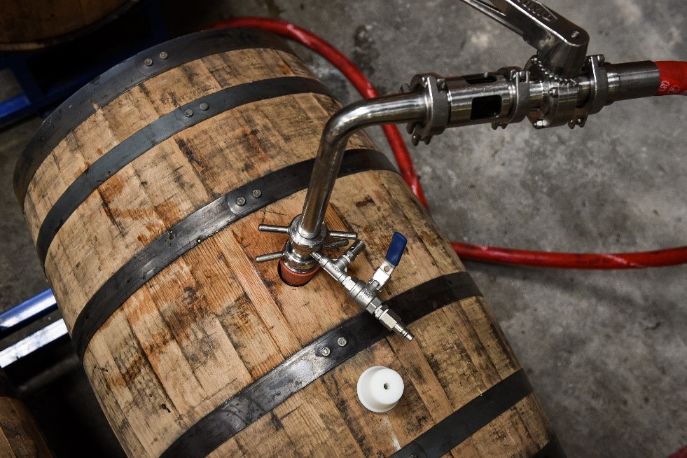 "It's an art form to make a barrel. They are all handmade, so each one is slightly different. And because they are made from organic materials, there are many intricacies that will ultimately affect how it ages the beer - everything from the forest to the type of wood, even the specific tree it came from and how they treat it," says Dogfish Head brewmaster Mark Safarik.
With all the variables involved in creating the perfect aged beer, how can we be sure to do it right every time? Well, long story short – we can't! In the off-chance that we tap a barrel only to find that something has gone awry, the contents are promptly dumped with a stoic goodbye. While this may be painful, Mark always thinks back to a saying he was taught in college while learning thermodynamics … "If you take 10,000 gallons of fine wine, and you put a tablespoon of raw sewage in it, you have 10,000 gallons of raw sewage." It's a tough pill … er, beer to swallow, but quality is key. The remaining barrels that make the cut are then blended together to make sure there is perfect consistency between the batches.
So, what are some ways to limit the risk involved with barrel-aging? Well, in the words of the legendary Beatle George Harrison, "It's gonna take patience and time, to do it right." While it may be tempting to constantly sample the brew to see how the flavor is developing, allowing that extra air to enter the barrel can seriously impact the final outcome. Just … let it be.
"It doesn't conform to a timeline. It's ready when it's ready. When it's time for the beer to be packaged, it will let YOU know," says Mark.
However, there is such a thing as too much time. Most barrel-aged beers hit their sweet spot between 6-18 months, when they've had juuust enough time to soak up all the good stuff from the barrel, but not enough time to taste like tree bark.
Barrel-aging is all about learning from the past, living in the present, and planning for the future. Keep an eye out for some upcoming aged brews we have in the works right now and know that while the world may be a little upside-down right now, one thing is always for sure … good things come to those who wait!