2020 Art Series artist Dan Stiles has always been an illustrator
Tuesday, November 05, 2019
---
The Black Keys, Artic Monkeys, Muse, Major Lazer, Incubus, Guided by Voices ... illustrator Dan Stiles has created original artwork for them all. And in 2019 - 2020, Dogfish Head is lucky to have had him create four new original pieces for our Art Series beers: 75 Minute IPA, The Perfect Disguise, Sun-Day Feels, and Punkin Ale.
First up ... 75 Minute IPA. An off-centered combination of our 60 Minute and 90 Minute, this classic IPA brewed with maple syrup from New England started shipping early October. The rest of Dan's illustrations - along with the Art Series beers - will follow in 2019 and once again, you'll see the work on labels, t-shirts, posters and more.
Get to know Dan in the interview below, and check out his killer portfolio here!
How long have you been an illustrator?
All my life. Every kid is an illustrator. Have you ever met a kid that didn't like to draw? Some of us just never stop, and then find ourselves in the position of making a living doing it. As far as being a grown up who pays the bills by drawing pictures? That's been about 20 years.
We have a saying we use a lot to talk about our beer – "Analog beer for the digital age." – could you tell us a little bit about how you use analog and digital techniques to create your work?
The basis of almost all art is drawing. It's the foundation of visual language. It doesn't matter if your hand is holding a pencil or a computer stylus, either way you're drawing. The computer doesn't do any of the work for you, it just allows for the production process to move more efficiently. I move back and forth between pencil and computer quite a bit. It's easier to think and sketch with a pencil, faster and more efficient to do final execution work on a computer.
How is approaching posters based on beer brands different than, say, a movie, a band or a specific personality? Does your process change at all?
My work is about storytelling. The difference between beer and a movie is that movies come with a story already in place. With the beer we had to develop a story to tell long before I put pencil to paper.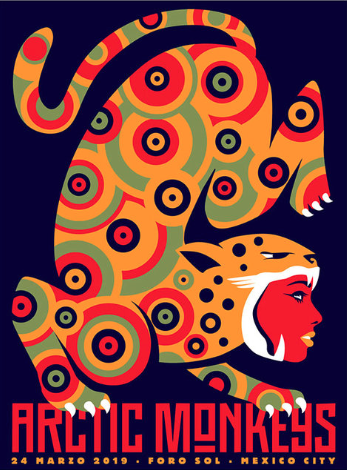 How much input do your clients give on content?
That depends. On something like a poster, not much. They call me and ask me to do my thing. On something like beer packaging, there is much more back and forth. This isn't just a one night affair. These bottles will be on the shelf all over the country for months. That said, Paul (Dogfish Head creative manager) gave me a lot of latitude in coming up with ideas and executions. Most of our back and forth was around refinement of the initial concepts. He was a great sounding board and had excellent feedback. I usually work by myself, so it was nice to have a second mind involved in the process.
You've worked with a lot of big names, and at some point must have worked with bands or actors or directors that you really love. Do you ever step back, pinch yourself, and think, "Wow, it's really cool to be a part of this creative world?"
Yes I have, and amazingly it makes the job harder because you put so much more pressure on yourself. You mentally tense up, which can sometimes throw you off your game. For those clients, I generally wind up making a few more initial designs that I throw away before getting to the good stuff.
What do you like to play with when you're drawing something? Composition, size, color … all of the above?
All of the above. Normally, I'm first Iooking for a good concept. From there, I look for a good way to express that idea, and once that's locked in it's down to the fun part of making it look good.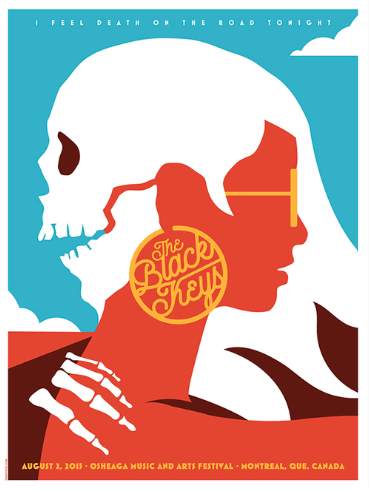 Who do you admire in illustration, past or present, and why?
I'm a fan of art and design from between about the 20s and the 80s. Essentially post-war WWI and pre-computer. Those artists didn't make a distinction between illustration, painting, design, and typography. They did it all, and they did it well. Today those are four separate job titles and the computer has made many people lazy and uncreative.
At Dogfish, we've learned to embrace the intersection of art (in liquid form) and business. Was that ever tough for you?
It used to be, but now my art is my business. People hire me to do what I do for them, which is really fun. That's very different than coming in and having to make generic design work. I'm allowed, and in fact expected, to express myself in client work.
What's the creative process? How do you work with the designers at Dogfish?
Usually the beer had some existing parameters - like a color palette - and perhaps an existing theme which we had to consider. But for the most part, I was told what the beer was and what made it special, and from there I would come up with a half dozen pencil sketches that represented directions we could go. From those we might pick two or three to comp up. Those comps were presented to the rest of the team and a winner was chosen and finalized ... although we always knew which one was going to be the winner before the meeting even happened.
Do you get to try the beer beforehand?
At the beginning of the project, almost a year ago, I was sent a big box of samples. Some of the art series flavors were in there, but due to the seasonal nature of the beers, others were not. However, all of them were delicious.
What's your favorite Dogfish Head beer?
I enjoy the Namaste White on a hot Summer day.
What was your inspiration behind 75 Minute IPA?
The inspiration behind this year's art series is the Steampunk Treehouse located at the Milton brewery. More specifically 75 Minute was inspired by clocks and the automatons that Victorian clock makers use to build. Our automaton is a mechanical man made of brewery parts.