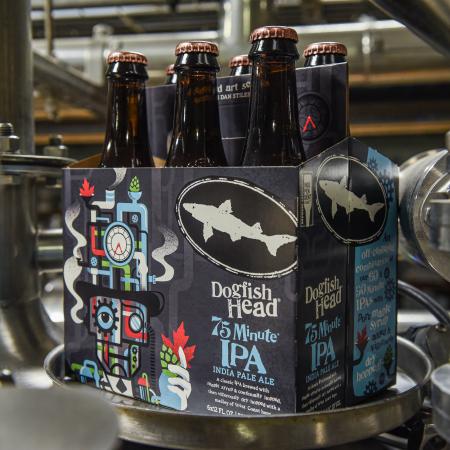 75 Minute IPA
An off-centered combination of our 60 & 90 Minute
It's been a minute … but 75 Minute IPA is back! What began as a cask-conditioned ale at our Rehoboth brewpub back in 2011, quickly grew to become a cult-favorite amongst craft enthusiasts. From the groucho glasses that adorned the label to it's slightly dry and lingering bitterness, 75 Minute was (and is) beloved by many.
Now in our latest iteration, this classic IPA is again brewed with maple syrup from Sam's family farm in Massachusetts, while being continually hopped throughout the boil, and then dry-hopped with a slew of cascade hops. The result is a malty and earthy brew with citrusy-pine aromas, balanced by subtle maple notes.
Available in 12 oz. 6-packs, you'll notice 75 Minute is sporting a new look thanks to the imagination of this year's Off-Centered Art Series artist … Dan Stiles!
---
Specs
---
Release:
November - January
---
---
---
Enjoy
---
Burgers, grilled meats, avocado.
---
Experience
Golden to light amber/orange with slight haze
---
---
Malty with with light citrus notes, pleasant sweetness from maple syrup
---
Slightly dry & lingering bitterness
---
Off-Centered Gear