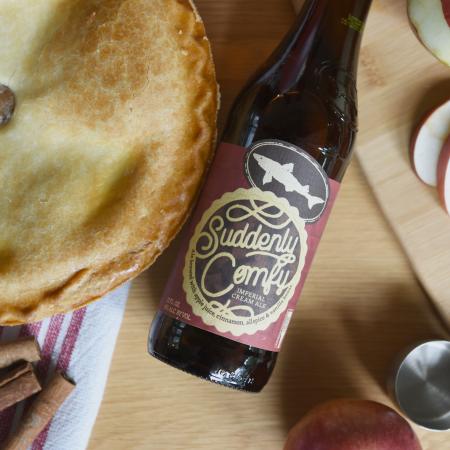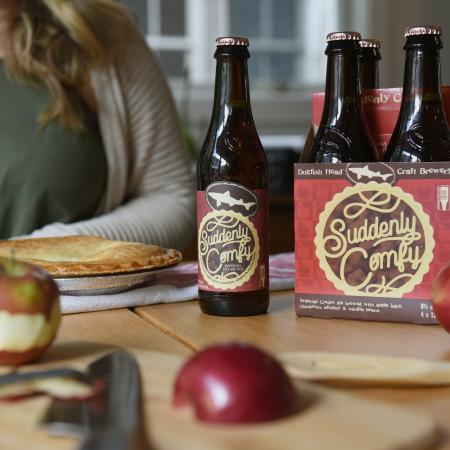 Suddenly Comfy
Reminiscent of a freshly baked apple pie
Things are suddenly getting real comfy around these parts with our latest off-centered creation – Suddenly Comfy.
Brewed with fresh apple cider, Saigon cinnamon and Madagascar vanilla beans, this Imperial Cream Ale is made with all the fixings of a great apple pie … just like grandma used to make.
Inhale and you'll be greeted with aromas of pie crust and brûléed sugar. Sip and you'll find notes of fruity sweetness. Savor and you'll venture on a fragrant flashback that has you longing for the past.
Inspired by the classically decadent dessert, Suddenly Comfy is a result of our Beer Exploration Journal – a program designed to give our fans a peek into the world of R&DFH, while sampling, evaluating and rating new beers on tap exclusively at our Milton Tasting Room & Kitchen and Rehoboth brewpub.
After reading through hundreds of comments, we got the sense that we needed to bottle this beer. Some of our favorites included…
- "It's like apple pie in a glass!"
- "It's the ultimate dessert beer!"
- "Smells just like pie … holy delicious!"
So, bottle it we did. Be sure to look for this freshly baked … er, brewed apple pie in a glass near you!
---
Specs
---
Release:
October - December
---
---
---
Experience
Golden, slightly hazy, white head
---
Lightly toasted pie crust, baked apples & spices, vanilla & brûléed sugar
---
Baked apple pie, vanilla, slightly sweet, cinnamon & baking spices
---
Full bodied, creamy, so dang good
---