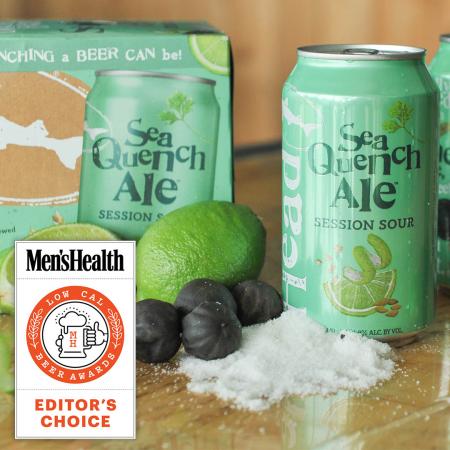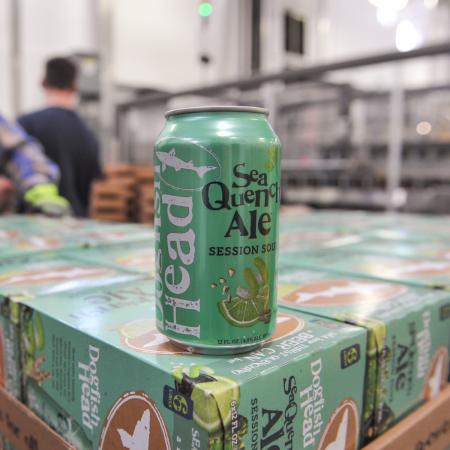 SeaQuench Ale
Our session sour quencher brewed with lime peel, black limes & sea salt
---
Release:
April - December
---
---
---
"...may be the world's most thirst-slaying beer."
- Men's Health

We just got some pretty amazing news from the folks at Men's Health that Dogfish Head's SeaQuench Ale has been named the best low-cal and low-carb beer at 140 calories and 9 carbs per 12 oz. serving! With it's amazingly tart and refreshingly crisp flavors of lime and black lime, SeaQuench Ale has become the ultimate warm-weather companion. We're beyond thrilled to hear that fans nationwide, as well as the folks at Men's Health are digging this beer as much as we are.

Catch the full story here
SeaQuench Ale is our session sour quencher made with lime peel, black lime and sea salt. It's a citrusy-tart union of three German styles of beer blissfully brewed into one. We begin by brewing a straightforward Kolsch with lots of wheat and Munich Malt, then we brew a salty Gose with black limes, coriander and our sea salt. We follow it all up with a citrusy-tart Berlinerweiss made with lime juice and lime peel. All three beers are then blended together in the fermentation tank to create this German hybrid.
Working alongside the National Aquarium out of Baltimore, Maryland, we've replicated sea salt sourced from both Maine and the Chesapeake Bay to give SeaQuench Ale its mildly salty characteristic.
And, releasing just in time for the 500th anniversary of the Reinheitsgebot - aka the "German Beer Purity Law" that says it's illegal to brew with anything other than water, barley, and hops - SeaQuench Ale both commemorates (and disintegrates) this art-censorship law.
The release of SeaQuench Ale kicks off a new partnership between Dogfish Head and the National Aquarium that will focus on inspiring conservation of the world's aquatic treasures. Dogfish Head's philanthropic contributions will help the Aquarium generate important conservation impact for a healthy Chesapeake Bay. The National Aquarium logo can be found on the SeaQuench Ale label and Dogfish's brewed ales and handcrafted spirits will be showcased in the Aquarium's café year-round and offered at select Aquarium events.
---
Enjoy
---
---
Steamed mussels, raw oysters, grilled chicken
---
Experience
Golden yellow, hazy and straw colored
---
Spiced citrus aromas of lime
---
Amazingly tart, refreshing crisp flavors of lime and the deeper slight bitter of black lime, a touch of salt on the tongue, a bit of malt sweetness in the finish
---
Sweet, clean and quenching
---