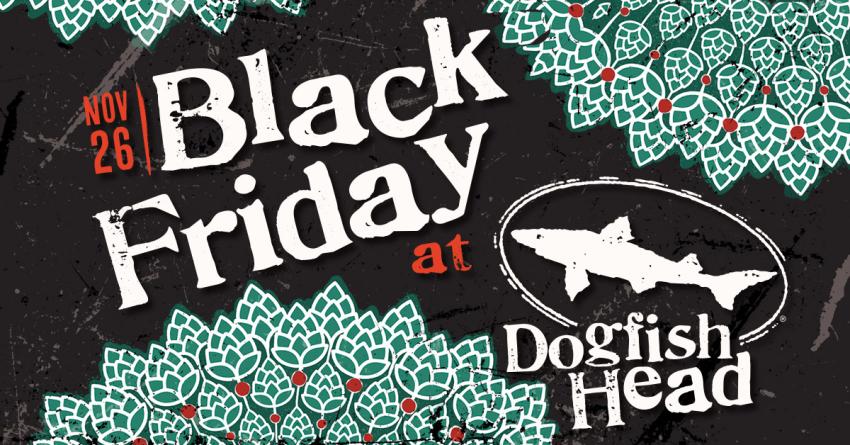 We've got some great Black Friday deals and a Beer Dinner coming up!
Thursday, November 04, 2021
---
Black Friday in coastal Delaware is kind of a big deal … and we are taking it seriously! Deal hunters can make holiday shopping easy at our Off-Centered EmPOURium in Rehoboth and our Tasting Room & Kitchen shop in Milton, with a $50 gift certificate for every $100 gift card purchased, redeemable at our Rehoboth restaurants, Brewing & Eats and Chesapeake & Maine, our Milton Tasting Room Room & Kitchen, the Dogfish INN in Lewes and Dogfish Head Miami. If you're looking to snag some sweet merchandise, you'll find 20% off regularly priced merch,* as well as a free phone grip with any in-store purchase.** Guests will also enjoy a DJ and a slew of fun giveaways in Milton while out and about!
But the Black Friday fun doesn't stop there! There are also some delectable launches happening at our coastal Delaware locations on Friday, Nov. 26.:
First up is the fan-favorite Chicory Stout making its much-anticipated return. A rich, dark brew with a touch of roasted chicory and licorice root, this smoothed-out stout is brewed with organic Mexican coffee beans roasted by our friends at Rise Up Coffee. It features a deep and complex flavor with a bone-white head. Clocking in at 5.2% ABV, you can pick-up a 4-pack of 16 oz. cans at the EmPOURium in Rehoboth starting at 12 p.m. for $16 each.
After hitting up Rehoboth for Chicory Stout, head over to our Milton Tasting Room & Kitchen for Life Trust, a holistic blend of barrel-aged sour ale and estate-grown apple juice made with pals at Angry Orchard Cidery. Clocking in at 6.6% ABV, these 375 mL bottles are priced at $14 each. To grab a bottle (or two!), stop by our Tasting Room & Kitchen shop starting at 3 p.m.
And nothing will quite get folks in the holiday spirit like our Maple Spiced Flavor Rum, a limited-edition innovation from Dogfish Head Distilling Co., available at both Rehoboth and Milton locations starting Black Friday! A barrel-aged rum sweetened with a touch of New England maple syrup and infused with a medley of spices, this bottle is festive on its own as a gift, or in a favorite holiday cocktail, like a hot toddy or eggnog. Folks can find this tasty libation at the Off-Centered EmPOURium in Rehoboth or the Milton Tasting Room & Kitchen shop for $30 per 750 mL bottle.
"I can't remember a day in our 26-year history where we released three different new packaged beverages in a single day," says Dogfish Head founder & brewer, Sam Calagione. "Holidays 2021 will be special indeed!"
---
Continuing the Thanksgiving weekend celebration, we'll be hosting a special beer dinner called "An Evening of Off-Centered Stories" in honor of the publication of The Dogfish Head Book: 26 Years of Off-Centered Adventures. Written by Dogfish Head Founder & Brewer, Sam Calagione, Dogfish Head Co-Founder & Communitarian, Mariah Calagione, and General Manager at the Dogfish INN, Andrew C. Greeley, The Dogfish Head Book is a lovingly-told chronology of our 26-year history expressed through heartfelt stories, a timetable of its off-centered beverage releases and events, and a bunch of co-worker anecdotes. Taking place at our Rehoboth brewpub on Sunday, November 28, at 6:30 p.m., The Dogfish Head Book beer dinner will feature a 3-course menu, complete with artfully crafted drink pairings, both new and old. It will also include a special Q&A, favorite stories and coworker stories with the book's three authors available for book-signing. Books will be on-site at the Rehoboth Off-Centered emPOURium for $35 each. This is a ticketed beer dinner - click the link below to reserve your spot and see the full menu!
Ticket Link: 'An Evening of Off-Centered Stories' - The Dogfish Head Book Beer Dinner
Does not include beer or spirits*
While supplies last**