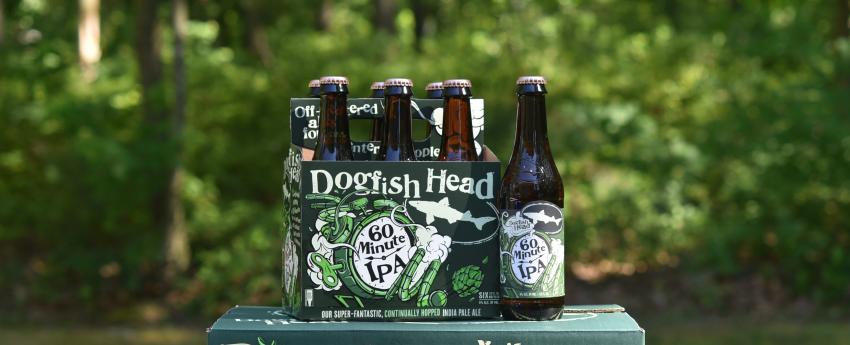 Wait a minute … is that 60 Minute?!
Thursday, June 18, 2020
---
It's hard being the sequel, unless you wrote the original story. Built on the continual hopping process that we invented with 90 Minute IPA, 60 Minute IPA took the one-of-a-kind process and flavor of continually hopping and crafted its very own solid gold hit.
Brewed using a boatload of intense Northwest hops, we boil this continually hopped India Pale Ale for a full 60 minutes, adding more than 60 hop additions. Starting to see where the name came from? Pungently hoppy, without being crushingly bitter, you'll quickly see why this sequel has become our best-selling beer, and why you'll find yourself coming back to it again and again.
But the next time you go looking for this enticing hop-centric experience, you may be surprised to find your go-to IPA is sporting a new look. In true Dogfish Head fashion, we took our already off-centered offering inside the bottle and brought it to life on the outside.
Featuring Rube Golbergian-inspired artwork, this new design showcases the spirit of invention through bold and playful illustration, thoughtfully crafted by our talented team of co-workers.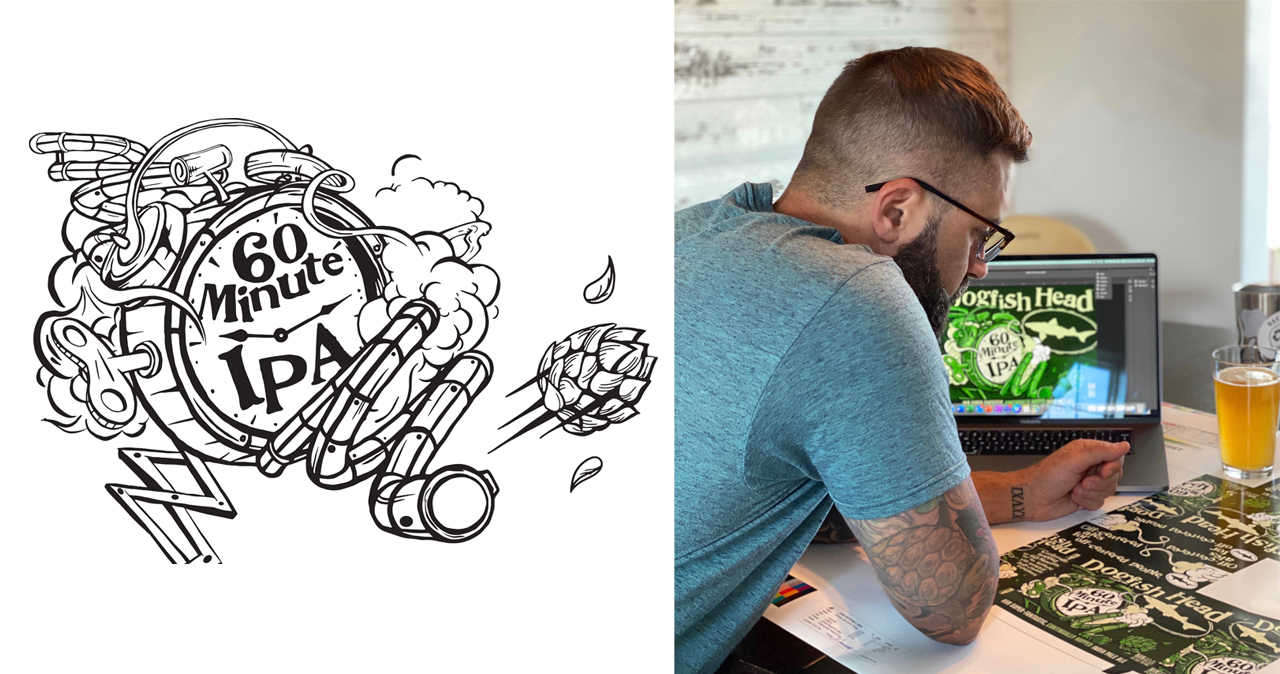 "When Sam first came to me about redesigning our 60 Minute packaging, I was both stoked and nervous," says associate creative director Ryan Telle. "I mean, it's 60 Minute. It's the heart of our portfolio and the gateway into off-centered ales."
Primed with an ever-expansive vision from Dogfish Head founder Sam Calagione, there was plenty for Ryan to work with. The only problem … where to begin?
First things first – what makes 60 Minute different from every other IPA? The answer was simple. Continual hopping. An invention that's now proudly housed at the Smithsonian's American History Museum, this is the basis of what makes 60 Minute so surprisingly sessionable. You see, traditionally brewers make two hop additions – one big dose early in the boil for flavor, and another bunch at the end for aroma. But thanks to a rigged-up football-machine-turned-continual-hopper and our addition of equal increments throughout the entire boil, 60 Minute is balanced with a moderate bitterness and crisp finish.
"Once we knew we wanted to hone-in on bringing a physical machine to life, I started playing around with how we could highlight the process of continual hopping," says Ryan. "With time being such an important element of what makes 60 Minute, 60 Minute, I looked at depicting a simplified contraption that speaks to the idea of dosing hops."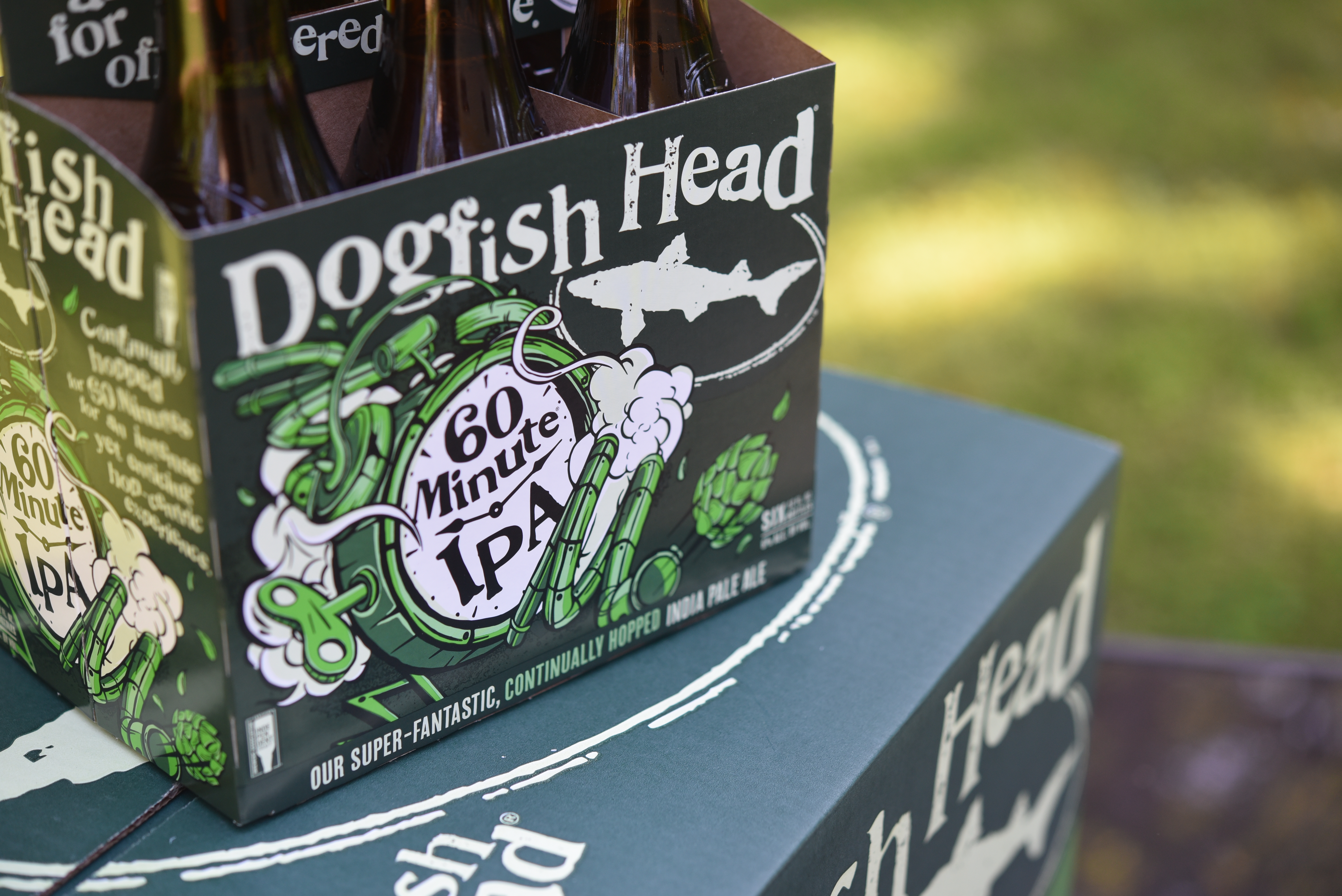 Rolling out to retail shelves as we speak … er, type … you'll be delighted to know the signature green you've come to know and love is still emblazoned across each and every case box and bottle, only now you'll get a peek into the off-centered process that makes 60 Minute such a special experience.
But what about cans? Don't you worry, those are getting a fresh look too and will start popping up in just a few months!
"This was, without a doubt, the biggest project I've ever worked on, and I wanted to make sure to honor what 60 Minute has meant to Dogfish Head and the craft beer industry." You mostly certainly nailed it, Ryan.