Our cross-Atlantic collaboration with RODENBACH is finally here
Friday, January 10, 2020
---
What began over beers with our friends at RODENBACH, has since become a collaboration 200 years in the making.
Vibrant P'Ocean is a complex, ruby-colored beer with tart, dry flavors of jammy berries and floral lemon. To create this trans-oceanic potion, we carefully combined two unique base beers – one developed by RODENBACH and the other by our brewers here in Milton. RODENBACH'S portion – a two-year, foeder-aged sour from its legendary, standing oak casks – was brewed in Belgium before making its 3,400-mile (or 1,000-nautical league) voyage to coastal Delaware. From there, we blended it with our portion – a kettle sour brewed with pilsner malt, malted wheat, elderberry, elderflower, sliced lemons and Belgian fleur-de-sel.
"We are absolutely honored to be the first to collaborate and create a beer in partnership with RODENBACH, the world's most well-respected maker of sour beers," says Dogfish Head founder Sam Calagione. "I'm proud to say that our teams contributed equally on every creative facet of this beer – from the brainstorm to the brew to calibrating the vibrant, red hue of the beer though specific grain and fruit blends. We really took our time and focused on creating a mouth-puckeringly magical drinking experience."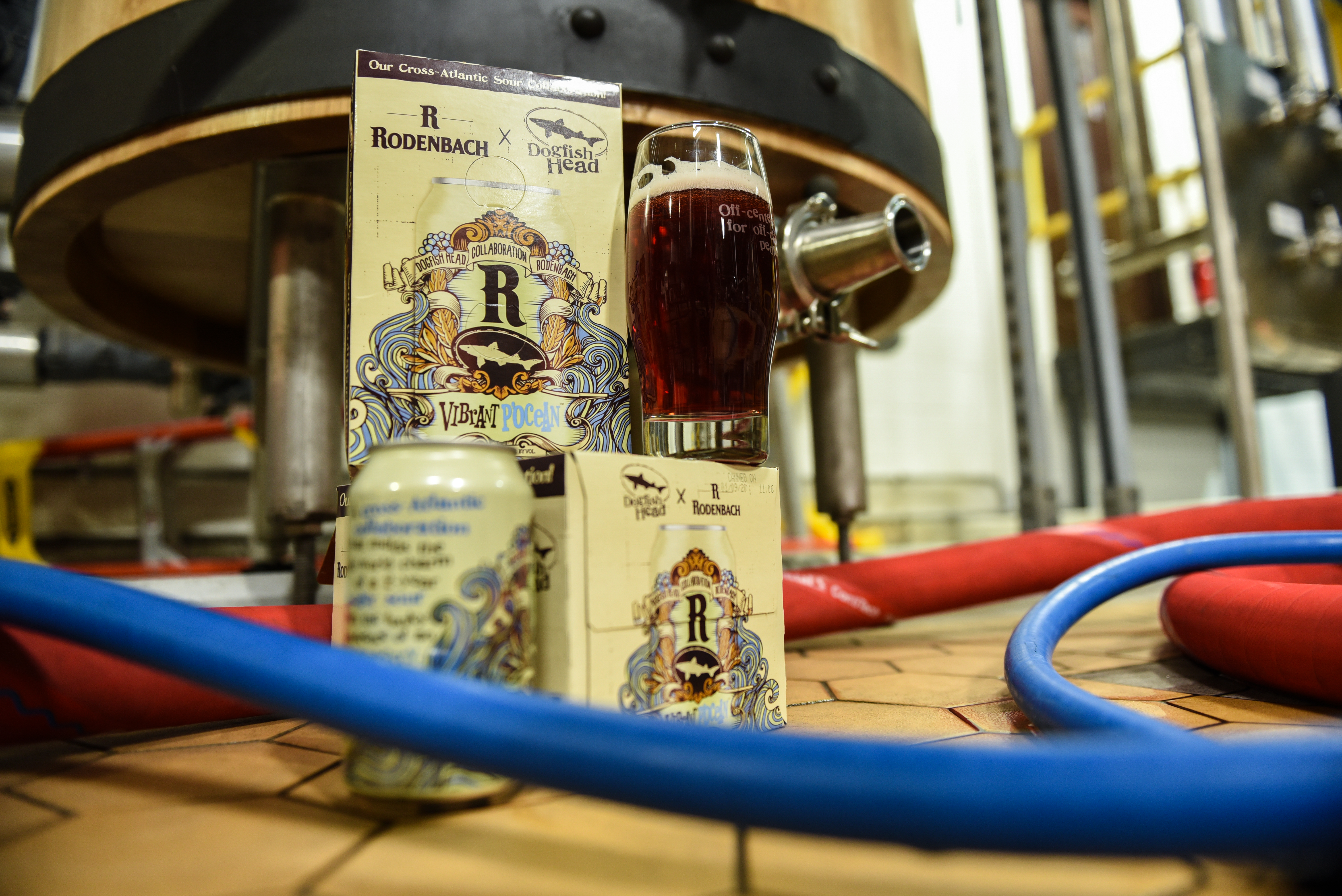 It was at an annual meeting of the world's leading brewers – the Craft Brewers Conference in 2018 – that RODENBACH Master Brewer Rudi Ghequire had the chance to connect with our very own 'Wooden … it be nice!' wild ale program lead, Bill Marchi. Throughout the conference, fleeting conversations of a future collaboration ensued and – little did they know – the rest would become history.
First, Rudi and members of RODENBACH'S team made a trip to our Milton brewery to further solidify our partnership. Brainstorming continued and then, Sam and a few of or co-workers visited RODENBACH'S brewery in Roeselare, Belgium, to finalize the details for Vibrant P'Ocean. During that trip, Sam and Rudi spent time touring RODENBACH'S legendary brewery and cooperage, sampling traditional cuisine from the surrounding region, learning about the country's brewing history and soaking up every possible drop of inspiration.
"Our relationship with Dogfish Head blossomed over a few good sour beers and Vibrant P'Ocean captures all that we hoped for in this collaboration," says Rudi. "It signifies the vibrancy and mutual respect of our beers and two cultures coming together, inspired by the ocean which connects us. The result is an innovative and refreshing sour beer that captures Dogfish Head's history of creativity, while staying true to the RODENBACH brand and its oak-aging process which gives RODENBACH its distinctive character."
Vibrant P'Ocean is available beginning today at our Milton Tasting Room & Kitchen and Rehoboth brewpub, with shipping to wholesalers starting the week of Jan. 13. Best bet is to keep an eye on this Fish Finder to help to track this one down!