Bringing you all the goodness in Rehoboth after a three-year journey!
Tuesday, May 29, 2018
---
After more than 23 years of serving off-centered beers and spirits, wood-fired food and world-class music in downtown Rehoboth Beach, Del., we're thrilled to embark on a new era of creating even more goodness for our guests as we celebrate the completion of a three-year journey that includes a beautifully landscaped courtyard, new brewhouse and distillery operations, and the Off-Centered EmPOURium merchandise store! By bringing together our two downtown restaurants - Brewings & Eats and Chesapeake & Maine - Rehoboth is at the center of all-things Dogfish Head!
If you can remember, this extensive project commenced in 2015 when we first began construction on Chesapeake & Maine. We then went on to build a new world-class Brewings & Eats in our former parking area, and tore down the original brewpub (so many emotions) to make way for the new courtyard and operational enhancements.
"From the world-class stage to the killer brewing and distilling program, guests can truly experience 360° of Dogfish in the same place we first began our story in 1995 as the smallest craft brewery in America," says Dogfish founder and CEO Sam Calagione. "I'm most proud that over the years we've been successful in building our Rehoboth restaurant brands as top beer destinations in the Mid-Atlantic region, and by coming together, and connecting our beer, food, spirits, music and merchandise – we can provide a world-class panoramic, multi-sensory experience for folks to enjoy at our downtown properties."
Now to bring it all home, the eccentrically landscaped, dog-friendly outdoor patio area is able to accommodate 36 guests and serves as a passageway connecting Brewings & Eats and Chesapeake & Maine, with a menu that offers a full selection of food and drink options from the brewpub. With a rustic wooden exterior and large glass windows framing the courtyard, the gathering space offers behind-the-scenes views into the brewing and distilling production areas, along with allowing guests to see bartenders and mixologists crafting a myriad of off-centered concoctions.
A fun addition to this new space is a beautiful 14-barrel mash tun dating back to the late 90s. Handcrafted in the UK, this wooden relic was Sam's dream mash tun all those years ago when he first opened the doors for business in Rehoboth. When the opportunity to purchase the brewing equipment became available, Sam jumped at the chance to bring it home to Dogfish and plans to incorporate it into the off-centered outdoor garden as a beer-inspired rain barrel of sorts. Other special touches include the old bar top from the original Brewings & Eats in the new Off-Centered EmPOURium merchandise shop! Bike racks and stroller parking will also be available thanks to the completion of the courtyard.
The new, fully-manual five-barrel brewhouse system includes five fermentation tanks and five serving tanks that will allow for increased brewing production, ultimately enabling Brewing Ambassador Bryan Selders the ability to create a significantly higher volume of those ingredient-driven, inventive brewpub exclusives we've all come to know and love! At the same time, the new 50-gallon still allows Head Distiller Graham Hamblett to experiment with creating culinary-inspired spirits, which will be served at both of our Rehoboth restaurants or available for purchase from the Off-Centered EmPOURium.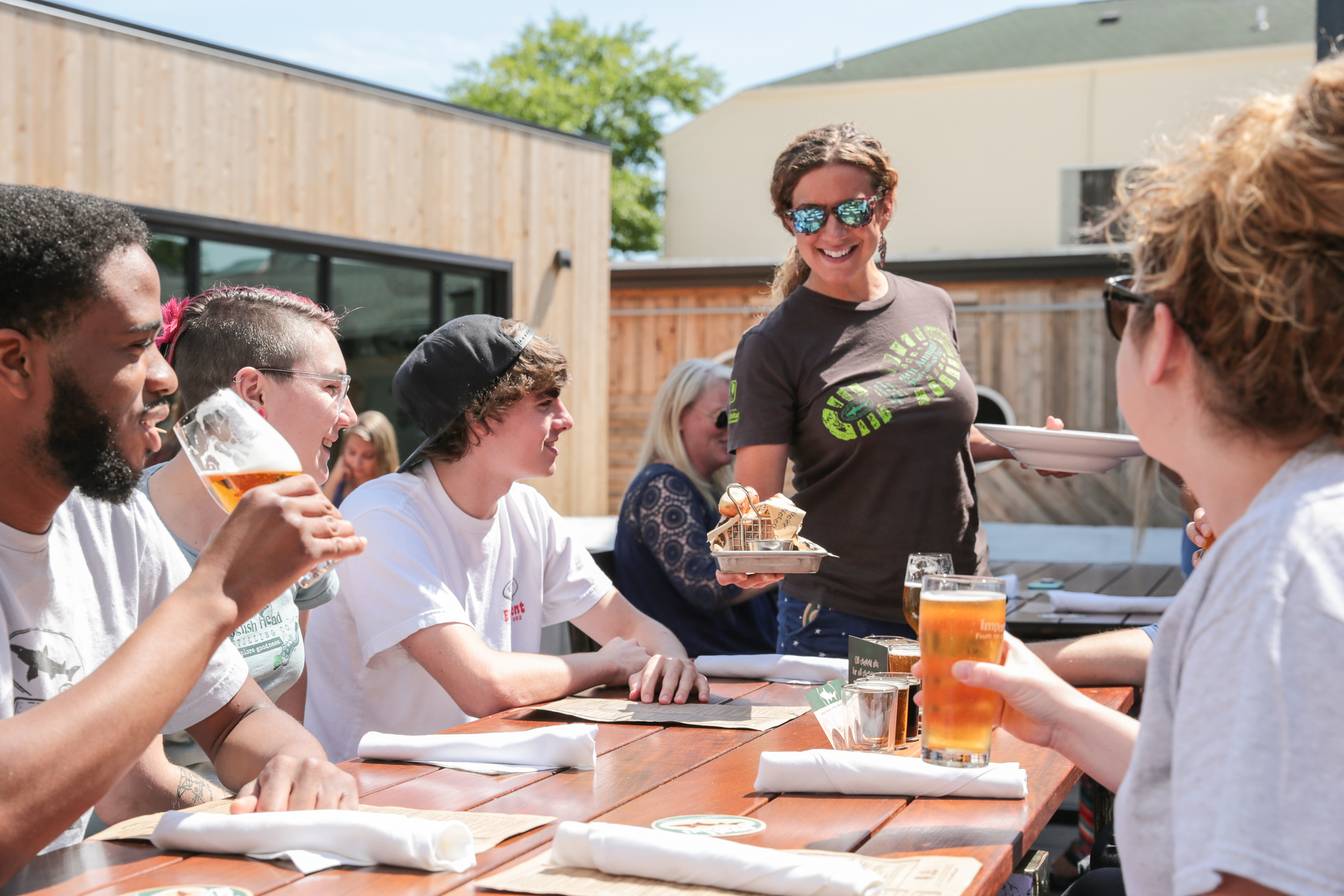 Speaking of spirits … to celebrate the opening, our distillery team will be debuting Lemon & Peppercorn Vodka. This unique spirit captures the essence of both restaurants as it contains the quintessential seafood seasoning found at Chesapeake & Maine, with a wood fire smoked twist done at Brewings & Eats. Using Analog Vodka as the base, they distill dried lemon peel and a medley of peppercorns. This citrus-peppery spirit is used to macerate hand-sliced, wood-fire grilled lemons from Brewings & Eats. Lemon & Peppercorn Vodka will be available exclusively at the restaurants.
If you're looking to take a little bit of our off-centered universe home, you can swing into the Off-Centered EmPOURium to purchase Dogfish merchandise, including t-shirts, hoodies and hats that will be exclusive to our Rehoboth locations. Folks can also find keychains, stickers, coasters and glassware … because who doesn't want to take a little Dogfish with them wherever they go?
It's been a long three-year journey, but we're delighted to share this final space with each of our guests and we're so excited for the many memories to come!