75 Minute IPA is back … and with a whole new look thanks to Michael Hacker
Friday, October 12, 2018
---
It's been a minute … but 75 Minute IPA is back! What began as a cask-conditioned ale at our Rehoboth brewpub back in 2011, quickly grew to become a cult-favorite amongst craft enthusiasts. From the Groucho glasses that adorned the label to it's slightly dry and lingering bitterness, 75 Minute was (and is) beloved by many. Now in our latest iteration, this classic IPA is again brewed with maple syrup from Sam's family farm in Massachusetts, while being continually hopped throughout the boil, and then dry-hopped with a slew of cascade hops. The result is a malty and earthy brew with citrusy-pine aromas, balanced by subtle maple notes.
Available in 12 oz. 6-packs for the first time, you'll notice those Groucho glasses are looking a bit more comical thanks to the imagination of this year's Off-Centered Art Series artist … Michael Hacker!
The Off-Centered Art Series is a lineup of four beers representing the creative expression that occurs at the intersection of beer and art, featuring a new illustrator each year. From Ali Selders to Marq Spusta, Tara McPherson, Jermaine Rogers and more, we've been collaborating with wildly inventive illustrators from around the world since 2008, and we couldn't be more excited to continue the tradition with our friend Michael Hacker.
As a talented freelance illustrator, Hacker has found inspiration for his Art Series illustrations by learning the unique and compelling stories behind each of our beers, then bringing them to life visually in his own style. Since 75 Minute is a combination of two Dogfish innovations in continual hopping – 60 Minute IPA and 90 Minute IPA – Hacker wanted to artfully portray the brewing process with Sam as the original mad scientist of the early craft beer movement.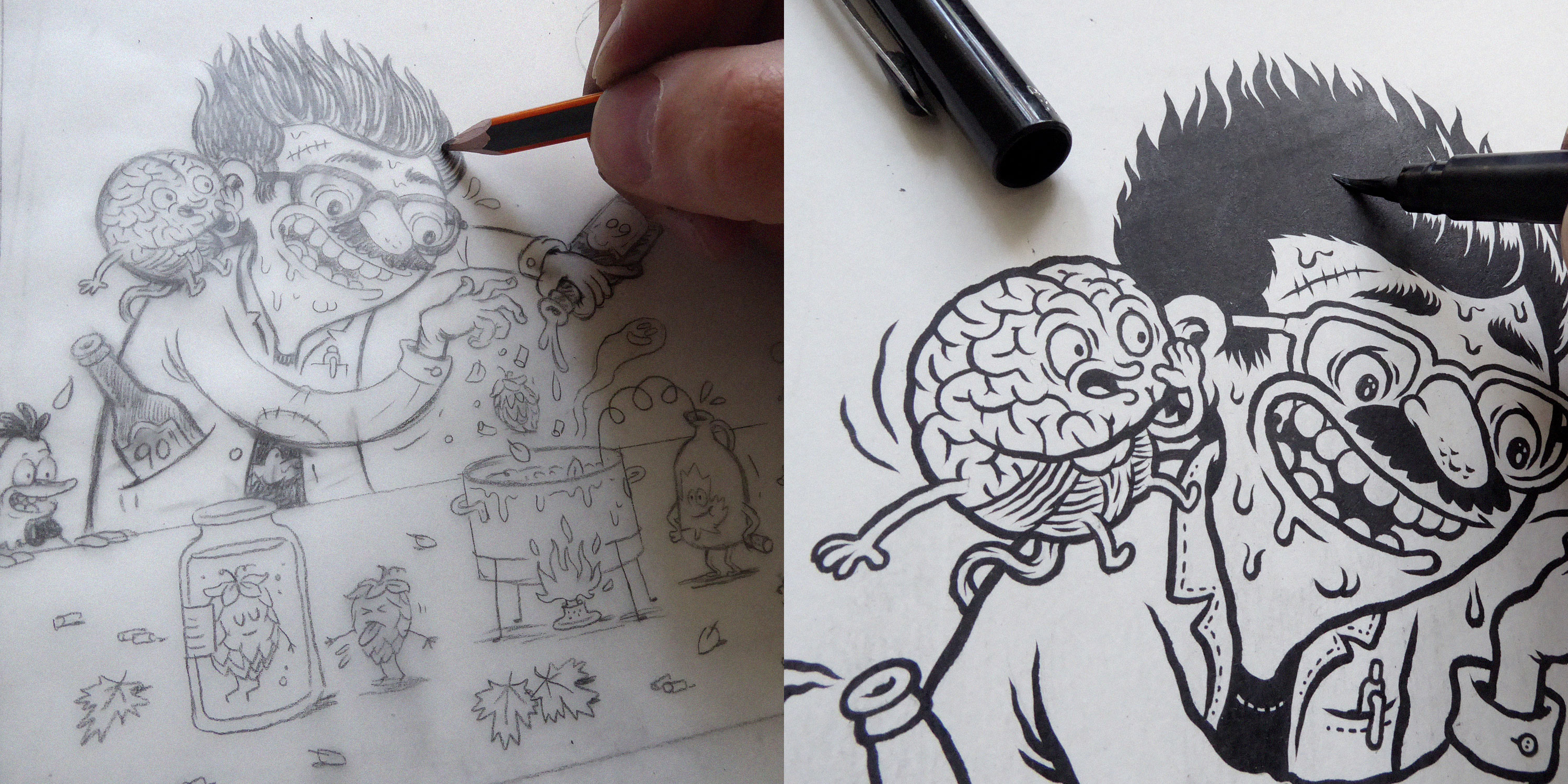 "The fake glasses and rubber nose disguise are a nod to the original 75 Minute label design, and to make things a little weirder, I added a brain whispering into the scientist's ear, along with a Delaware Blue Hen (state bird of Delaware) watching the whole scene thirstily," said Hacker.
The release of 75 Minute kicks off this year's Off-Centered Art Series, followed by The Perfect Disguise, Dragons & YumYums, and Punkin Ale. And as much as we'd love to show you how Hacker has captured the essence of each of these off-centered ales, you'll just have to stay tuned! In the meantime, keep an eye on the Fish Finder over the coming weeks to help you track down 75 Minute!