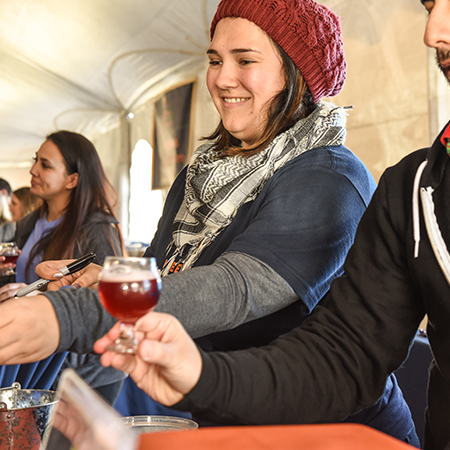 When: March 23, 2019, 3:00 - 7:00 p.m. (VIP guests have an extra hour of goodness and may enter at 2 p.m.!)
Where: Dogfish Head Craft Brewery, Dogfish Head Brewings & Eats, Chesapeake & Maine.

In addition to the rare off-centered ales & beer-centric foods served throughout the day under the tent, join us for a full weekend of compelling activities at all of our coastal Delaware locations!
Brewery Happenings
Brewery Tours - We'll be offering tours of our Milton brewery throughout the day on March 23. Tours will begin at 3 p.m. and happen every half hour until 6 p.m. If you know that you would like to go on a tour, visit the tasting room right away to sign up for a specific tour time. Space on the tours is limited and they will be on a first-come, first-serve basis. Meet your tour guide at the host stand when you're ready to go exploring!
Treehouse Tours - Ever wanted to see what it's like inside our Steampunk Treehouse? Now's your chance! We'll be giving treehouse tours from 2 - 7 p.m.!

Dogfish Head Brewings & Eats Happenings
15% off all weekend! All you have to do is show your TicketLeap ticket to the event.
Friday – Open for dinner with live music from The Groove Merchants kicking off at 10 p.m. - no cover!
Saturday – Mind-blowing line-up of beer with live music with Selwyn Birchwood beginning at 10 p.m. - no cover!
Sunday – Post-WOCAAW Brunch from 11 a.m. to 2 p.m.
 
Chesapeake & Maine Happenings
15% off all weekend! All you have to do is show your TicketLeap ticket to the event.
Friday - Join us for Fish FryDay - a delicately fried seafood platter served family style for just $15! You'll also find live acoustic music from 5 to 8 p.m.
Saturday - Live music featuring Keri Anthony from 6 to 9 p.m.
Sunday - Lobster Party Sunday - serving up 1.25 lb lobsters for just $10! It's the best deal in town!
 
Other housekeeping items
This is a 21+ event.
We LOVE dogs, but they can't come to WOCAAW.
Please wear closed-toed shoes if you plan on taking a tour.
The Tasting Room will be closed to the public.
This is a rain or shine (or snow) happening - so come prepared!
 
Not staying at the Dogfish Inn and looking for places to crash? Start here:

Jolly Trolley Transportation
Jolly Trolley will be using a pay-per-seat option ($10 each way) and it will be the responsibility of the guest to reserve their seat online prior to the event.
Pick-up times from Dogfish Head Brewings & Eats in downtown Rehoboth Beach will be 1:15 p.m. (VIP pick-up), 2:20 p.m., and 3:25 p.m.
Returning trips from the brewery will be at 6 and 7:15 p.m.

NOTE: The Jolly Trolley Pay-Per-Seat Program online ticket sales will end on March 22rd at 1:15 p.m. Tickets will still be available on-site at the same price, but seats will not be guaranteed without buying in advance.
http://www.jollytrolley.com/pay-per-seat.html