Get ready for a jam-packed weekend of off-centered libations, delicious food, and whatnot! Dogfish's Weekend of Compelling Ales & Spirits gives you the chance to taste your way through Dogfish beer-centric inspired food pairings and some of our rare off-centered goodness ALL WEEKEND LONG. Tickets on sale starting March 6th, 2023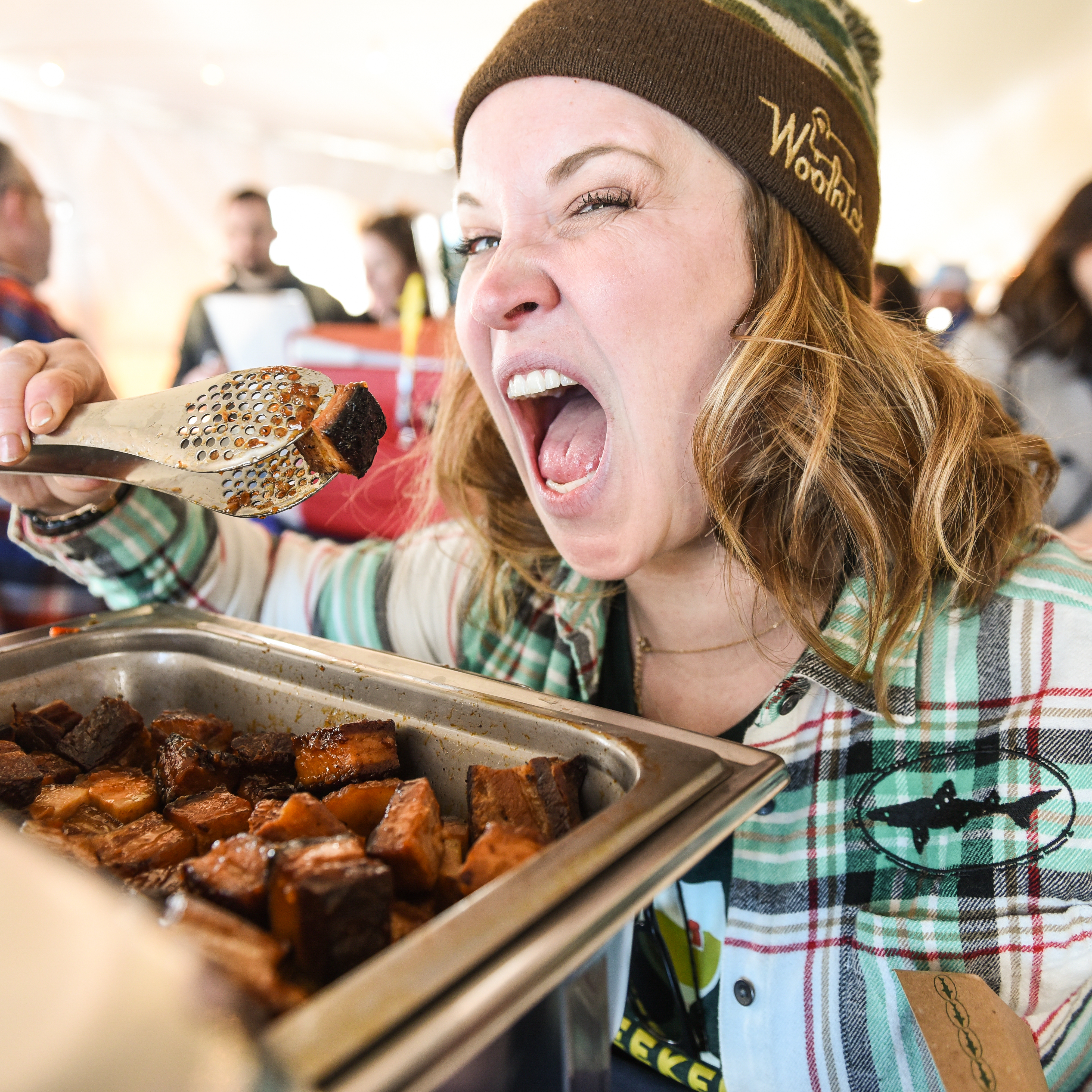 WOCAAS Kick Off Party
An all you care to eat & drink party hosted at our Dogfish Rehoboth campus. Features culinary pairing stations, a special collaboration release with Fabriza spirits, scratch-made Canned Cocktails and off-centered ales to enjoy.
When: Friday, May 5th

7:00pm – 10:00pm

Where: 320 Rehoboth Ave, Rehoboth Beach, DE 19971
About This Event: Your $100 ticket will include a night full of off-centered eats, spirits, ales and live music across both our Rehoboth locations. Enjoy delights such as fresh seafood, tacos, assorted pizzas, pasta, and more throughout both Dogfish Brewings & Eats and Chesapeake & Maine locations. In addition, our friend Mia Mastroianni from Bar Rescue will be joining us too!
We'll also be celebrating the release of a gin collaboration with Fabrizia Spirits, more on that coming soon! You'll also get to enjoy Rehoboth Exclusive beers and get to sip on canned cocktails throughout the night. Want to know what delicious eats you'll be enjoying? Check them out below:
Chesapeake & Maine:
Mussel Action Station 
Raw Bar Offerings
Seafood Paella 
Build Your Own Tacos
Brewing & Eats
Assorted Pizza 
Build Your Own Pasta Bowl
Slider Bar
Chicken & Waffles
Dogfish Head Rehoboth Courtyard:
Plethora of dessert options including a Beer Float
Exclusive Releases Bottle & Can Releases
You know Dogfish's got ya covered when it comes to exclusive releases. Even if you can't make it to one of our ticketed events, you can snag one of our exclusive releases throughout our locations.

When: Friday, May 5th

Where: Across several locations, please see release info for specifics
A super rad Beer Release (more on that in a bit) – Friday, May 5th at the Dogfish emPOURium
Limoncello Gin Release - Friday, May 5th at Dogfish Tasting Room & Kitchen and Dogfish emPOURium More on this awesome gin coming soon!
Licor de Malta – Friday, May 5th at Dogfish Tasting Room & Kitchen. 7% ABV Chelada-style malt liquor brewed with red, white and green heirloom corn, Mexican lime and Tajin. Served in 40 oz bottles.
Cocoa Amburana – Friday, May 5th at Dogfish Tasting Room & Kitchen10.6% ABV Stout aged in bourbon barrels with Amburana wood, Hershey's Special Dark cocoa and Madagascar vanilla beans. Served in 500ml bottles.
WOCAAS Walking and Tasting Experience
Get ready for a whole new #WOCAAS experience at our Milton Brewery. You'll find those obscurities and rarities you've come to know and love, as well as a boatload of more goodies. Bring comfy shoes and get ready to taste your way through the Dogfish Head Brewery with beer-centric inspired food pairings!
When: Saturday, May 6th

11:00am – 5:00pm ;–Designated timed entries.

Where: Dogfish Head Milton Brewery

6 Cannery Village Center. Milton, DE 19968
About This Event: Get ready for this self-guided WOCAAS walking tour featuring 12 stops situated throughout the Dogfish Head Brewery!! For the first time ever, #WOCASS is giving off-centered fans like you the chance to experience the Dogfish Brewery in a whole new way. Your $65 ticket & tasting card will give you access to each stop. Get ready to be greeted with a sample pour of an off-centered beer, spirit, or cocktail paired with a small dish at each stop. 

This self-guided walking tour will take you throughout the Dogfish Head Brewery & Distillery so make sure to bring some comfy shoes! Guests will get an awesome experience as well as a limited-edition take-home glass. 

Want a sneak-peek at our featured beers, spirits & their pairings? Check em' out here
WOCAAS Brunch at Chesapeake & Maine
What better way to end a Weekend of Compelling Ales & Spirits than with brunch?!
When: Sunday, May 7th

10:00am – 3:00pm

Where: Chesapeake & Maine

316 Rehoboth Ave. Rehoboth Beach, DE 19971
About This Event: Chesapeake & Maine will be throwing a brunch bash you won't want to miss. Enjoy a Sunday the way it's meant to be, sippin' on mimosas & brunching it out. Reservations are required for this event, so make yours now by calling (302) 226-3600 to snag a spot!
Snag Your Reservations – Call Chesapeake & Maine at (302) 226-3600 during business hours to snag a spot!

Tuesday – Thursday: 4:00pm – 9:00pm

Friday & Saturday: 4:00pm – 10:00pm
---
Dogfish INN WOCAAS Package
All rooms at the INN are full!
STILL AVAILABLE: The Cottage Sweet WOCCAS Dogfish INN package at $815 per night plus tax.  

This price includes all transportation & ticketed events for 4 people.  

2-night minimum required.
Check-out the full Dogfish INN schedule here
Snag Your INN Reservations – Call Dogfish INN at (302)-644-8292!