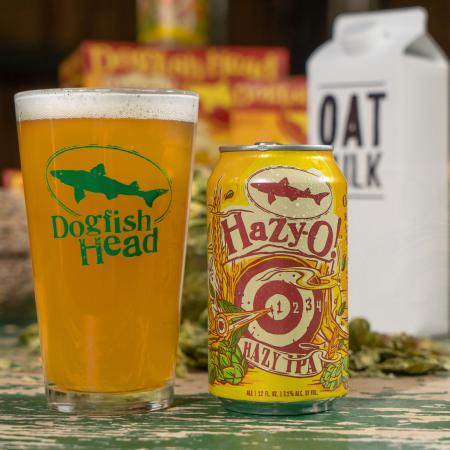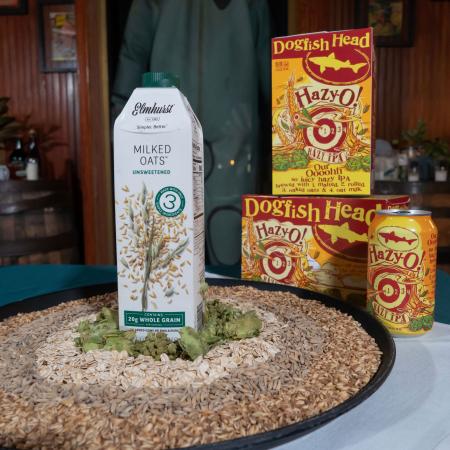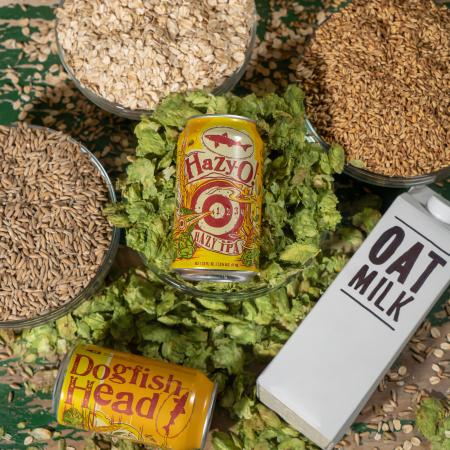 Hazy-O!
Our ooohh-so-juicy Hazy IPA made with FOUR types of oats! 
Helloooooo Hazy-O! Our latest off-centered innovation is now available coast-to-coast!
Brewed with truckloads of oats and wheat for a full body, Hazy-O! is then liberally dry-hopped to deliver juicy tropical notes of citrus, mango and pineapple! But the real star is our secret ingredient ... oats! This Hazy IPA uses four (yes, four!) types of oats. And you might be thinking, "why so many oats?" Each does something a little different for your sipping experience...
Malted oats contribute a dreamy cloudiness.
Rolled oats create a silky mouthfeel.
Naked oats give a nice toasted and nutty flavor.
And oat milk, oh the oat milk! The

pièce de ré·sis·tance of this glorious IPA provides an

amplified haze and mouthfeel.
This foundation of four oat formats creates a target, allowing the beer's bright and juicy hops to hit the flavorful bullseye. Smooth and refreshing, Hazy-O! drinks like a 5% ABV sipper, even thought it's a 7.1% ABV powerhouse!
As the first-ever nationally distributed oat milk-centric IPA, Hazy-O! took almost a year of R&D to perfect. By enlisting the help of oat milk scientists at Elmhurst 1925 (a family-owned, plant-based milk producer out of New York), we were able to ensure we harnessed all the goodness of oat milk using their Unsweetened Milked Oats, made with only three simple ingredients - oats, water and a bit of salt.
Playful and palate-pleasing, you'll find Hazy-O! housed in maroon and gold cans that feature intricate and storyful artwork with hand-drawn hops and wheat, the "hazy-o" sun setting over the water and a four-ringed bullseye to represent the four oat varieties used in the brewing process.
It's been a labor of love to bring this one to life, but one sip and you'll find yourself saying ... "ooohhhh that's good!"
'...the 7-percent-plus ABV beer isn't just a parlor trick. The IPA actually mixes four different forms of oats—malted, milled, naked, and milked—to achieve its golden-hazed glory.' - Food And Wine
"It may be a game-changer." - Gear Patrol
---
Experience
---
Citrus, mandarin orange, grapefruit, mango, pineapple
---
Juicy and tropical led by mango, pineapple and citrus
---
---
Off-Centered Gear