IN YOUR MACE!
Thursday, February 01, 2018
---
Sam and friends are at it again with another blazin' collaboration … IN YOUR MACE! A dark, roasty beer with a tan head, IN YOUR MACE! is a coffee milk stout brewed with cinnamon verum chips from the Zanzibar Islands, mace spice, milk sugars, coffee, chicory and most importantly … chili oils, the active ingredient in Mace Brand (yep, the pepper spray).
Brewed to ignite your love of off-centered ales, we'll be pouring IN YOUR MACE! during all three sessions at this weekend's Extreme Beer Fest in Boston, hosted by our pals at BeerAdvocate. Can't make it? You can also find it on draft in our Milton brewery Tasting Room beginning Friday, Feb. 2. AND we're holding a super limited 750ml bottle release on Saturday, Feb. 17! Only 200 bottles* will be available for $18 each, and doors open at 11am.!
But, mace … really? Sam dreamt up this far out beer concept with high school pal Eric Crawford, Vice President of Sales at Mace Security International, Inc. Sam and Eric became fast friends while attending Northfield Mount Hermon (NMH) High School in Gill, MA. They shared a passion for taking collaboration seriously, but themselves not so much - especially since they played varsity football together for multiple years at NMH and never won a single game.
Reminiscing 'bout the good old days over a couple of beers while planning their trip to Boston for the city's annual Extreme Beer Fest, Sam and Eric thought it would be great fun to brew an envelope-pushing beer together using adventurous culinary ingredients, like chicory, coffee and milk sugars, and two varieties of mace. The first being mace the spice which is the outer hull of nutmeg shell, and the other being the mighty, all-natural pepper oils found in Mace Brand pepper spray.
"We're always in search of unique, avant-garde, experimental beer ideas that push the boundaries of traditional brewing while still delivering rich aromas, flavor profiles and culinary ingredients that Dogfish beer fans count on and love," says Sam. "IN YOUR MACE! is one of our most fun and personal partnerships to date and I'm super proud of this small-batch team-up with our friends at Mace Brand pepper spray. Any day we get to brew a beer wearing full body suits, face masks and respirators is a memorable day in the brewhouse."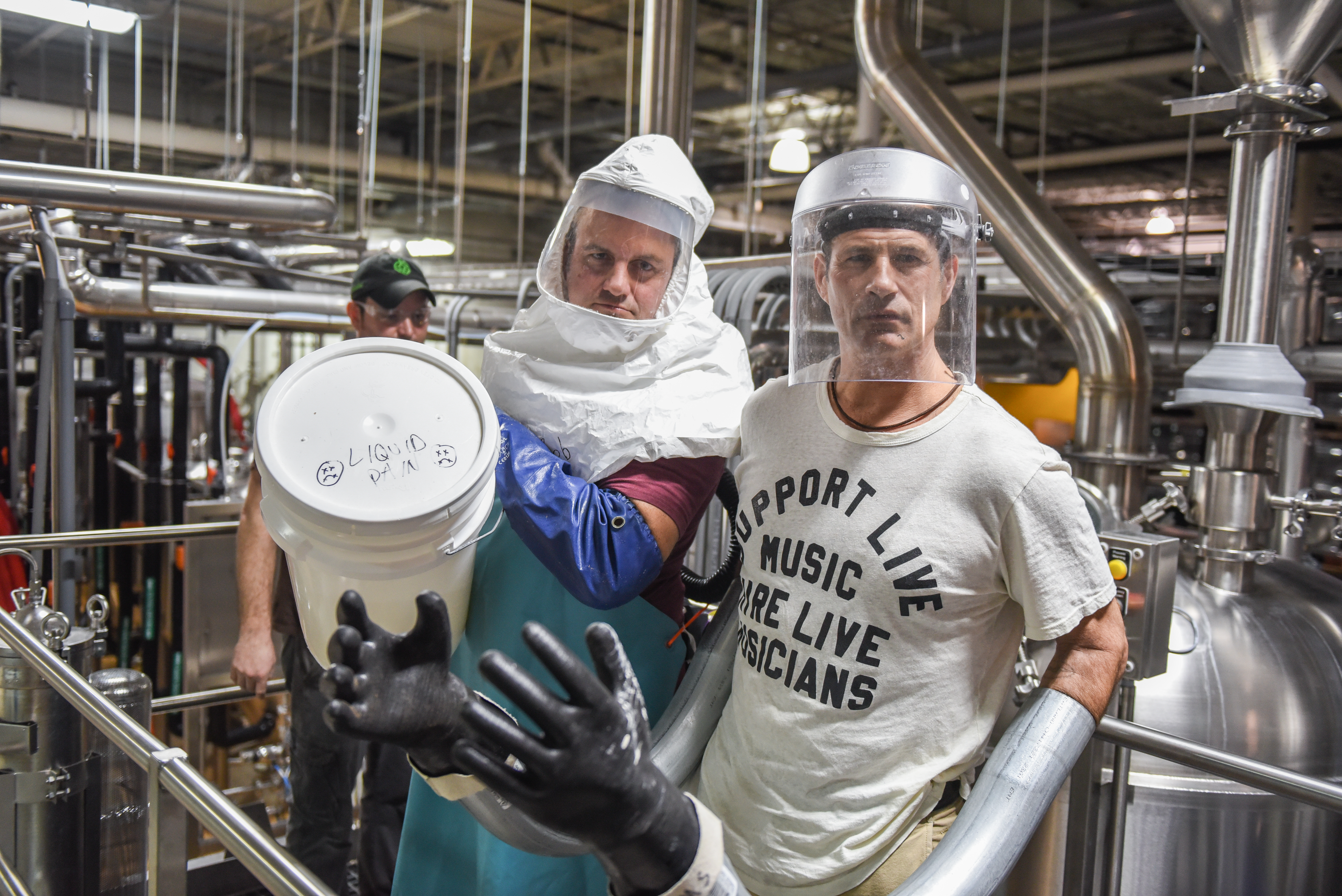 Clocking in at a 5% ABV and 35 IBUs, this smoky, moderately sweet stout gives off spicy nutmeg, anise and espresso aromas with a palate-warming chili spiced finish. Sam and Eric, along with our brewers used the primary ingredient in Mace Brand pepper spray, oleoresin capsicum (a food grade version of chili oils), that won't burn your palate but still has noticeable heat. In its raw form, the pepper oils used in IN YOUR MACE! are so extreme that the team needed to wear protection gear to brew with it!
"When Sam and I cooked up this idea, I think everyone at the table thought it was crazy. But in his typical fashion, Sam wouldn't let a good idea go! At Mace Brand, we focus on empowering people and helping them to feel safe and happy in their everyday life. In that way, Mace Brand and Dogfish have a very similar mission so this collaboration makes perfect sense. Of course, we don't want anyone to pepper spray their beer, that's not what this is about. It's about friendship, flavor and fun for fans of Dogfish and Mace Brand," says Eric.
*Limit two bottles per person.