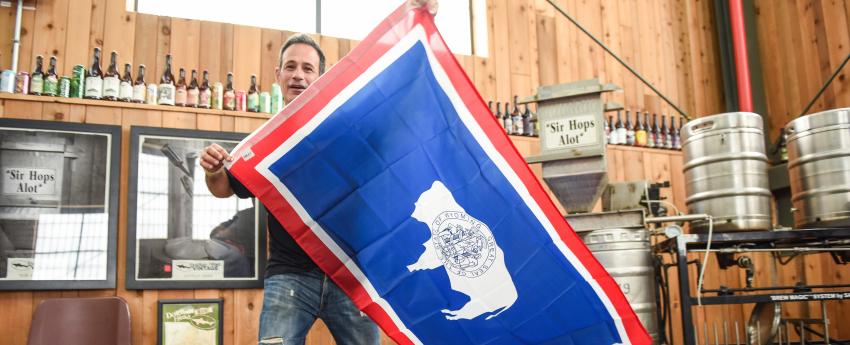 Wyoming is about to get a little off-centered
Friday, February 21, 2020
---
We're delighted, excited and downright elated to announce that our off-centered ales are heading to the great state of Wyoming!
"We're ecstatic to share our lineup of well-differentiated beers with Dogfish fans in Wyoming, and to begin creating long-lasting relationships with the state's beer drinkers, retailers and distributors," says Dogfish Head founder Sam Calagione. "We have our canning and bottling lines pumping out a boatload of beer, and we've got enough brewing capacity to ensure we can keep retailers well stocked with our family of off-centered ales for years to come."
Dogfish Head fans in Wyoming can expect a gamut of iconic beers, like 60 Minute IPA, Slightly Mighty, SeaQuench Ale and 90 Minute IPA. Wyoming will also see a selection of bottles from our 2020-2021 Off-Centered Art Series, including Sun-Day-Feels, Punkin Ale and Campfire Amplifier. Limited quantities of specialty ales and rarities may be available too.
---
Love a good food and beer pairing? We've got you covered!
Dogfish Head Brews & Wyoming Chews
Grab a 90 Minute IPA to drink alongside a Chicken-Fried Steak. Its full flavor and lightly sweet finish complement the richness of the meat, while its assertive hops provide a lovely finishing note for this hearty dish.
SeaQuench Ale is a natural choice when enjoying some Trout. Its light, tart body are an ideal counterbalance to this somewhat fatty fish, and its subtle saltiness will pair perfectly with any seafood seasonings.
Try 60 Minute IPA with some Jerky. This off-centered ale's citrusy hops provide an excellent counter to these meaty, earthy treats.