Time for another tasty tART Series release at Dogfish Head Miami!
Thursday, November 18, 2021
---
The beauty is in the eye of the beer holder, and for us that beauty occurs at the intersection of art and ales. For our fourth and final tArt Series can launch of 2021, we present … Florida Marmalade! Inspired by the Sunshine State's fruit preserves, this gose-style ale is brewed with local kumquats and a touch of sea salt. It's pleasantly tart and satisfyingly crisp.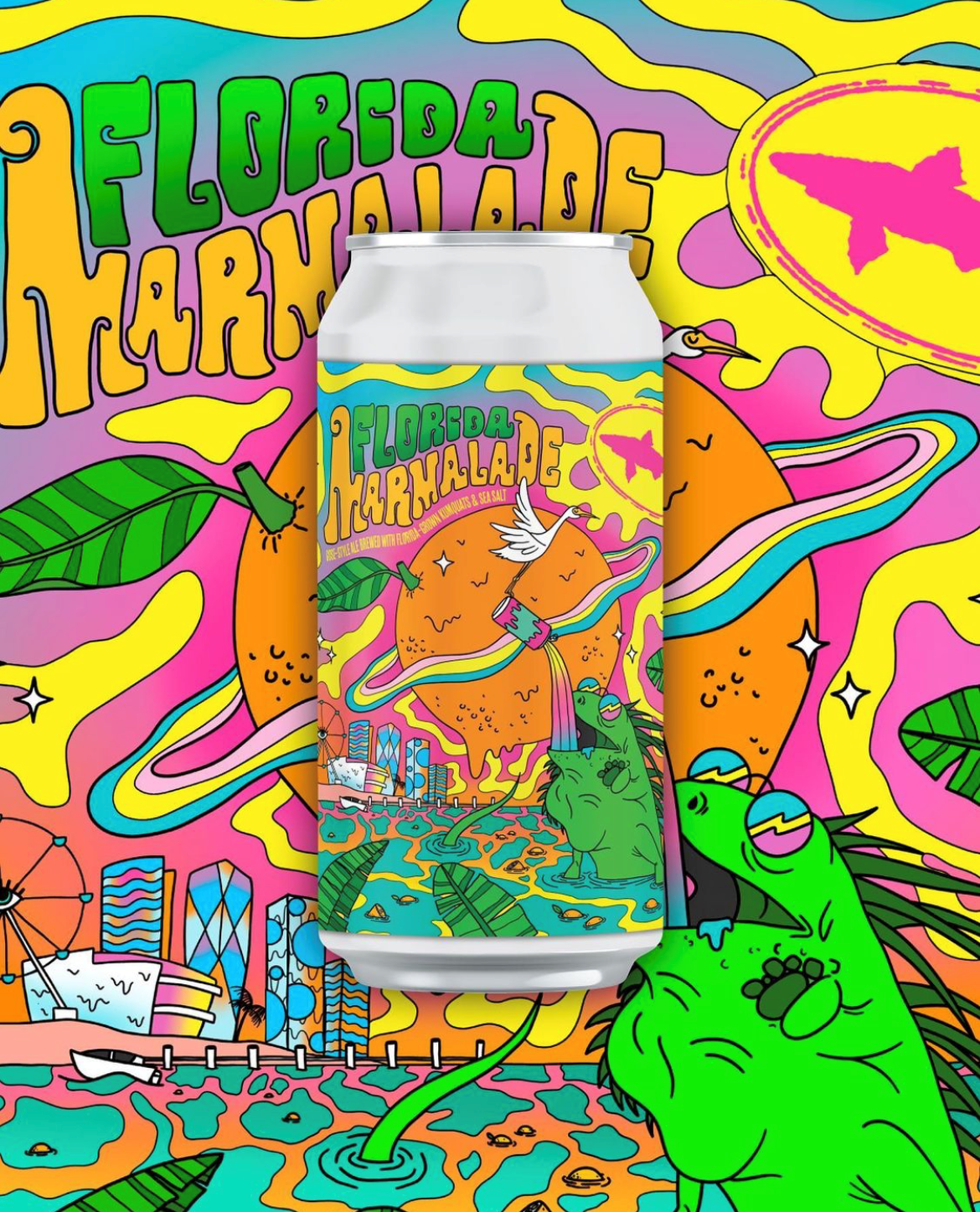 Clocking in at 4.8%, 16 oz. 4-packs will be available beginning Saturday, Dec. 4 at 11 a.m. for $16 / each. Featuring artwork from our wildly talented friends a Chalk and Brush, the cans are vibrant and playful, and downright groovy. We recently caught up artist Cinthia Santos, co-founder and creative director at Chalk and Brush, to learn more a little more about the process and inspiration behind Florida Marmalade. Check it…
How long have you been an artist?
I've been an artist all my life! I grew up watching my father - a Cuban artist with a PhD in Arts and Humanities - paint and sculpt. As a kid, my response to "What do you want to be when you grow up?" was always an artist or something in the arts.
We use a lot of different techniques to make our beer - could you tell us a little bit about the techniques you use to create your work?
The work I do with our team is a combination of several techniques. I trained in traditional sign painting and blend my love of lettering with illustration and visual storytelling. Aside from illustrating awesome beer cans, I design and paint murals as part of Chalk and Brush, a team started by my husband Ben and me. Our murals are a combination of design, lettering, illustration, and lots and lots of color.
How is approaching artwork for beer brands different than some of the other commissioned works you've done? Does your process change at all?
I find that my process changes a bit with every brand, which keeps things interesting. With breweries, it's obviously very important to get to know the product (which is a bonus!) and how that brewery presents themselves and interacts with their community. I love that Dogfish Head is a little more off beat which allowed for a lot more creative freedom than I'm used to.
You've worked with some great clients. Do you ever step back, pinch yourself, and think, "Wow, it's really cool to be a part of this creative world?"
Every day!
Who do you admire in the art world right now, past or present, and why?
I'll stick to past because I am rooting for so many awesome illustrators and muralists via social media, that this answer would be endless! I've always been a fan of Mark Rothko and his ability to let color and composition speak for themselves. If I'm ever a gazillionaire, that's what I'm buying.
At Dogfish, we've learned to embrace the intersection of art (in liquid form) and business. Was that ever tough for you?
Super tough! Monetizing something you love is always difficult, and the heaps of paperwork that come with creating murals is no joke. I'm lucky to have an awesome partner who bears the most of that burden so that I can focus on staying creative.
What's the creative process? How do you work with the designers at Dogfish?
Working with Dogfish was a little different than I'm used to, because they really let me do my own thing! We had an initial meeting during which we learned about the brand's history and love of off-beat art styles, and the different ways they've been incorporated into packaging and other brand elements throughout the years. Oh, and their love of music! I think we knew it would be smooth sailing from there.
What's your favorite Dogfish Miami beer?
My current favorites are the Immortal Palms and the Tropi-Lo-Cal, but I'm sure I'll be biased once Florida Marmalade is released.
What was your inspiration behind Florida Marmalade?
After learning about the brand's history with different art styles and seeing the colorful packaging for the Miami beer lineup I envisioned a psychedelic Miami landscape, with melting colors, sour fruits, and groovy lettering. I included my signature plants and, at the team's very good suggestion, an Iguana - the most punk rock of Florida wildlife.
The Florida Marmalade concept was actually one of the mural options we had first proposed to Dogfish when we started working with them, but we ended up going a different direction for the brewpub's mural. Turns out, it's even better as a can than a mural, and the mural we ended up painting instead couldn't be more perfect!
To see more of the incredible work from the Chalk and Brush team, be sure to hop on over to their Instagram page @chalkandbrush (linked here)!