Singing & Sewing for Mother Nature
Monday, February 22, 2021
---
In the dead of winter, it can feel like the only option is to curl up, switch on the TV, and wait for spring to emerge. But what if we gave you a rally cry to do the exact opposite? Thanks to a yearlong partnership with our friends at The Nature Conservancy, we've done just that.
Mother Nature, Let's Do This is an off-centered challenge to beer and nature lovers alike (that's you, dear reader!) to get out and explore the splendor of the great outdoors. Whether it's a trail ride, a biking trip, a camping trip or even a brisk walk … embrace it.
But what if you need more than energetic rally cry? What if you need something to work toward? Something that proudly displays your commitment to adventure. To Mother Nature.
We're got you covered … quite literally. Our pals at Patagonia have offered a beanie so we could add an exclusive Dogfish Head x TNC "Mother Nature, Let's Do This!" patch. And to cap it all off, we've also created four distinct badges that throwdown four unique quests for you to conquer – On the Trail, On the Water, On the Road, and In the Cold.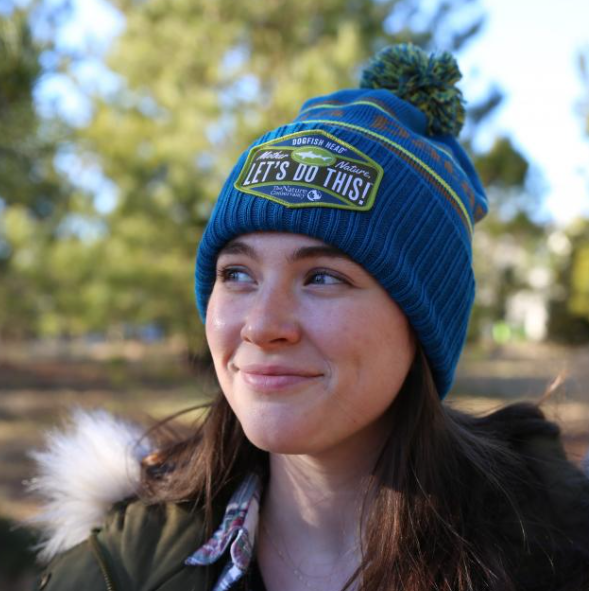 Designed to complement each season, the four badges highlight a different activity and a touch of inspiration.
January – March: On the Trail
Whether you dig out that old mountain bike or dust off those trail sneakers, this badge is all about finding the closest trail. Walk it, run it, or bike it. It doesn't matter how you find your way to the trail, just find it.
April – June: On the Water
Be it an ocean, a lake, a river or a pond, find some water and jump on in! Skim the surface with your stand-up paddle board, dive deeper with a snorkel and some flippers, or simply kick back and go with the ebb and flow.
July – September: On the Road
You don't have to venture far, the point is just to venture. Whether it's around the corner or away for the weekend, hit the open road. Pack a bag, make a plan and don't overthink it. You'll get where you're going when you get there.
October – December: In the Cold
Lace up your snow boots and zip up that parka, things are about to get chilly. But just because temperatures are dropping, doesn't mean the adventures have to slow down. Get creative with your outdoor explorations (hello snowshoeing!) and know that an off-centered ale will be waiting for you at the end.
Now, whether you want to collect each badge at the completion of the season / challenge or all at once is completely up to you. Either way, be sure to add them to the cuff of your Patagonia beanie. Not quite sure how to go about that or what that might look like? Watch and learn from our resident sewing guru Marge, and let her words provide inspiration for your next adventure!
Here's a rallying cry for the restless minds
To venture far outside the city lines.
Stretch out your legs, go for a ride
The day to day can wait a little while.
Explore all the goodness of the outside.
We can all help the Earth a little if we try.
Mother Nature, let's do this.
-Margaret Egeln
To purchase your beanie and badges, hop on over to dogfish.com/shop and don't forget to share your Mother Nature, Let's Do This moments by using #MotherNatureLetsDoThis … you just may be featured on our social channels!
Before heading outdoors, please ensure you do so safely and in accordance with all COVID-19 health warnings, local laws and regulations.