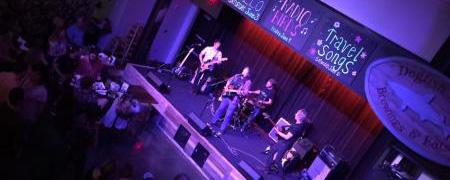 Rhythms & Brews: Two National Music Acts Coming to Brewings & Eats!
Thursday, July 21, 2022
---
Drum roll, please! We've got a riveting lineup of live music happening this month at our Rehoboth Beach brewpub! Slated to take our world-class stage this month are Neal Francis, a funk-soul piano prodigy and Kiwi Jr., an indie-rock group from Toronto, alongside special guest, Weird Nightmare.
Both live shows are open to the public, no cover and no tickets needed!
Neal Francis – Wednesday, July 27, at 10 p.m.
For those into the funk and soul scene, we give you Neal Francis. By the age of 18, Francis was a piano prodigy touring Europe and playing backup for prominent blues artists all over the world. Now, in the midst of his inspiring solo career, he's bringing his talents to Rehoboth to share his tunes with Delaware's music lovers.

Kiwi Jr. with Weird Nightmare – Friday, July 29, at 10 p.m.
Formed in 2015 by a group of four friends, Kiwi Jr. has integrated themselves into the Toronto music industry, producing and playing a portfolio of original tunes that draw inspiration from pop and indie rock acts with nods to college party scenes. Joining Kiwi Jr. on the Brewings & Eats stage is Weird Nightmare with a raw, sugary blast of distorted pop tunes.

BEER BONUS! Kiwi Jr. Can Release – Friday, July 29
You heard that right! To accompany the show, our brewers at Brewings & Eats have teamed up with Kiwi Jr. to brew a limited-edition collaborative beer in the band's honor. Kiwi Jr. (5% ABV) is a Grisette-style ale brewed with black pepper, grains of paradise, kaffir lime leaves, lime juice concentrate and (you'll never guess) kiwi. The beer is an eclectic blend of fruit and spices and provides a deliciously refreshing quality perfect for any live music show.
Check out all our upcoming shows - including Dentist, Nate McCormick, Big Nothing & The Afterglows and more - right here!