Ready, set ... let's get Tudor's Electric Football game into the Toy Hall of Fame!
Monday, July 24, 2023
---
You've likely heard the story of continual hopping when it comes to 60 Minute IPA, 90 Minute IPA, and even 120 Minute IPA. But did you know our original continual hopping device was built from a pickle bucket, an Electric Football game from Tudor Games and a boatload of hop pellets. No really, it was!
Picture this (or check out this video) … Sam drilling holes around the base of a pickle bucket and duct taping it to an Electric Football game. Then rigging the game at a 45-degree angle above the beer's boil kettle. After adding hop pellets to the pickle bucket, Sam turned on the game and its vibrations allowed the hop pellets to shimmy-shake their way through the holes in the pickle bucket, down the field and into the boiling beer for a touchdown. By adding small, consistent increments of hops throughout the entirety of its boil, Sam was able to create a pungently hoppy that wasn't (and still isn't!) crushingly bitter.
And thus, it's safe to say that Tudor and their Electric Football game hold a very special place in our heart. Which is why we're doing our part to help Electric Football secure its place in the Toy Hall of Fame … and you can help too!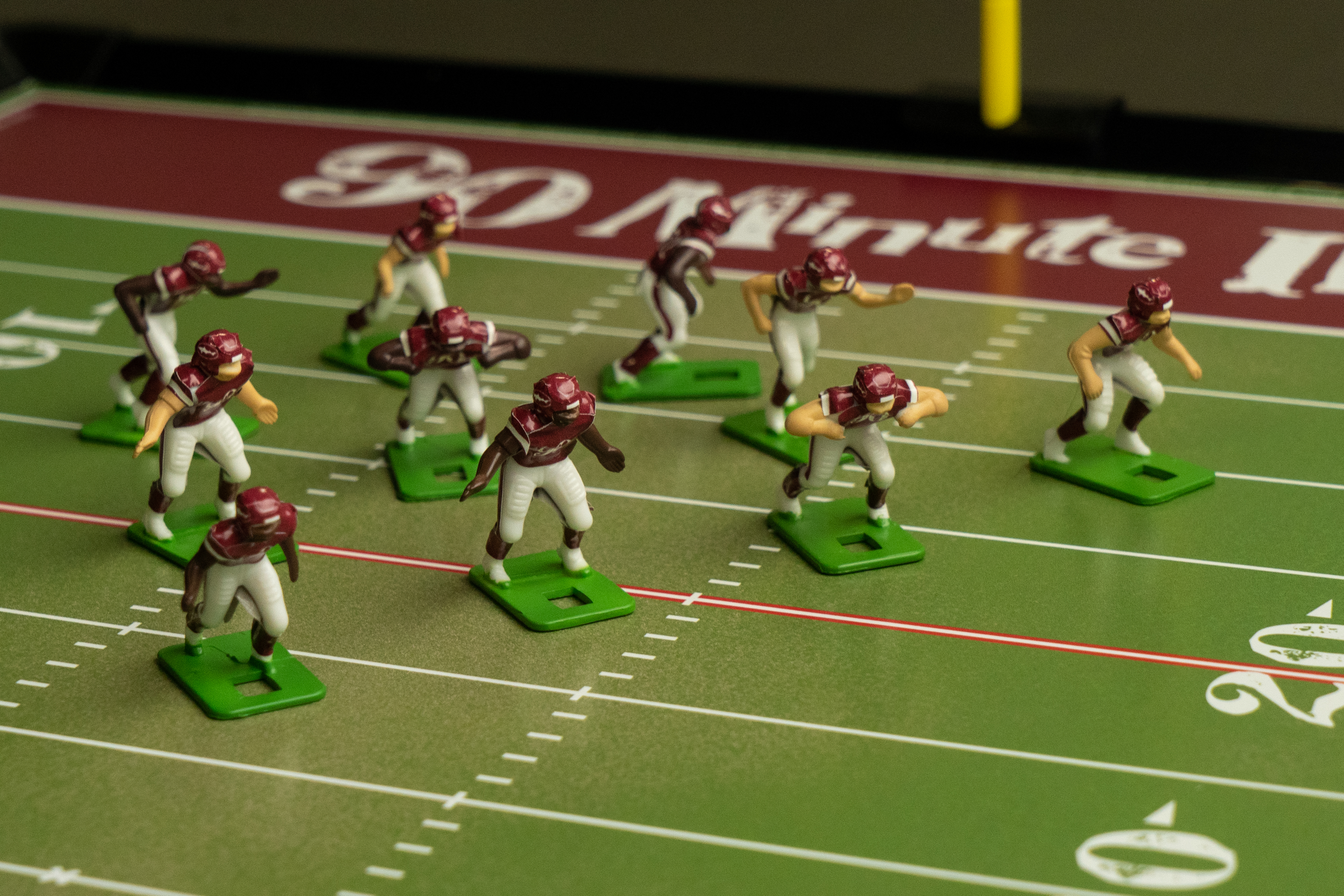 The voting process is simple and straightforward. Simply visit the official website of The Strong National Museum of Play's Toy Hall of Fame and enter your name. Then, take a moment to write a short description of why Electric Football deserves a spot in the Toy Hall of Fame. Your words can make a tremendous impact on the board of decision-makers. Not totally sure where to start? Check out the thought starters below for some inspiring language from our friends at Tudor to help jump start your wordsmithing.
"The epitome of off-centeredness, this partnership is very close to my heart," says Dogfish Head founder and brewer Sam Calagione. "Back when I first started brewing, I used a Tudor Electric Football game to MacGyver the first-ever continual hopping machine. That machine birthed one of Dogfish Head's most well-known beers, 90 Minute Imperial IPA, and it now sits in the permanent collections of the Smithsonian Museum."
Electric Football has meant so much to so many people, and we'd love nothing more than to help this legendary game take its rightful place in the Toy Hall of Fame ... let's do this!
CLICK HERE TO NOMINATE THE ELECTRIC FOOTBALL GAME
Inspiration for 'Why' Electric Football belongs in the Toy Hall of Fame
Enduring Legacy: Electric Football has stood the test of time, captivating generations of players and remaining a beloved game for decades. Its enduring popularity is a testament to its timeless appeal.
Innovative Gameplay: Electric Football introduced a unique and innovative style of gameplay, combining the thrill of football with the excitement of strategic maneuvering. The vibrating field and player figures brought a new level of realism to tabletop gaming.
Nostalgic Value: Electric Football holds a special place in the hearts of many who grew up playing the game. It evokes a sense of nostalgia, bringing back cherished memories of friendly competitions, family gatherings, and hours of imaginative play.
Social Interaction: Electric Football has been a catalyst for social interaction, fostering friendships, camaraderie, and healthy competition. It has brought people together, creating lasting connections through shared experience.
Creativity and Customization: Electric Football encourages creativity and deep customization. The game allows passionate players to design their own unique playing fields, paint player figures, and strategize their game plans. It sparks imagination and offers endless possibilities for personalization.
Skill Development: Playing Electric Football enhances hand-eye coordination, strategic thinking, and decision-making skills. It teaches players the importance of planning, adapting to changing circumstances, and working as a team.
Cultural Significance: Electric Football has become a cultural icon, reflecting the enthusiasm and passion for the sport of football. It has influenced popular culture, appearing in movies, TV shows, and books, and has become a symbol of sports fandom.
To learn more about Tudor Games and their legendary Electric Football game, check out tudorgames.com.