Meet the guy behind our killer 2017 Record Store Day artwork
Friday, March 24, 2017
---
The Melvins, The Hives, Green Day, Dinosaur Jr. ... illustrator Michael Hacker has created artwork for them all. Now in our third year as the Official Beer of Record Store Day, we're lucky enough to have had Michael create a one-of-a-kind piece just for the occasion!
With our love of original beer, original music and original artwork, it only made sense to partner with the talented artist to bring our three loves to life. His groovy doggy creation can be found on limited edition posters, an exclusive Crosley turntable, as well as the Dogfish x Crosley rolling gallery truck.
Get to know Michael in the interview below and check out his incredible line of work right here!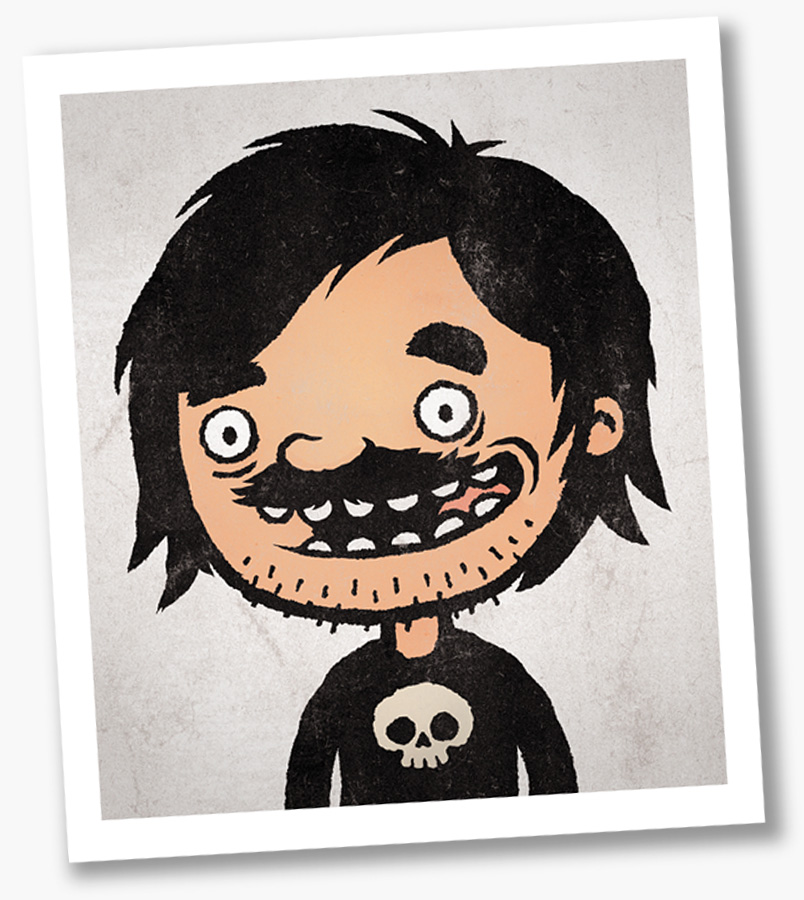 How long have you been an illustrator?

I've been working as a freelance illustrator since 2009. I started right after graduating from university.
We have a saying we use a lot to talk about our beer – "Analog beer for the digital age." – could you tell us a little bit about how you use analog and digital techniques to create your work?
It all starts with an idea and a very rough and small pencil sketch. About the size of a stamp. After blowing the sketch up and adding details I ink it with a brush pen by tracing the lines on a light table. As I often try to integrate the typography into my artwork - I do the lettering by hand as well.
So the outline drawing is completely analog. Amongst other things because I want to have an original piece of art and not just a digital file. Most of the time I add the colours digitally or I draw the colour layers on transparent paper and put them together on the computer.
The coloring process on my Dogfish Head artwork was done completely digital. But I used a reduced color palette so there's a screen-print-like look to the final illustration.
How is approaching posters based on beer brands different than, say, a movie, a band or a specific personality? Does your process change at all?
I try to treat each project equally. I always want to tell a story and include humor in my illustrations.
How much input do your clients give on content? 

This varies from project to project very heavily. Working on the poster for Dogfish Head's official Record Store Day beer was really great. I felt that the people at Dogfish Head knew exactly what they wanted and where my strenghts are. But I still had a lot of freedom to do what I want. This is a rare combination :)
You've worked with a lot of big names, and at some point must have worked with bands or actors or directors that you really love. Do you ever step back, pinch yourself, and think, "Wow, it's really cool to be a part of this creative world?"
Not really. Perhaps I should do that more often. But I guess I always focus on what lies ahead. I'm really happy though to be part of the gig poster scene. I met a lot of wonderful artists and made friends from all over the world and travelled quite a bit during the last years.
How do you approach a project like this – what's your conceptual process like?
When I was asked to do a poster for Dogfish Head I was really excited, but to be honest I was quite nervous as well. First of all because of the list of amazing artists like Tara McPherson, Drew Millward, Marq Spusta and Rich Kelly who already worked with Dogfish Head. Secondly because a project that combines beer and music doesn't happen that often and honestly it doesn't get much better than this. So I wanted to do a really good job. But first I had to get rid of the pressure I put myself under. I told a friend about the situation and he gave me a really great piece of advice. I should imagine designing this poster for just one specific person. E.g. a friend or somebody from my family. This really helped me to relax. The rest of the conceptual process was more or less the same like for other projects. I wanted to come up with a concept that combined a literal interpretation of Dogfish Head's name, the brand's history and their love for beer and music. And a big portion of humor. I did a couple of rough sketches with different concepts. After that we chose one together and decided upon doing a combination of two ideas.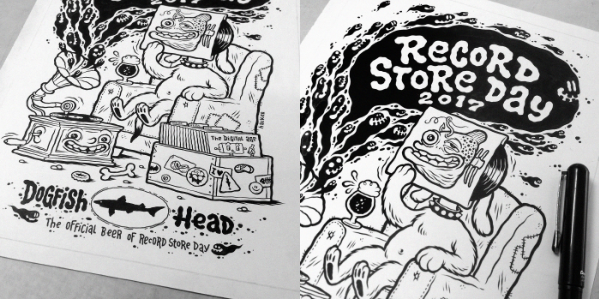 Who do you admire in illustration, past or present, and why? 

I've been heavily influenced by comic books. Not just in terms of style but also in terms of humorous and narrative approach. So I mostly look up to comic artists. There are tons of great artists I like. Jim Woodring, Mike Mignola and Nicolas Mahler. Three totally different artists but each one with a very distinctive style that fits the kind of stories they tell perfectly. That's something I admire.
At Dogfish, we've learned to embrace the intersection of art (in liquid form) and business. Was that ever tough for you?
This is still tough for me. But I try to find the right balance and retain a lot of artistic freedom and time enough for my personal projects like comics, books and art prints.
You have a lot of connection to the music world in your work – what are you listening to right now? Do you tend to work with bands who's music you admire?
Since my record player broke a couple of days ago I dug out some of my old CDs again. I listened to old Metallica, Nirvana, Anthrax, Dead Kennedys and Lard right now. I've been really lucky to be able to work with some of my all-time favourite bands. During the last ten years I've done gig posters for Kvelertak, High On Fire, Black Cobra, Mastodon, Municipal Waste and The Melvins. It's really great to interpret my favourite music with my own style and approach.
What do you have coming up that you'd like to share with the world? Can you tell us a bit about the SQUEEGEE project?
The SQUEEGEE project is a series of books portraying the vital European poster scene. The current second volume was published by Señor Burns and Joris Diks and features 36 European artists with studio visits and looks behind the scenes. Some of my posters were just recently featured in a new book called OMG Posters: A Decade of Rock Art curated by Mitch Putnam. And right now I'm working on my very first cartoon book which I hope to Crowdfund later this year.
Be on the lookout for Michael's Record Store Day artwork in your neck of the woods - whether it's a poster you find at your local beer store, you're able to snag one of the limited Crosley turntables, Record Store Day events, or you hit up one of the Dogfish x Crosley tour stops!