Dogfish Head Camp Amp marshmallows ... for real.
Tuesday, March 02, 2021
---
Your eyes aren't playing tricks on you … that totally says Dogfish Head Camp Amp marshmallows! We took our s'mores-inspired milk stout to a whole new level by incorporating it into a marshmallow that sat atop a hot cocoa bomb. To say it was the bomb.com might show our age a bit, but we're okay with that because ... well ... it was.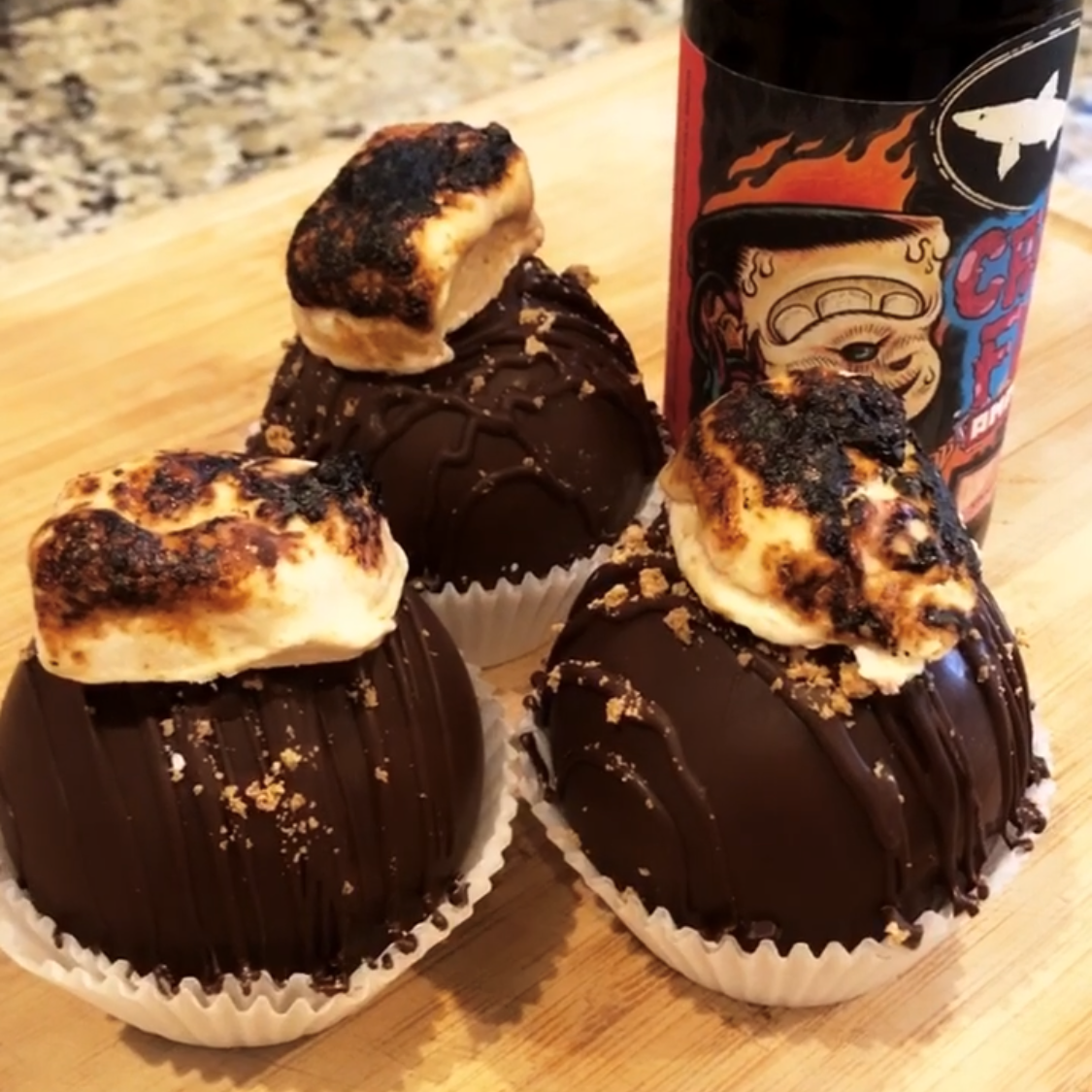 After we shared this magical treat on our Instagram page, we were immediately greeted with all sorts of…
"Please tell me where I can get these!"
"Do you have a recipe?!"
"I want this NOW!!!!"
And while we aren't selling these, they were crafted by our co-worker Courtney who was kind enough to share the Dogfish Head Camp Amp marshmallow recipe with us. So without further ado…
Dogfish Head Camp Amp Marshmallows
INGREDIENTS
1/2 cup powdered sugar
3 packets unflavored gelatin
1 cup cold, flat Dogfish Head Camp Amp, divided in half
2 cup sugar
1/2 cup light corn syrup
1/4 tsp salt
2 egg whites
1 Tbsp vanilla
DIRECTIONS
Pour 1 cup of Dogfish Head Camp Amp into a bowl, whisk for a minute, and then pop it in the refrigerate for at least an hour or longer to make flat.
Pour 1/2 cup of flat beer over the gelatin in a bowl to bloom, set aside.
In a medium saucepan, heat the granulated sugar, corn syrup, salt, and remaining 1/2 cup of beer on low heat. Stir until sugar is dissolved. Bring to a boil until the temperature reaches 245°F … a candy thermometer clipped to the side of your pot is useful for this step!
Remove pot from heat and pour mixture over the bloomed gelatin. Beat with an electric mixer on high until it has tripled in volume (about 10 minutes).
In a separate bowl, beat egg whites until they form stiff peaks. Add egg whites and vanilla to your sugar/gelatin mixture and beat to combine.
Lightly grease a square cake pan and dust the bottoms and sides with powdered sugar. Pour the mixture into the pan and sift more powdered sugar on top.
Chill the marshmallows uncovered for four hours until firm. Turn out and cut into squares.
And that's that! At this point your Dogfish Head Camp Amp marshmallows can be used for anything … including hot cocoa bombs!