Coastal Delaware ... the perfect place for a wINNter getaway!
Tuesday, November 23, 2021
---
Coastal Delaware is home to beautiful beaches, a bunch of awesome hiking trails and tons of outdoor fun that make it the perfect summer vacation spot. But, what many folks don't realize is that it's also a really great place to visit during the winter months!
As the chillier weather creeps in, many of coastal Delaware's tourists run for the hills ... when in fact, they should be getting ready to partake in all the wintertime goodness approaching! From tasty off-season specials at some of the area's best and most critically-acclaimed restaurants to amazing opportunities for holiday shopping sprees, and winter-themed events and festivals, there's a little bit of something for everyone.
With so much awesomeness happening in such a short period of time, it's hard to tackle it all in just one sitting, but we'll do our best to cover the highlights!
THE FOOD
Enjoy exquisite, five-star eats without breaking the bank. Chock full of award-winning chefs and restaurants, coastal Delaware is quickly becoming a foodie's dream destination, and during the off-season, these fan-favorite eateries feature tons of lunch and dinner specials – not to mention you almost never have to wait to be seated!
Some of our favorite off-season specials are of course, Chesapeake & Maine's $15 1.25 lb fresh Maine Lobsters every day, $10 Wood-Fired Pizzas and Wood-Grilled Burgers at Dogfish Head Brewings & Eats every Tuesday & Thursday, and Bingo & $1 Taco Night at our Tasting Room & Kitchen every Wednesday, but if you're looking for the area's entire lineup of tasty off-season treats, the Rehoboth Foodie has you covered!
THE SCENERY
Grab your coat and check out the area's stunning scenery and sites, like Cape Henlopen State Park, one of the many beautiful beaches, the Junction & Breakwater Trail or the Rehoboth boardwalk. Most likely you'll have the place to yourself, and since it's the off-season, your pup can come along too. That's right folks, just keep your furry friend on a leash and they're more than welcome to walk along the beach and boardwalk!
THE SHOPPING
Shop 'til you drop! Whether you prefer chain-based retail stores, locally-owned shops or craft shows and eclectic art galleries, coastal Delaware's got it all … and it's tax free!
If you're hoping to check all of the boxes on your holiday shopping list, we recommend exploring some of these patron paradises. First, Second Street in Lewes. Sprinkled with specialty shops and antique stores, it's the perfect place to pick up some one-of-a-kind steals. Another prime shopping spot is the Tanger Outlets in Rehoboth. With more than 110 stores, selling everything from clothing to kitchen ware to jewelry to shoes and MORE, 'the outlets' are sure to please and there's almost always a sale (or two) happening!
THE HAPPENINGS
Check out one of the area's many locally-loved events. Drive through the lights at the Winter WonderFEST in Milton, explore the magical Christmas Village at Schellville in Rehoboth, swing by the Clear Space Theatre to watch a play or musical, enjoy the Tree Lightings and parades all throughout coastal Delaware, and if these events don't strike your fancy, no worries … there's SO much more! Just pick your weekend and check out Visit Delaware's events calendar. They'll keep you up-to-date on all the winter-weathered fun!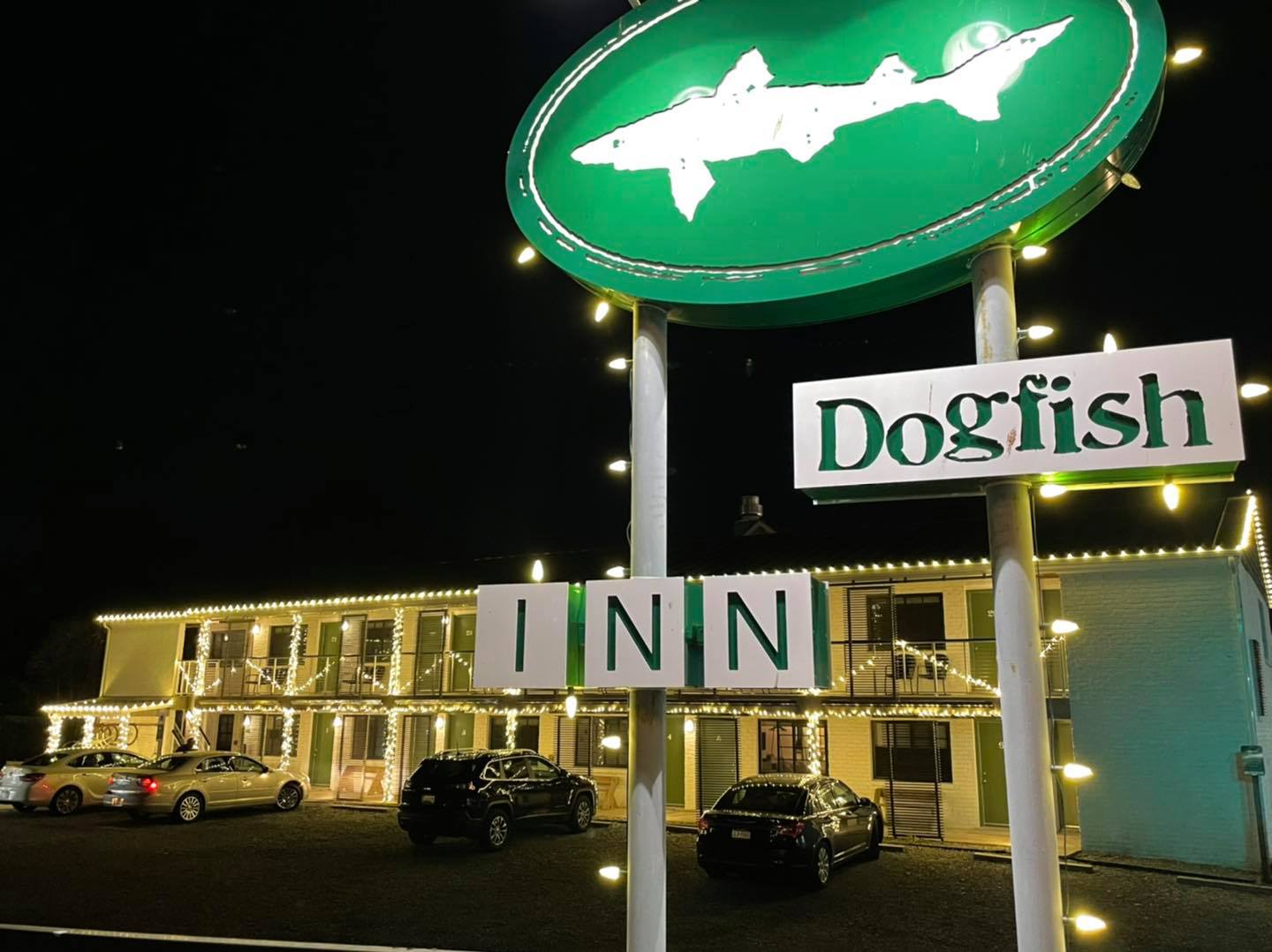 So while those sun-bathing, summer beach days have passed, there's still a lot of off-centered fun to be had here in coastal Delaware, and there's no better homebase from which to experience it all than our very own Dogfish Inn! Located in the heart of downtown Lewes, we're just a quick hike, bike or ride away from all goodness, and we'll have a toasty fire waiting for you to warm up by after your winter adventures!
Now let's start booking your wINNter getaway!