Bringing an off-centered dish to life
Monday, March 25, 2019
---
Our kitchen at Brewings & Eats is chock full of creative souls, which can clearly be seen through our menu's myriad of off-centered dishes and weekly specials. Ever wonder where those crazy culinary concepts come from or how they're brought to life? It all starts with the 'Rules of Spork' …
When he joined the Dogfish Head family, former Executive Chef Lou Ortiz brought with him the 'Rules of Spork' – a check list of sorts that inspires co-workers to develop their off-centered food ideas and explains to them what their creations must possess in order to make it onto the menu.
Does the dish fit Dogfish Head's culture and vibe?
Does the dish relate to one of our beers or spirits?
Does the dish tell a compelling story?
Is the dish sustainable and responsible?
Does the dish allow us to maintain menu and station balance?
Has the dish been tested and what was the feedback?
In order to make it from conception to testing to our menu, every new dish must 'answer' yes to each of the 'Rules of Spork.' Sounds much more complicated than simply cooking up a tasty entrée … right? Here's what Lou has to say about the 'Rules of Spork.'
"This process helps us be more open-minded, putting our own opinions aside and relying on the numbers and facts behind each dish. It's kind of a gauntlet, but if a dish makes it through that gauntlet, then we know it's worth it and it will be successful," said Lou. "Is it something our consumers want? Does it make sense stylistically? The 'Rules of Spork' help us answer those questions with greater certainty and ensure we're putting out one BANGIN' menu for our guests to enjoy!"
The 'Rules of Spork' encourage our co-workers to continuously question everything about our menu – from the way a dish is made to how it's titled. This sense of curiosity has not only helped us to streamline our culinary processes and enhance our offerings, but it has also allowed us to recognize and reinforce all of the awesomeness that's already happening in the back of house. For example, all of the ingredients we make in house are from scratch!
Each of our turkey burgers is hand-packed with at least 8 oz. of freshly-ground turkey. We make all of our pizza dough and sauce from scratch. We brine and cure our pastrami in-house AND we make our own house-made mozzarella cheese to top our wood-fired pizzas and wood-grilled burgers! While the items on our menu may evolve, we guarantee these efforts will not waver, nor will our commitment to fresh, high-quality food. If anything, our 'Rules of Spork' will help us further embrace and celebrate our off-centered menu, as well as the co-workers and practices that bring it to life!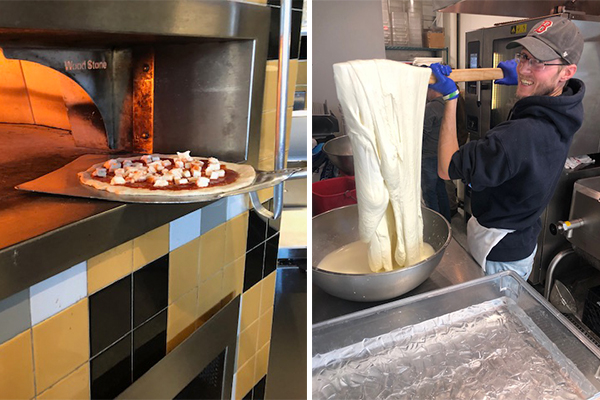 Brewings & Eats is open for business Sunday through Thursday from 11 a.m. to 11 p.m., and Friday and Saturday from 11 a.m. to 1 a.m. To check out our full menu, come on by – or click HERE!