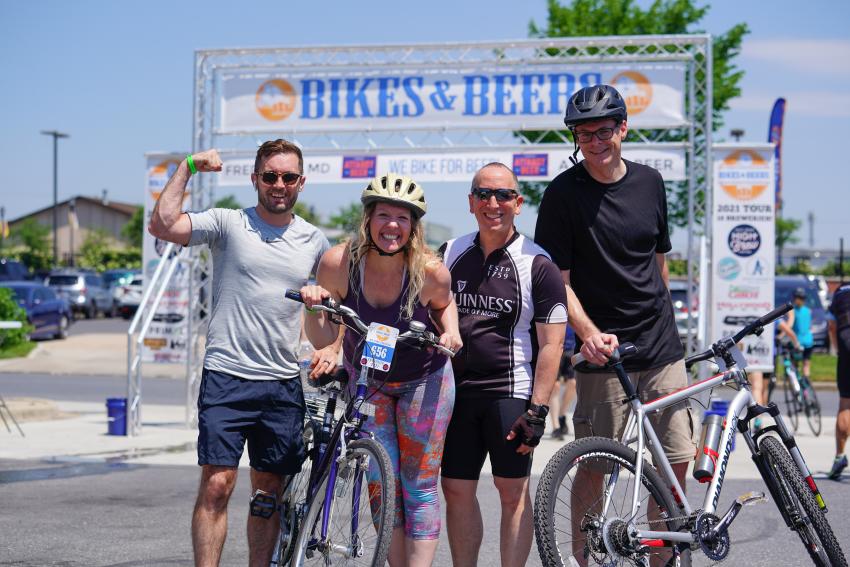 Bikes & Beers at Dogfish Head
Friday, May 05, 2023
---
We've teamed up with our bicycling lovin' pals Bikes & Beers, to bring you this year's Bikes & Beers Dogfish Head! Happening on Saturday, Jun. 17, you can enjoy a bicycling tour of the beautiful town of Milton that we're lucky to call home with your friends, family, and perhaps new friends you meet along the way! Rides will start and finish at our Milton brewery with approximate distances of 15 miles, 30 miles and 45 miles. You may be asking yourself "is this I.P.A Race (I Pedal A-lot)?!" It is not... this ride will be taking its place this year, but rest assured the goodness and love of cycling will still be celebrated at this ride!!
We of course can't have a cycling tour without a philanthropic tie-in to Beer & Benevolence. Bikes & Beers Dogfish Head will be benefitting our non-profit friends the Sussex County Land Trust, a conservation organization dedicated to protecting natural, cultural, agricultural, and recreational resources through land preservation, stewardship, and education for today and tomorrow in the beautiful Sussex County, Delaware. So, you can have fun AND give back!
Want to nab your spot? Registration is now open, so hop on over to get signed up and get ready to ride! REGISTER HERE!
Your entry will not only include a sweet bike route, it also includes a commemorative event pint glass, koozie and 2 Dogfish Head craft beers (for riders over 21+ only). Plus, you can enjoy live music, food trucks and charity raffles (including a chance to win a bike courtesy of our friends at Priority Bicycles if you stop by our Dogfish INN station)!
Ride Details:
All rides feature morning fuel stations, marked routes, GPS turn-by-turn instruction, rest stops, refreshments, ride marshals, and SAG support.
Pre-Ride:

Check in half an hour before your start time.
Enjoy free coffee & fresh pastries.
Local bike shops offering last-minute tune-ups.


The Ride:

Ride your distance with ride leaders.
Fully marked routes & GPS turn-by-turn instructions.
Mechanical support vehicle.

Not partaking in the biking aspect of the day but still want to join in on the fun? The Tasting Room & Kitchen will be open normal hours of operation for you to enjoy an off-centered ale of cocktail while you're here! Our pals from Cabot Creamery, who we've collabed with for The Perfect Pairing, will be here to sample out some of their own cheesy goodness.
Want to learn about all of Dogfish Head's upcoming events & local releases? Visit www.dogfish.com/events.