2022 Art Series Artist Max Mahn has been drawing weird things for as long as he can remember
Tuesday, December 21, 2021
---
A printmaker and an illustrator from Missoula, Montana with a love of gig posters that showcases everyone from Ween to Wilco, My Morning Jacket, Disco Biscuits and more, we're proud to introduce our 2022 Off-Centered Art Series Artist … Max Mahn!
With four original pieces centered around our Art Series beers, first up is a newly imagined India Pale Ale we've lovingly named 'Where the Wild Hops Are.' A complex IPA brewed with four wild-derived hop varieties and blended with a touch of barrel-aged wild ale, Where the Wild Hops Are boasts aromas of dank tropical fruit alongside tart, juicy fruit flavors.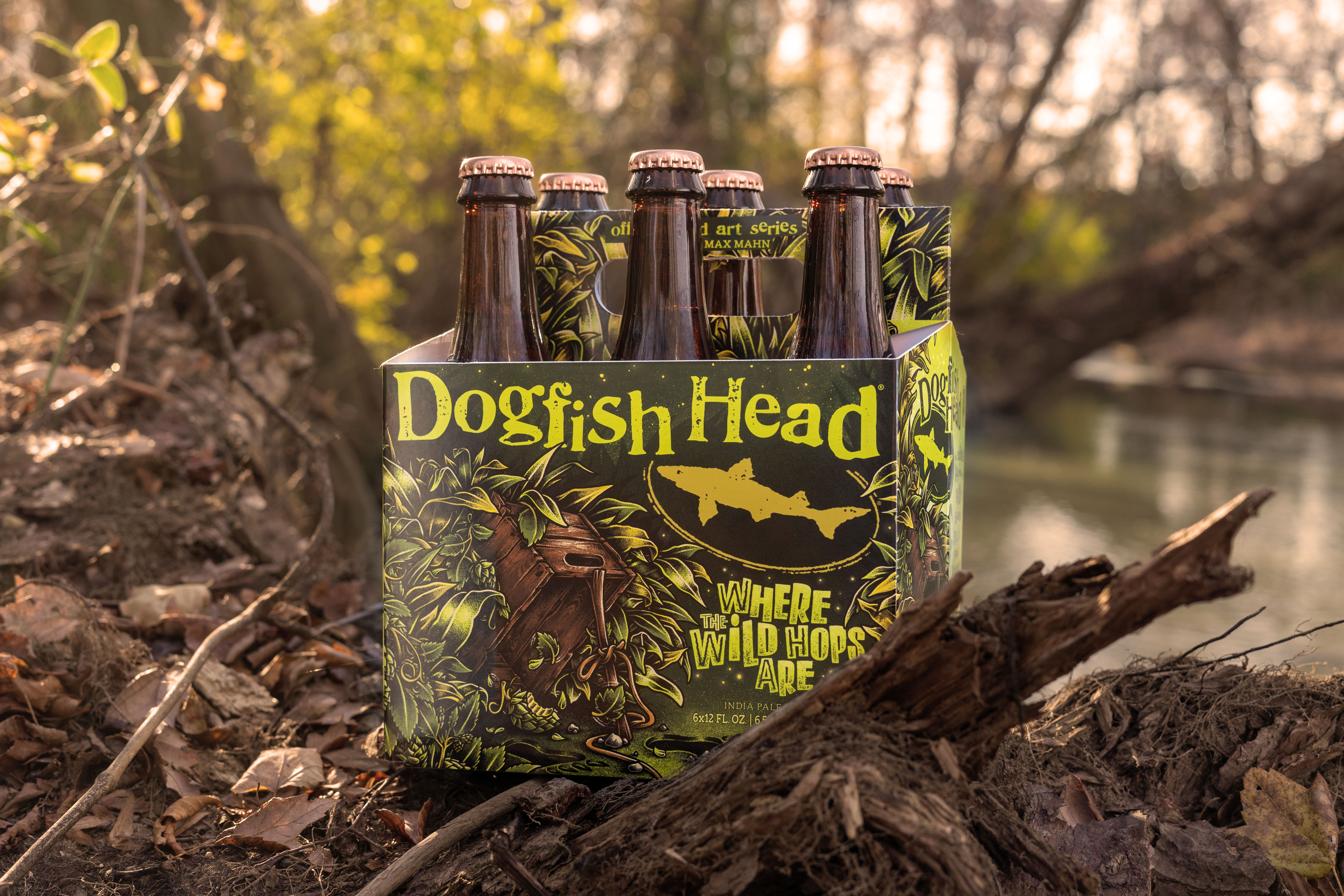 The rest of Max's illustrations will release throughout 2022 and once again, you'll find the work on labels, t-shirts, posters and more.
Get to know Max in the interview below, and be sure check out his incredible portfolio here!
How long have you been an illustrator?
I've been drawing weird things since I can remember, and I've dabbled in several mediums over the years. However, I've been creating hand printed gig posters for about seven years now.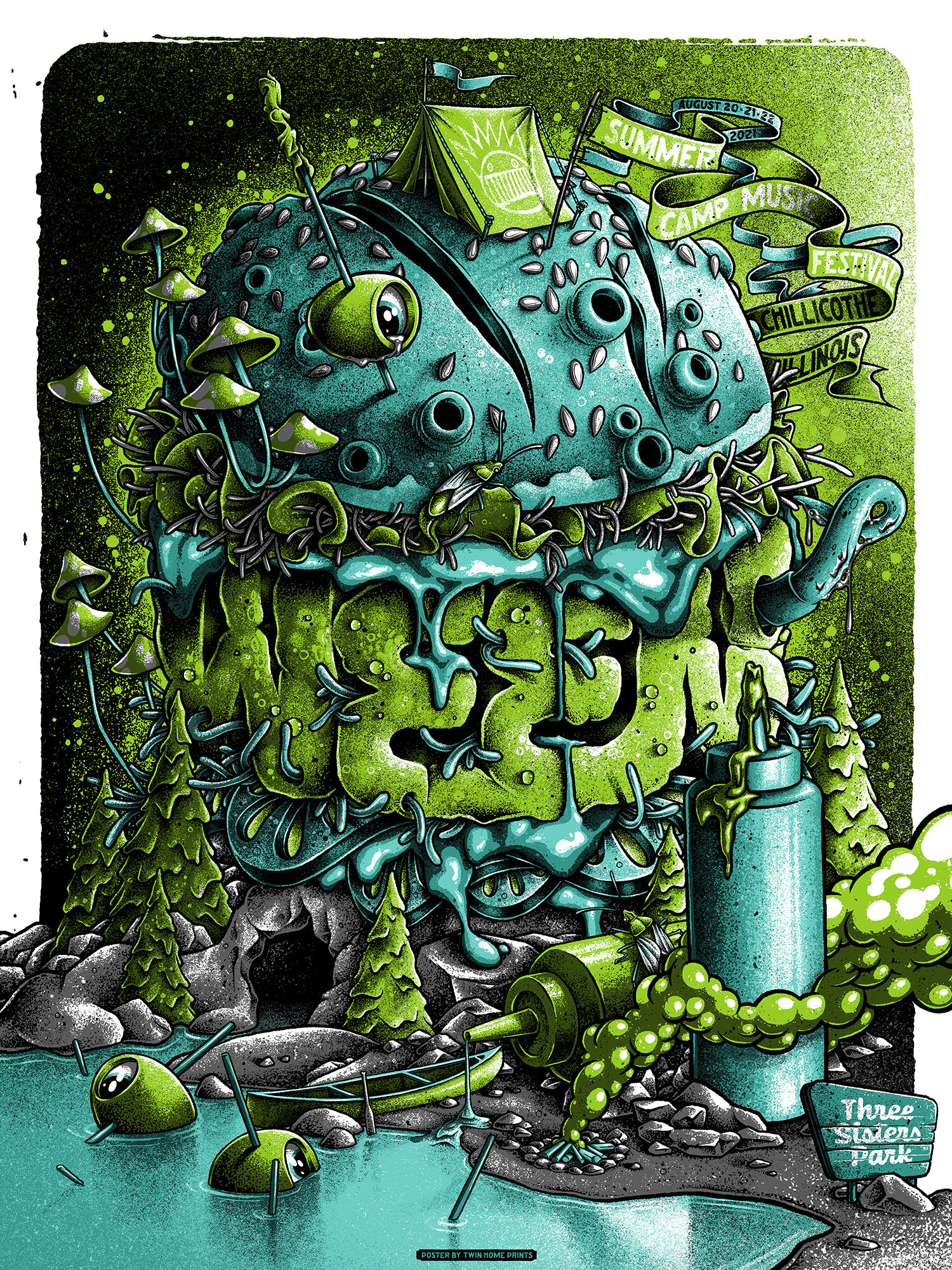 We have a saying we use a lot to talk about our beer – "Analog beer for the digital age." – could you tell us a little bit about how you use analog and digital techniques to create your work?
Screen printing is an interesting medium when it comes to analog vs. digital. I typically jump back and forth between the two constantly when creating a graphic. Most of my line drawings and stippling are done by hand with ink on paper. I then take this into the computer to color, throw in some texture, and separate the colors to screen print. The image is then printed by hand as a screen print in its final form. That's what attracts me most to screen printing, you're able to make a digital image into a physical tactile piece of art.
How is approaching posters based on beer brands different than, say, a movie, a band or a specific personality? Does your process change at all?
It's a little different. Most of my posters are based off of lyrics or the general sound / aesthetic of that specific band. Those things don't exist for a beer! For beer, I'm personally creating the aesthetic for that specific drink. So, it was fun to think up different imagery and stories that would in the end define the beer itself.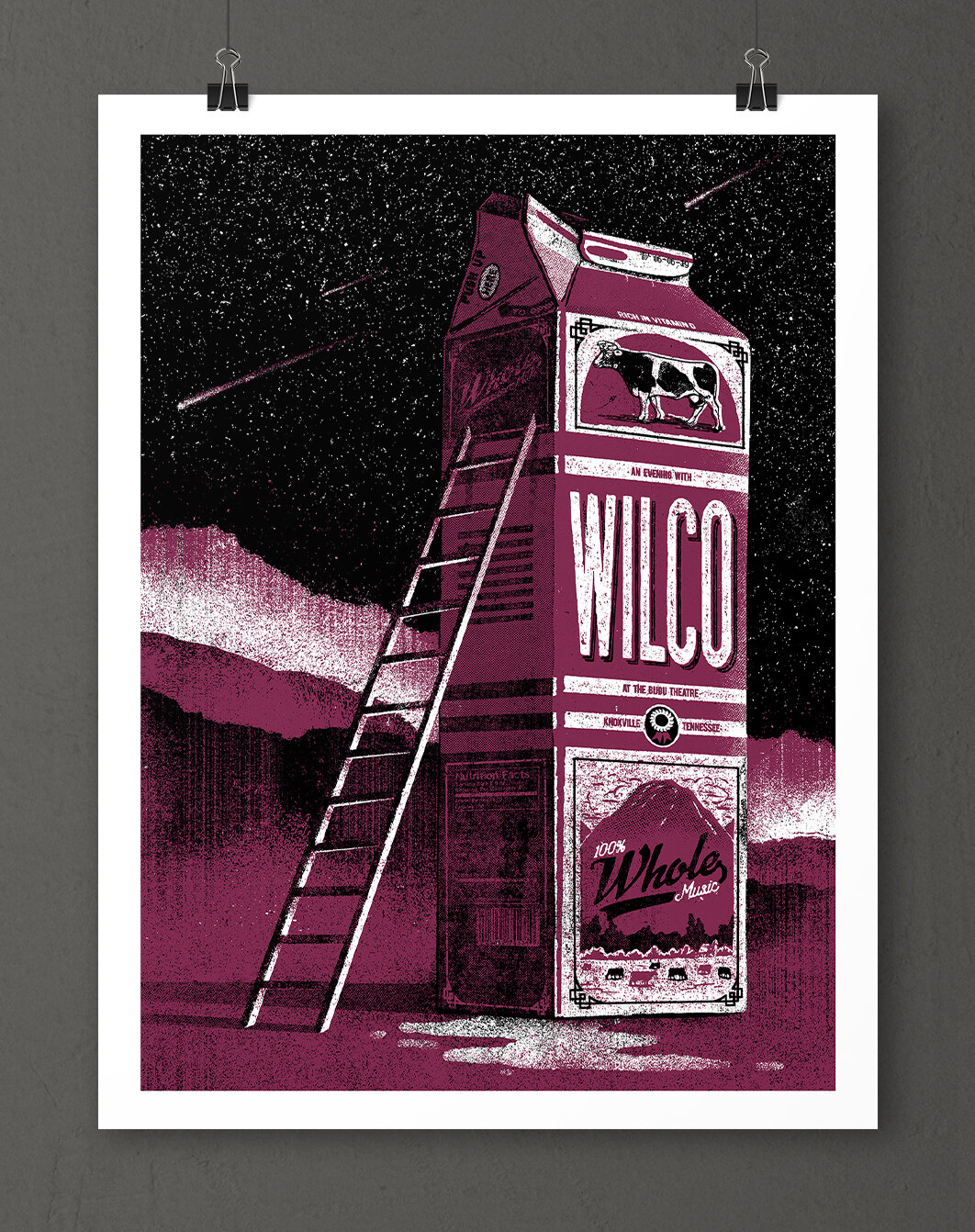 How much input do your clients give on content?
Some clients give zero input and trust me wholeheartedly to make a rad poster, others want to have complete control from start to finish. It varies from project to project.
You've worked with a lot of big names, and at some point must have worked with bands or actors or directors that you really love. Do you ever step back, pinch yourself, and think, "Wow, it's really cool to be a part of this creative world?"
I think with anything great, it's easy to take it for granted after a certain point. I try to remind myself from time to time to sit back and realize that I have maybe one of the coolest jobs on the planet and I often get to work with bands that I've been listening to since middle school. For that I am forever grateful.
What do you like to play with when you're drawing something? Composition, size, color … all of the above?
That's a tricky one. I think most of these things occur as happy accidents or come from my subconscious and change rapidly as I work throughout an illustration. Colors, size, and composition all often change drastically from start to finish.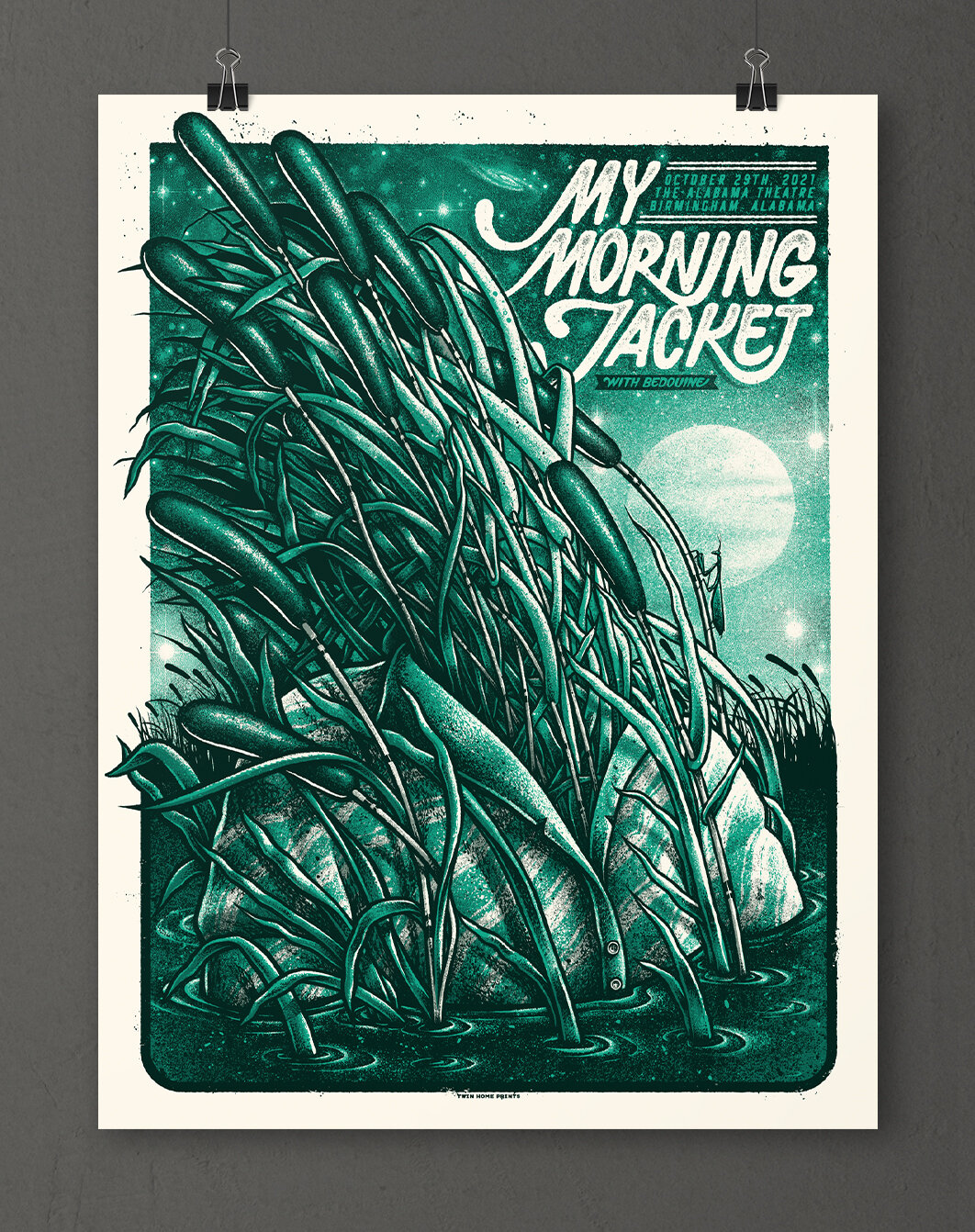 Who do you admire in illustration, past or present, and why?
Oh jeez, where do I start? Aesthetic Apparatus and The Bubble Process are always knocking posters out of the park in my opinion. I also spent a lot of my youth dabbling in graffiti, so I have strong influences from that medium like SIGH, WHEN, HENSE, ASTRO, SMASH137, Barry McGee and his late wife Margaret Kilgallen. There are rad things being made every day, and with social media it's coming at us faster than ever. It's hard not to constantly be blown away.
At Dogfish, we've learned to embrace the intersection of art (in liquid form) and business. Was that ever tough for you?
This circles back to your question about working with such big names. It's often awesome that I get to work with these large bands and companies, but at the end of the day it's still a job and bills still have to get paid. At times that can take away a bit of the sparkle, especially as a one man creative operation. It's often hard to show up to the studio and say, "Today I have to be creative and make something the client loves." At times it can feel like the weight of the world on my shoulders. But like I said, I occasionally have to sit back, take a breath, and realize that this job is f***ing awesome and I wouldn't want to be doing anything else!
What's the creative process? How do you work with the designers at Dogfish?
We started off with lots of concept sketches back and forth until we landed on a concept. After that I started putting ink to paper and just ran with it!
Do you get to try the beer beforehand?
Duh
What's your favorite Dogfish Head beer?
I'm an IPA guy, so it'd have to be the 90 Minute IPA or Where the Wild Hops Are.
What was your inspiration behind Where the Wild Hops Are?
We wanted to reference 'Where The Wild Things Are' without being too direct or obvious. Our thought was that we didn't even want to show the creature but rather leave it up to the viewer's imagination. In the end we landed on the idea that there would be an old school box trap in which this 'thing' was being enticed by a big juicy hop. However, the creature was able to sneak in, take a giant bite out of the hop, and get away scot-free!