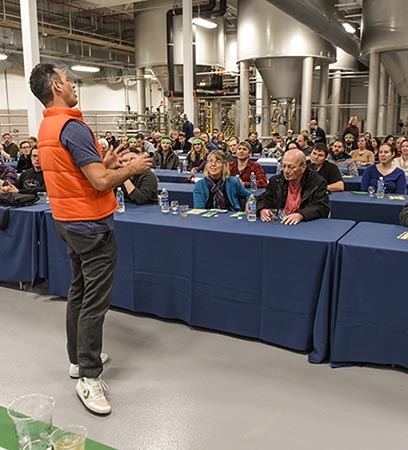 Calling all beer geeks (and we say that with nothing but love)!! This is your chance to deep-dive into our off-centered world with some of our expert co-workers. From sours to whiskey and cheese to wood, this is your chance to walk away with some newfound #beergeekery.
VIP Sessions (available only for VIP & Super VIP ticket holders)
3:00 - 3:30 p.m.
Barrel Aged Sours vs. Kettle Sours
Location: Bay 7 (enter through side of brewery)
Led by: Brewing Supervisor Bill Marchi
Learn about the journey that is barrel-aging and kettle-souring, and the key differences between these two very unique styles. Brewing supervisor Bill Marchi will be exploring each style, pulling back the curtain and teaching you all about the nuances that affect the flavor profile of each beer. 
4:00 - 4:30 p.m.
Whiskey: Malt to Maturation
Location: Bay 7 (enter through side of brewery)
Led by: Distillery Manager James Montero
Starting in the brewhouse as a complex beer, our whiskey is made from specialty malts that are then fermented with our proprietary Doggie Ale yeast. Happening right alongside beers like 60 Minute IPA and SeaQuench Ale, it then ventures over to the distillery where our team works their magic to create a nuanced and off-centered whiskey. In this session, you'll have the chance to take a break from beer and sample our whiskey variations, including our new Whiskey Aged in Rum Casks.
5:00 - 5:30 p.m.
Castello Cheese & Beer Pairing
Location: Bay 7 (enter through side of brewery)
Led by: Sensory Specialist & Certified Cicerone® Joe Spearot
Beer and cheese? Yes, please! Our team has joined forces with Castello to find the perfect pairings for some of our most culinary-forward beers. In this session, we'll teach you what flavor profiles play nicely together by sampling a few key pairings - including gouda and 60 Minute IPA, aged Havarti and Namaste, and Danish blue with Flesh & Blood IPA.