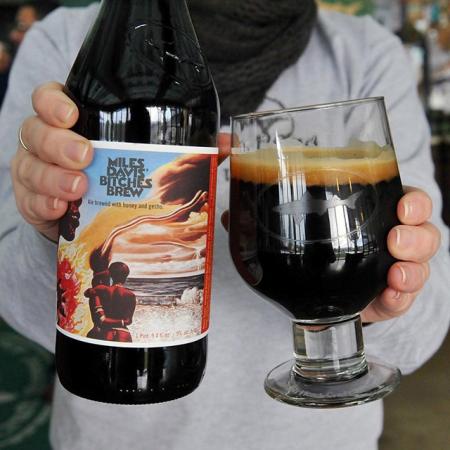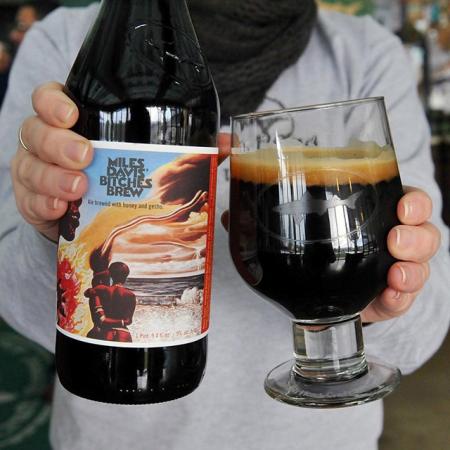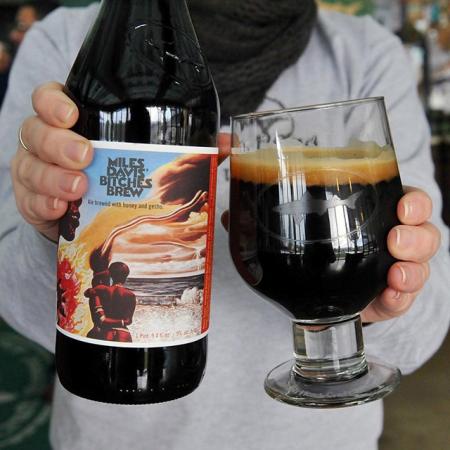 Bitches Brew
In honor of the 40th anniversary of the original release of Bitches Brew, Miles Davis' 1970 paradigm-shifting landmark fusion breakthrough, we've created our own Bitches Brew -- a dark beer that's a fusion of three threads of imperial stout and one thread of honey beer with gesho root. It's a gustatory analog to Miles' masterpiece.
Featuring the album's iconic artwork, created by the late Mati Klarwein, on its label, Dogfish Head's Bitches Brew was unveiled at SAVOR, An American Craft Beer & Food Experience, on June 5, 2010, at the National Building Museum, Washington DC.
Haven't experienced the Bitches Brew album? Two 40th anniversary editions of Miles Davis' Bitches Brew -- a Legacy Edition and a deluxe Collector's Edition -- are available.
According to Dogfish founder and president Sam Calagione, the ale is "the ultimate partner for chili or spicy curry chicken" and best enjoyed "sipped cool, not cold, from a snifter or red wine glass while listening to the Bitches Brew album."
Sam was drawn to the alchemical spirits in Bitches Brew right out of college, acquiring a copy of the album "within months of the first time I brewed a batch of homebrew in my apartment in New York City. I listened to it when I was writing my Dogfish business plan. I wanted Dogfish Head to be a maniacally inventive and creative brewery, analog beer for the digital age. You could say that my dream was to have Dogfish Head, in some small way, stand for the same thing in the beer world that Bitches Brew stands for in the jazz world. You can imagine how excited we are to be doing this project 17 years after I wrote that business plan."
"There's a spirit of innovation, of creativity and individuality, that's at the core of Miles' music," said Adam Block, Senior Vice President and General Manager, Legacy Recordings. "Sam and Dogfish Head approach their art from the same place and consequently the marriage is an easy and cool one."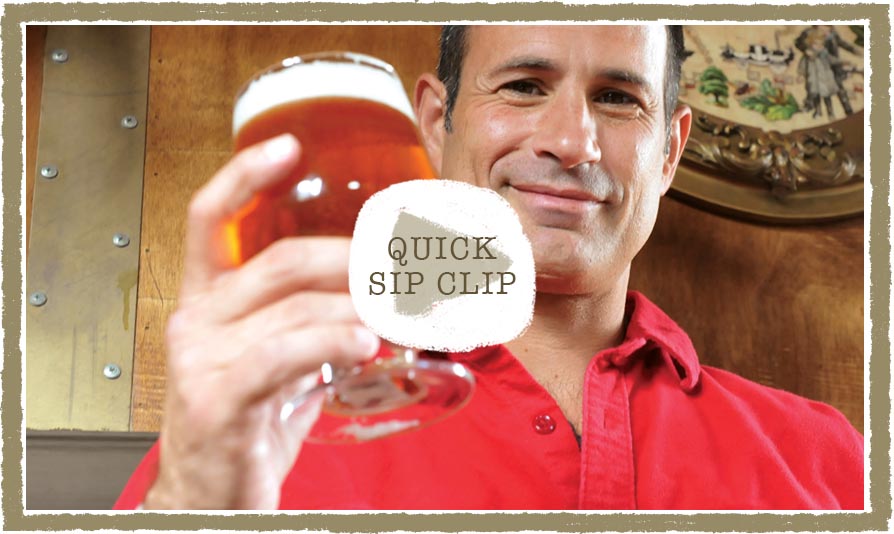 ---
Enjoy
---
Chili, spicy curry chicken
---
Experience
Dark brown to black and opaque
---
Roasty, smokey, malty, vanilla, licorice, chocolate, tobacco and wood
---
Sweet roast coffee and chocolate
---
Slightly dry and warming with mild bitterness
---