Something Atomic
Imperial Stout brewed with Pineapple, Banana, Pecans and Cinnamon.
We partnered with our pals at Numero Group to curate a compilation of songs that embody our unique, off-centered culture. Each side represents one of two music genres and we've brewed two special beers to pair with these collections of songs. Something Atomic should get you in the right mood for side two! Something Atomic is a soulfully decadent imperial pastry stout inspired by hummingbird cake. This luscious, full bodied beer is scented with cinnamon, studded with pecan and lavished with ripe banana and pineapple. Hints of molasses and sugared coffee arise in the long, sweet finish.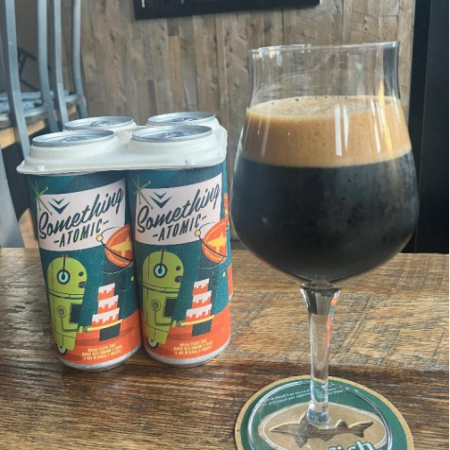 ---
Experience
Opaque Black with Dense, Tan Foam.
---
Roasty, Sugared Coffee, Cinnamon, Fruity, Banana, Pineapple, Molasses
---
Sweet, Roasty, Fruity, Molasses, Cinnamon, Cocoa, Banana, Pineapple
---
Full bodied with a long, sweet finish.
---