Fermentation Engastration
The "Turducken" of the beer world.
Fermentation Engastration draws inspiration from a collection of complex fermented beverages – a rose-scented sake, a Mid-Atlantic honey and date mead, a bittersweet hard cider, a fruity Muscat wine and a rustic farmhouse ale. The result? One eccentric, incomparable beverage that can only be described as the "Turducken" of the beer world. On the nose, this brewing innovation is bursting with classic spicy phenols, while the tasting experience packs an explosion of fruit character balanced by a slight sweetness.
Brewed in collaboration with our friends at Gastro Obscura.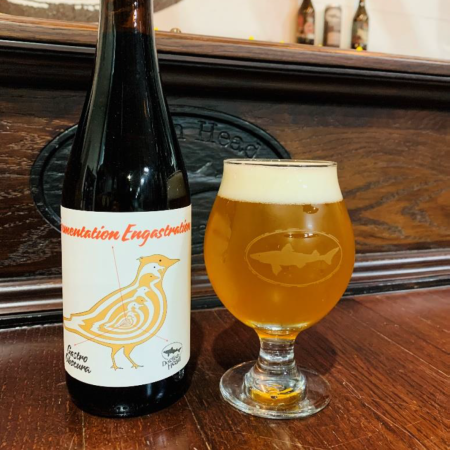 ---
Specs
---
Release:
Tasting Room Exclusive
---
---
---
Experience
Brassy blonde with a veil of haze
---
Complex fruity esters, honey, apple, floral, banana, spice
---
Fruity, slightly tart, moderate sweetness, low bitterness, warming
---
---