What's Kraken in Rehoboth?!
Friday, May 22, 2020
---
If you've passed by Dogfish Head Brewings & Eats or Chesapeake & Maine in downtown Rehoboth Beach lately, it would've been almost impossible to miss the creature from the deep sea steadily climbing up our brewhouse wall over the past few weeks!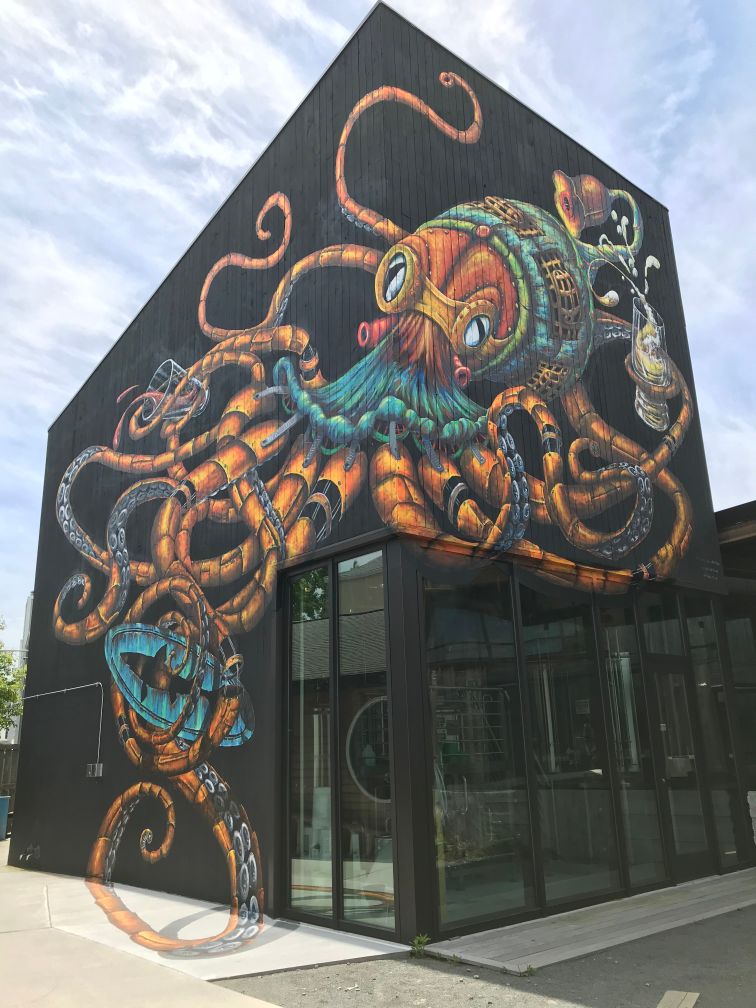 This off-centered octopus is the latest project of Holly Fields-Scott, a local artist whose work can be found from China to Sesame Place! Learn a little more about Holly below, be sure to follow her on Instagram and check out her incredible portfolio here!
How long have you been an artist?
I started as a scenic artist for theater and film in the early '80s, then shifted to architectural restoration in New York, working with designers. This allowed me to develop my artistic skills as a mural painter.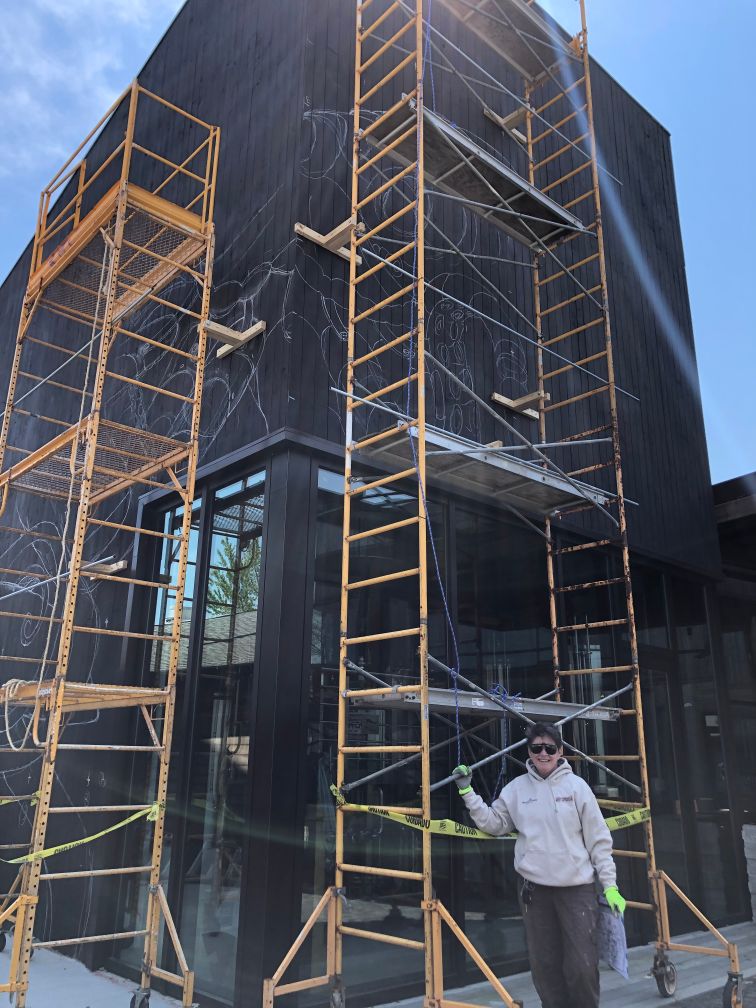 What are some of your favorite projects from over the years?
I've had so many amazing experiences over the years! Some highlights are having worked on the creation of Motor City Casino for Mandalay Development in Detroit. We worked on it for over 7 months, designing and executing all of their specialty finishes and manufactured wall coverings for them. Other interesting clients would be Shania Twain & Mutt Lang, Seigfried & Roy, Luxor, Mandalay Casino and many more around the world.
We have a saying we use a lot to talk about our beer – "Analog beer for the digital age." – could you tell us a little bit about how you use analog and digital techniques to create your work?
I feel as though I have been working in historic mediums for decades to create modern artistic creations! For example, I've been using an ancient form of Fresco called "Sgraffito" to create a modern artwork series. Fresco plaster lives as it cures, constantly changing and is affected by its environment … enchanting and romantic in my eyes. Another technique is Eglomise, also known as reverse gilding on glass. I have a series of coastal-inspired studio works that are ongoing. The most popular are my mermaid images!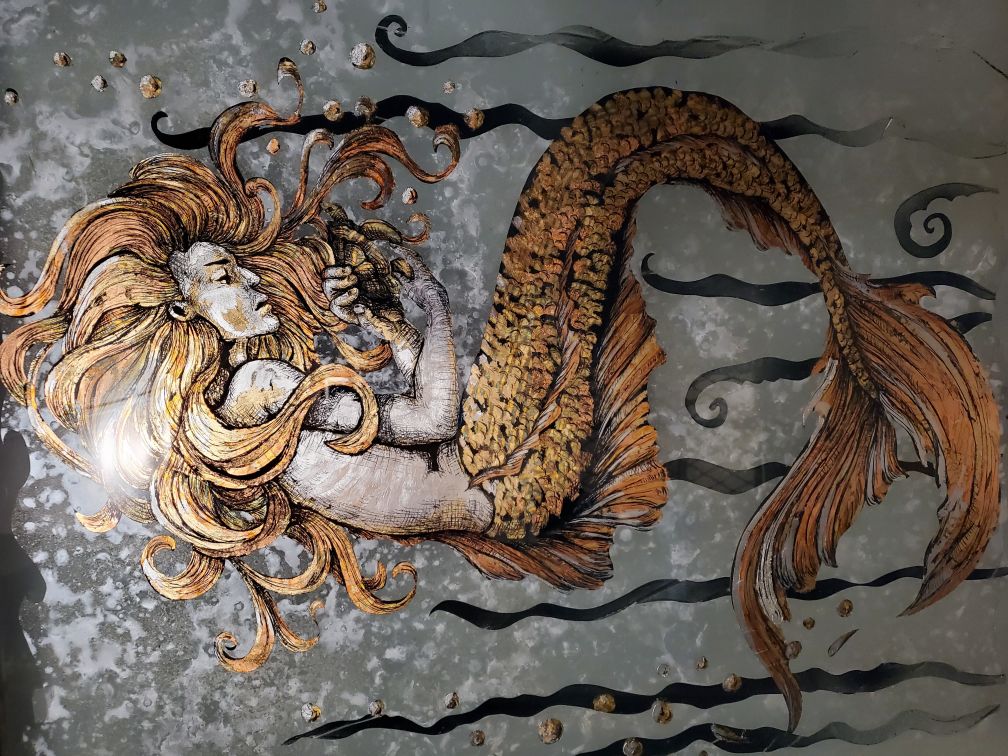 How much input do your clients give on content?
I work very closely with my clients and designers. My work is service-oriented since I'm usually creating something custom, based on my client's vision or goals. I love collaboration!
What do you like to play with when you're drawing something? Composition, size, color … all of the above?
As in the Dogfish Head project, I loved the challenge of creating an illusion or experience for the viewer! Therefore, the geometry quite often sets the stage before I add in color and shadow effects to bring it to life. Usually the bigger the better for me! But I still get a kick out of a tiny little illusion such as painting a $100 bill sticking out from under a bar and watching patrons' reactions! So cruel...
Who do you admire as an artist, past or present, and why?
Years ago, I discovered Richard Haas. He transformed entire skyscrapers with his illusions that opened my world. I was constantly hunting for blank walls to transform, and my love and appreciation for architecture grew. I then studied Buon Fresco in Italy in '98-'99 and fell in love with all forms of Italian plaster. I continued as a plaster artisan, as well as teaching the techniques in the US and Italy.
At Dogfish, we've learned to embrace the intersection of art (in liquid form) and business. Was that ever tough for you?
Always a challenge, but I do believe that the most wonderful projects find me, and I am blessed in so many ways by seeing it through. I've had my own business for over 20 years and am grateful for all of the life lessons learned.You learn humility and deep appreciation when working for yourself.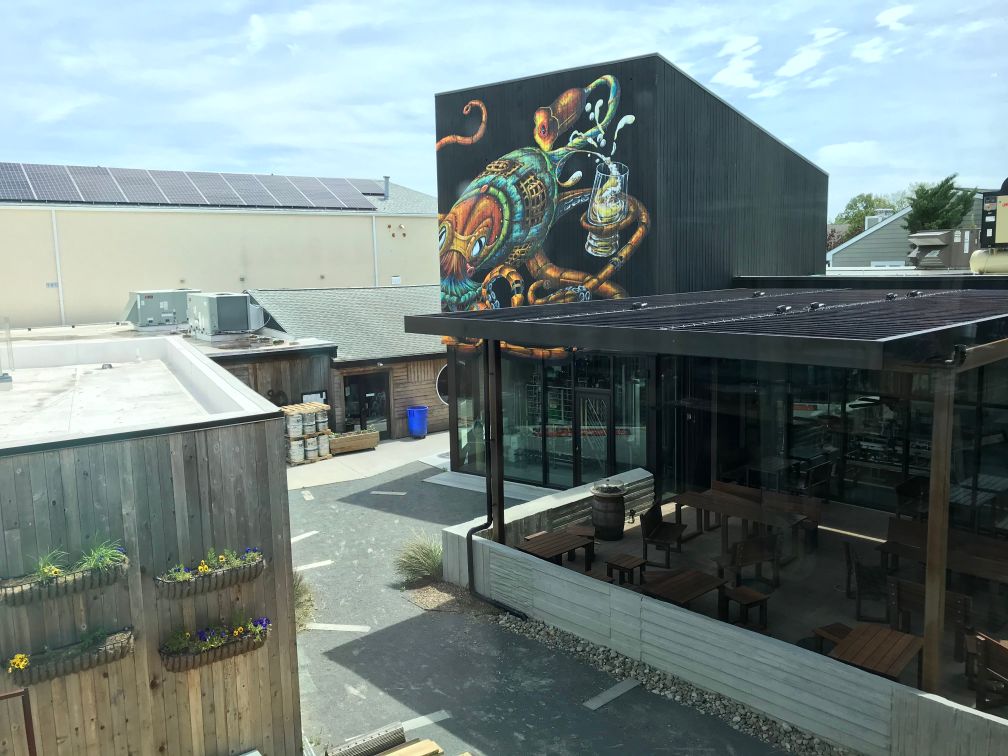 What's the creative process? How did you work with our co-workers at Dogfish?
I was asked to design a "Kraken" image for the brewpub wall - something that would be interactive and introduce some color to the courtyard area. I started working with designer Lisa Zechiel to develop a concept sketch. She then connected me with the creative director at Dogfish Head, Paul Thens. We made several more revisions in composition. I tried to give Dogfish Head the coolest "off-centered " mascot that would draw social media interest and just plain add to the experience of hanging out at the brewpub or enjoying a visit to Chesapeake & Maine.
What's your favorite Dogfish Head beer?
Ahh, I'm usually a "Hefe" gal - I think Namaste would be my go-to!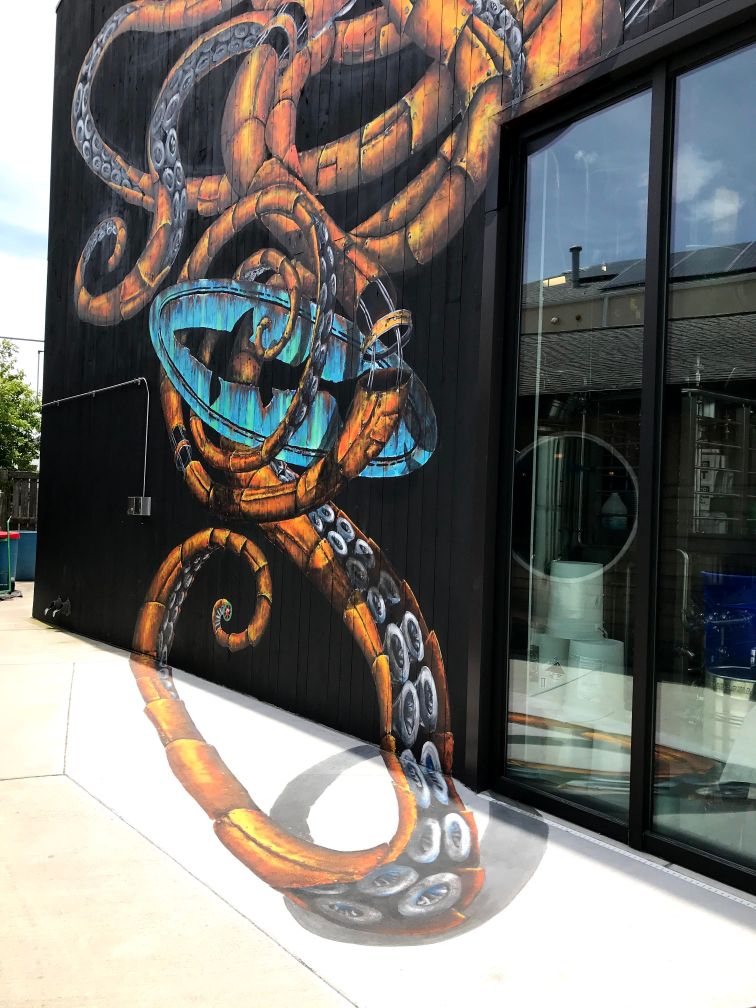 What was your inspiration behind the Rehoboth brewpub mural?
I took inspiration from the Steampunk Treehouse sculpture out at the brewery. I really thought a "steampunk" styling with a little "rasta" laid-back attitude would be fun to work with. I'm excited to see what kind of life this "krazy kraken" takes on as friends and patrons bond with it and create a story only Dogfish Head can bring forth. By the way, my daughter Nevada who just completed her freshman year of college assisted me on this project!