It's the second release of our 2022 tArt Series at Dogfish Head Miami!
Thursday, June 02, 2022
---
The flavor-filled fun continues with the second release in our annual tArt Series at Dogfish Head Miami! Releasing Saturday, Jun. 11, Florida Peach Marmalade is an ale brewed with Florida peaches, lemon zest, vanilla, and nutmeg … and it's as delicious as it sounds. Promise.
The can features lively artwork from this year's selected local artist, Venezuelan-born Alex Izaguirre (also known as MAMÚT), who brings a passion for graphic design that's strongly linked to music, social justice and use of color to each new beer release.
"What's most fun and at the same time challenging about working on this tArt series is being able to match the flavors of each beer, creatively through my art." says Mamút.
On the day of the release, posters of the label's artwork, signed by Mamút, will be available while supplies last. We'll also have a larger-than-life, black and white canvas outline of Mamút's Florida Peach Marmalade artwork onsite. We invite the community to stop by and collectively help recreate the beer's label design using paints that we'll have at the ready!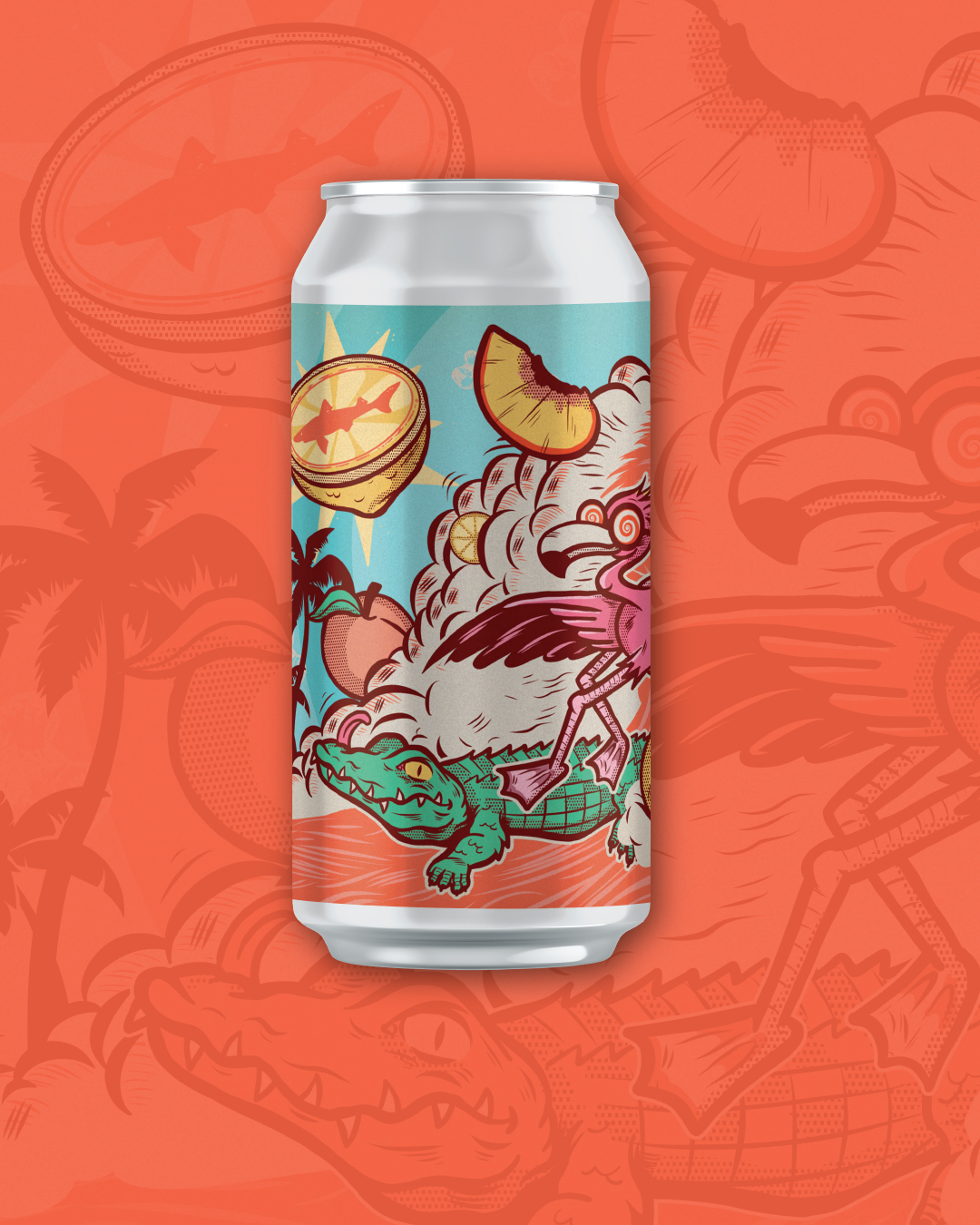 We're also teaming up with Potlicker Kitchen, an award-winning artisan jam and jelly brand based in Lutz, Florida, to create and launch a special limited-edition marmalade inspired by Florida Peach Marmalade. Both 1.5 oz. and 8 oz. jars of the marmalade will be available for purchase on-site along with Florida Peach Marmalade merchandise including a women's crop tee, sticker and tin tacker.
The celebration continues with a day full of festivities, including live entertainment and a thoughtfully prepared food menu to pair with the new beer and marmalade. Florida Peach Marmalade will be released at noon, and the first 50 people to buy a four pack will receive a 1.5 oz. jar of marmalade. Four packs of the beer will be available for $16.
At 1 p.m., hop on our Peachy Brewhouse Tour & Florida Peach Marmalade Chat. The "Fireside Chat"-esque set up will feature MAMÚT, Head Brewer Paul Frederickson, Chef Charlie Mendoza-Sewell and Nancy Warner from Potlicker Kitchen. After the discussion, you'll have the opportunity to join in on a tour of the Miami brewhouse. Following the Brewhouse Tour and Chat, we'll have live entertainment throughout the night, with beats from local DJ Not The Josh from 2-5 p.m. and live acoustic stylings by Songwriters Block from 7-9 p.m.
It's sure to be a peachy time that you won't want to miss!