Roots run a little deeper in the Slightly Mighty state of Delaware
Wednesday, June 05, 2019
---
It was just the other week that we welcomed country music star Jimmie Allen back to Delaware - the state we're lucky to both call home - to play a live show at our brewpub in downtown Rehoboth Beach. With fans from near and far in the crowd, it was an energetic homecoming full of small wonder pride.
But it wouldn't be a homecoming without a little off-centered fun. In the midst of prepping for the sold out show, Jimmie and Dogfish Head founder Sam Calagione had the chance to collaborate on a remixed version of his hit song "Slower Lower." A song chock full of references to the slight, but mighty state of Delaware, the original version was inspired by Jimmie's time growing up in the small town of Milton - the very town that's home to our brewery and distillery.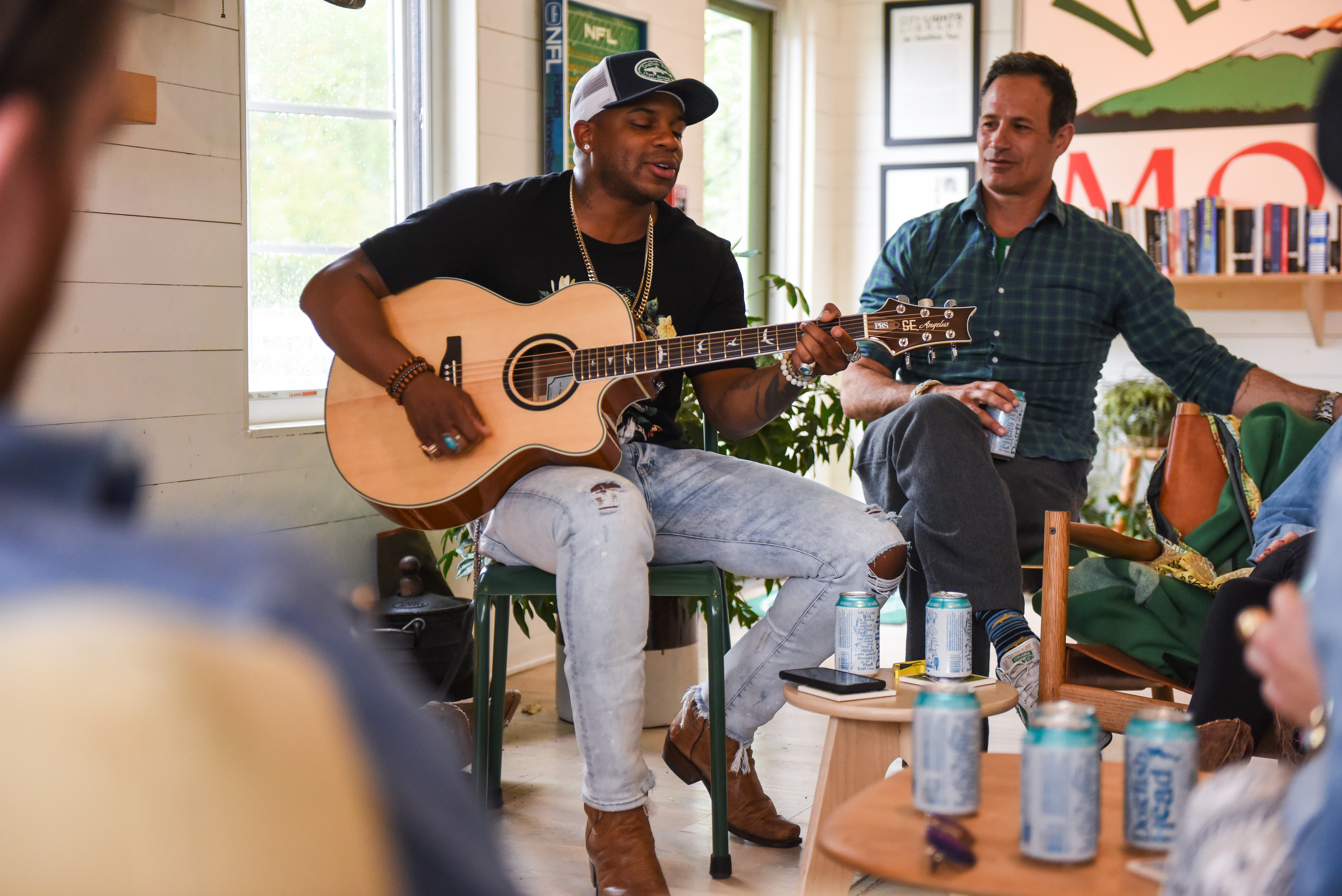 While Jimmie's career takes him to locations across the country (and world), he never forgets his roots and often finds inspiration from his time spent on 'Mercury Lane.' With strong ties to and a love for coastal Delaware, the connection and camaraderie between Jimmie and Sam was instant. Together, they came up with the lyrics for the remix of "Slower Lower," including references to both of their histories in the First State.
Red lips sipping on a white can
Tan legs down to her blue vans
She's slight but she's mighty like her home state
The kiss of the hops make it taste great
Sometimes we're higher than the blue sky
And everybody's feeling just right
For Sam, those references include Dogfish Head and Slightly Mighty - our new lo-cal IPA that is brewed with lo-cal(ly) grown and malted barley. With only 95 calories, 3.6g carbs, 1g protein, 0g fat per 12oz serving, Slightly Mighty is slight in calories and carbs, with mighty hop character … or as Jimmie sings in the "Slower Lower" remix, "she's slight, but mighty like her home state."
The music video for the remix of "Slower Lower" features both Jimmie and Sam visually exploring their "stomping grounds." Scenes include the duo sipping on "ice cold (Slightly Mighty) beer," locals relaxing "closer to the water," and more.
So settle it, grab a Slightly Mighty and enjoy!