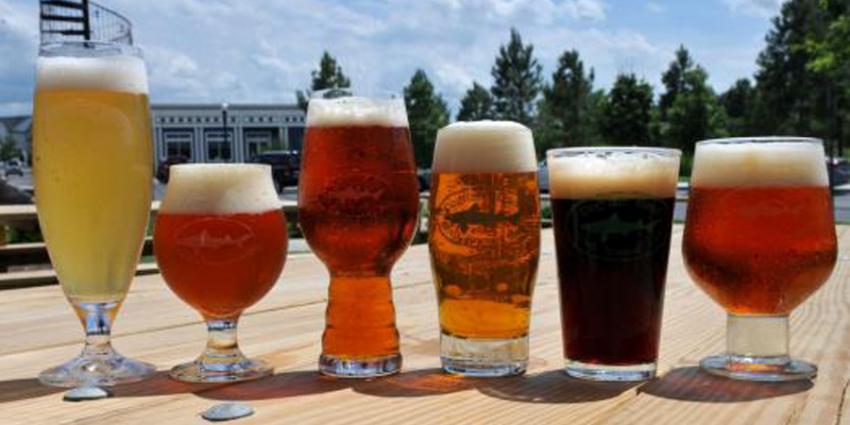 Proper glassware, is that really a thing?
Tuesday, July 05, 2016
---
You order a 60 Minute IPA from your local bar, and you're expecting to be handed a pint glass. Instead, you receive some crazy looking glass with serious curves, thin walls and a ribbed bottom. What in the world is this?
Meet the Dogfish IPA Glass, developed specifically for drinking IPAs.
Yep, proper glassware is most definitely a thing! With a myriad of drinking glasses for each unique beer style, the days of strictly drinking out of standard pints are long gone.
Here at Dogfish we offer six different imbibing vessels, each designed to pair perfectly with our off-centered ales.
Dogfish IPA Glass
The beers - 60 Minute IPA, 90 Minute IPA, Romantic Chemistry, Squall IPA, Flesh & Blood IPA, Pennsylvania Tuxedo
Why this glass?
The Spiegelau IPA glass has a unique design, created to support the complex and volatile aromas associated with India Pale Ales. The glass was developed in collaboration with Dogfish founder and president Sam Calagione and Ken Grossman of Sierra Nevada. Designed to showcase the complex and alluring aromatic profiles of American "hop-forward" IPA beers, the IPA glass also preserves a frothy head, enhances taste and mouthfeel, and presents a comfortably wide opening for the drinker to savor each sip.
Dogfish Occasional Glass
The beers - Beer to Drink Music To, Burton Baton, Red & White, Palo Santo Marron, Immort Ale
Why this glass?
After a few sips of beer, you will be able to swirl the glass and trap the aromas in the headspace for a whole new experience. That minute to get some headspace will also help the beer warm up to release more interesting aromas.
Dogfish Pint Glass
The beers - Indian Brown Ale, Beer For Breakfast
Why this glass?
By using a classic pint glass you're able to allow all the flavors to shine through with an even playing field. Indian Brown Ale showcases characteristics of brown ale chocolate and roasty flavors with noticeable hop notes. Beer for Breakfast gets to shine as a stout but you're still able to get all the other interesting flavors without them overpowering the stout.
Dogfish Shaped Pint Glass
The beers - Midas Touch, Punkin Ale
Why this glass?
This glass allows for a large pour with some aroma retention. With each sip you'll grab the aroma of saffron and muscat found in Midas Touch as well as the spices of Punkin Ale, all while still allowing the base of the beer to shine through.
Dogfish Signature Glass
The beers - 120 Minute IPA, World Wide Stout
Why this glass?
This custom piece of glass was created by us and is absolutely perfect for imbibing our beers. It is subtly decorated with our logo front and center, a 12 oz pour line on the back and 'Dogfish Head Craft Brewery' on the base. The coolest feature is a tiny DFH logo that has been laser-etched on the bottom of the inside of the glass. Known as nucleation, it is a rough etch that creates a gorgeous tiny stream of bubbles in your beer. We make some intense beers (aroma and taste) at DFH, this glass allows for headspace that captures some aromas while allowing some to leave.
Dogfish Summer 2016 Beer Glass
The beers - Bière de Provence, SeaQuench Ale, Festina Pêche, Namaste
Why this glass?
To showcase our summer beers, we chose a modified flute / wheat glass hybrid. This glass has thin walls and a longer length, helping to showcase the beer's color and allows for plenty of headspace in the pour while keeping carbonation from dissipating too quickly. The shape of the glass also helps to lock in the phenol aromas associated with our summer beers. Thanks to the large headspace, swirl, sniff and take a deep breath.
Now the next time you're out, you'll be ready!
#ProperGlassware