OK, Boomer. Check out our latest brewpub exclusive!
Wednesday, November 13, 2019
---
Sam's in the brewhouse today with brewers Bryan and Chelsea, and he's been sending through all sorts of pictures. In the midst of all the photo sharing, he clued us in on the story behind the brew and it's too good not to share...
The story of our newest Rehoboth brewpub exclusive 'OK, Boomer.' begins with the story of Old Man Winter – a colloquialism of the winter season derived from a mash-up of ancient Greek mythology and old-world pagan beliefs. The term "OK, Boomer." could be viewed as a Gen Z evolution of the Old Man Winter concept, like "Out with the old and in with new!" while still kinda sorta respecting our elders.
So, our recipe for 'OK, Boomer.' is a 7% ABV winter warmer beer concept, built around the earthy and spicy notes of these ingredients in descending order of prominence: a spice blend including cinnamon, ginger, cardamom and star anise, along with house-toasted walnut flour and kiln coffee malt.
It will be ready in time for your holiday shopping so you can enjoy it at the Rehoboth brewpub, or you can buy to-go crowlers of 'OK, Boomer.' for holiday gift giving to the respected elders in your lives. We be like, "OK, Boomer … Happy Holidays..."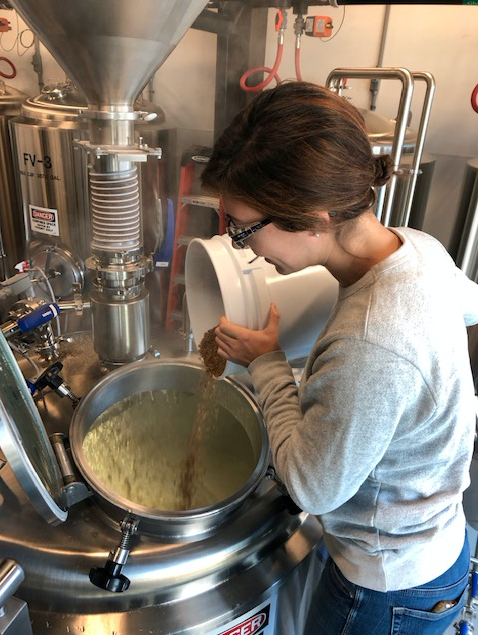 Here's our intrepid brewer Chelsea adding the beautifully aromatic California walnut flour into the kettle. Like so many good things in our lives here at Dogfish, the idea for centering a beer recipe around this ingredient came from our love of music. In this case our chums in the band Surfer Blood. They have rocked the stage at our Rehoboth brewpub many times with grace and aplomb. The drummer Tyler Schwarz and his co-workers at Bearded Nut Farm in northern Cali had the great idea for an off-centered winter warmer of dark beer centered around their walnuts.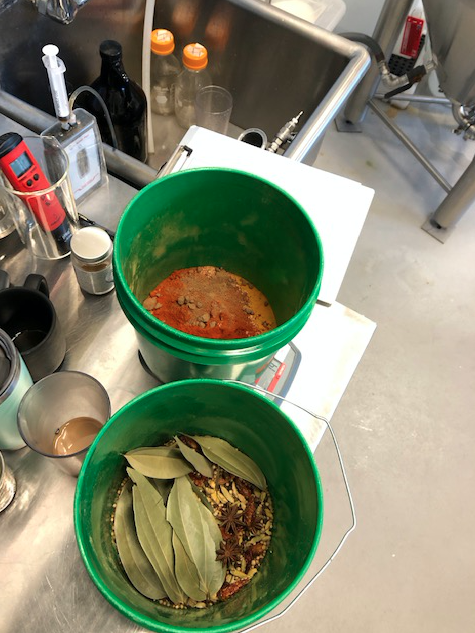 For 'OK, Boomer.' we worked with our pals at Burlap & Barrel who source the most amazing and pure spices from around the world. This beer is like the United Nations of kickass flavors with spices from Afghanistan (Cumin), Spain (paprika), Vietnam (Star Anise), Cardammom (Guatemala), ginger (Tanzania), and beyond!!!!