Oh my gourd … Punkin Ale is back and so are our ceramic growlers!
Tuesday, September 04, 2018
---
With Labor Day in the rear view, it's officially 'pumpkin everything' season! It's time to welcome the chillier, fall weather with open arms and stock up on your favorite, full-bodied fall beer ... Punkin Ale! Available on taps and shelves now, check the Fish Finder to help you find some in your neck of the woods.
And with the return of Punkin Ale comes, the return of our iconic, ceramic Punkin Ale growlers! A lot of folks have been asking just when they can get their hands on this year's batch, and we're happy to share all the details around our 2018 release!
This year's ceramic Punkin Ale growlers – handcrafted by our friends at Romanick Pottery – go on sale this Friday, Sept. 7. Priced at $175, supply is extremely limited! We'll have 25 available at our Milton Tasting Room & Kitchen, 25 at the Off-Centered EmPOURium in Rehoboth and 25 available to purchase through our online store. So, if you want to get your hands on one of these gourd-eous creations, you'd better get ready! Sales begin at 11 a.m. EST.
In addition to the coveted Punkin growlers, we've got a boatload of other Punkin Ale merchandise to share … like 250 limited edition ceramic mugs designed by Deneen Pottery! The perfect small vessel to hold your Punkin Ale, somehow this mug makes Punkin taste even better ... seriously!
We've also got Punkin Ale t-shirts, poster prints* and coasters, all featuring artwork from our good friend Marq Spusta. The fourth and final release of the 2018 Off-Centered Art Series, Punkin Ale's new design brings to life Spusta's distinct, illustrative style while holding true to our playful, off-centered nature.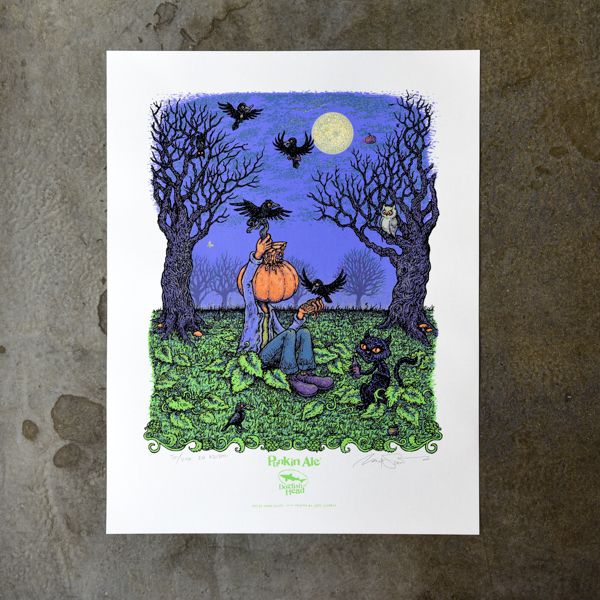 *Spusta prints will go on sale Friday, Sept. 7 at 1 p.m. EST
We're eager for the release this season's Punkin swag, so to hold us over while we're waiting, we'll just be over here enjoying a fresh Punkin Ale. Cheers!