New tour offerings in Milton!
Friday, May 25, 2018
---
There's nothing we love more than showing folks around our off-centered world, so we're quite delighted to announce that we've got even more tour offerings here in Milton, giving our visitors a more in-depth look at what we've got going on here at Dogfish Head!
With everything from our ever-popular Grain to Glass Experience to our newly created Randall Jr. Tour, we've got a little something for everyone. So let's dive right in and get to planning your next visit!
Experience Goodness from Grain to Glass
Experience all the awesomeness that is Dogfish Head, and the goodness that goes into each of our beers and spirits! A tour of delicious adventure, meander through normally off-limit parts of the brewery to gain a richer understanding of our brewing and distilling process, and indulge in a beer and/or cocktail along the way!
Stops include:
Cold Storage - breathe in the delicious smells in the huge refrigerator that stores all the REAL ingredients that go into our beers (it's cold in there, so it's brief!)

Grain Handling Room - see what sets our grains apart from the rest
200-bbl Brewhouse - see how we convert all that delicious starchy grain into wort

Wood-Aging Room - normally locked, we'll stop in here and learn about fermentation & wood aging beer. Sample the freshest 60 Minute you've ever had and try some wood-aged beer

Distillery - enjoy a keg-conditioned cocktail in our new distillery, get a primer on distillation and learn how we distill our beers into our new lineup of scratch-made spirits

Sam's Stash - sample one of our vintage beers in the cage where Sam stores beers for aging...anywhere from 3-5 years!
Steampunk Treehouse - ever wonder what's in that treehouse? Check it out!
Randall Jr. Tour
Who the heck is Randall Jr.?! A mini version of the original Randall the Enamel Animal - our organoleptic hop transducer module - Randall Jr. is a small, but mighty infuser that gives you power to create your very own off-centered concoctions … and that's precisely what you're going to do on this specialty tour!
When you join us for our Randall Jr. tour, we're going to deep-dive into our brewing process, with a strong focus on our commitment to brewing with all-natural ingredients. We'll start your adventure in our Tasting Room, where you'll have the chance to build your own Randall Jr. creation. Choose from a plethora of fresh ingredients, as well as your beer of choice. Once you're done building your flavor infused beer, we'll set out to explore the brewery!
Your tour will consist of the following stops:
Cold Storage - Essentially a ginormous refrigerator, breathe in the delicious smells of all the REAL ingredients featured in our beers. It's a bit chilly in there, so we'll be brief!
200-bbl Brewhouse - This is where the magic happens! See how we convert all that starchy grain goodness into worth, and learn about our ingredient pots and the important role they play in adding those off-centered flavors you've come to know and love!
Steampunk Treehouse* - Ever wonder what's in that treehouse? Wonder no more! A perfect perch that allows us to reflect on where we've been and dream about where we're going, this is your chance for a peek inside! *Subject to change without notice based on weather conditions.
Once we're done with the tour, it's back to the Tasting Room to taste your creation and share amongst your group! The Randall Jr. will be yours to take home so you can keep those creative juices … er, beers flowing!
Dogfish Head Distilling Co. Tour
Did you know we make spirits here at Dogfish Head? Everything from vodka, gin, whiskey and rum! Come explore goodness and learn how we make our 100% scratch-made spirits with a behind-the-scenes tour of Dogfish Head Distilling Co.!
This hour-long tour will reveal how each of our spirits start in the brewhouse, alongside our off-centered ales, then work their way over to the distillery where we turn them into finished spirits! We'll also explore how we use that same process to produce some of our brandies and limited edition, bottled cocktails!
With your tour, you'll have the chance to taste select samples from our spirits portfolio, as well as a seasonal keg-conditioned cocktail, and an offering from our 7-barrel R&D system.
In addition to your tour and tasting, you'll walk away in good spirits with a Dogfish Head logo tasting glass!
All-INNclusive Tour
Staying in Lewes? We've got the tour for you! Just meet us at the Dogfish Inn (located in downtown Lewes) and let us do the driving as you dive into the Dogfish Head experience! Destinations include our Milton brewery, Dogfish Head Brewings & Eats in downtown Rehoboth, and the Dogfish Inn!
It all starts with a 9:30 a.m. departure from the inn. You'll arrive at the brewery at 10 a.m. for a private, behind-the-scenes tour of our production brewery - home to our 200-barrel Brewhouse, wood-aging room and state-of-the-art bottling line!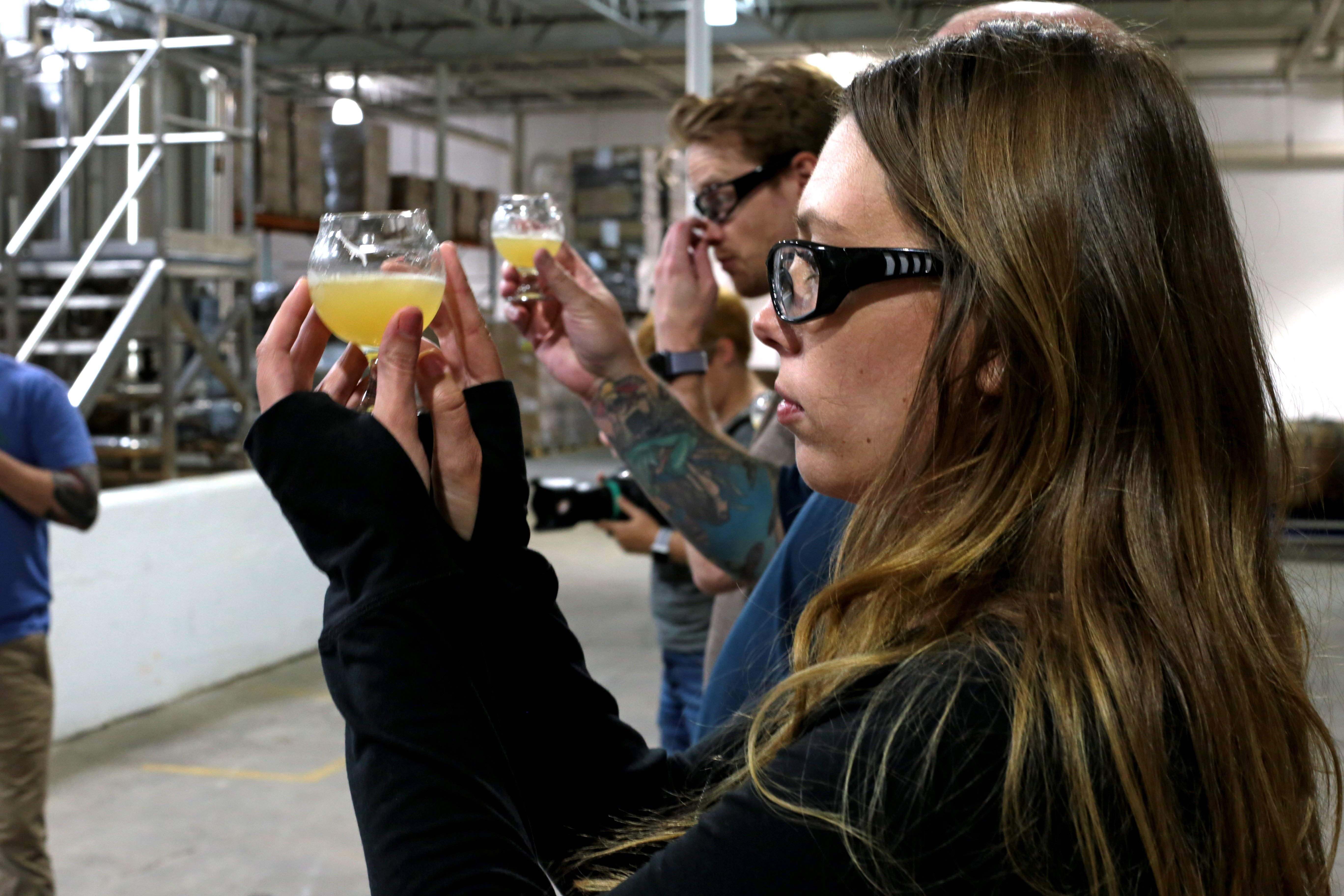 After a VIP tasting, you'll head to the soul of our company - Dogfish Head Brewings & Eats. This is where it all began back in 1995! As a participant of the All-INNclusive package, you're guaranteed seating for lunch. Yep, no waiting for a table this time!
Post-lunch, we'll get you back to the inn around 3:30 to give you a little time to rest, recharge and start planning dinner!
Available Thursday & Saturday, DO NOT need to be staying at the Dogfish Inn to book.
Please call us at (302) 644-8292 to reserve your spot!
Off-Centered Tour
You've tasted the beers and now you want to see how and where all the magic happens! Join us for our daily tour as we show you around our off-centered world. An hour-long tour, we'll dive into what makes Dogfish, Dogfish with stops at our our 200-barrel brewhouse, Off-Centered Center where you'll get a peek at where we keg, can and bottle our beer, and we'll even stop by our new R&D system where you'll have a chance to sample one our experimental brews. Then we'll finish things off with a sampling in our Tasting Room - four free samples and you get to pick 'em all!
Quick Sip Tour
Because sometimes you just need an abbreviated peek into our off-centered world! Our Quick Sip Tour is our daily FREE tour and shortened to just 25-minutes. We'll show you around our 200-bbl brewhouse, and wrap things up in the Tasting Room with 4 free samples (you pick two, we pick two)!
No tickets necessary - just come on by!
Private Off-Centered Tour
Looking to book something for just you and your friends and / or family? We've got you covered! We'll take your group through our Off-Centered Tour with stops at our 200-bbl Brewhouse, Off-Centered Center and R&D system, as well as four free samples back in the Tasting Room.
Drop us a line at info@dogfish.com so we can get you set up with tickets!
For the complete run-down of all-things tours, click here to follow us on over to our Tour Page for safety information, accessibility and the full nitty gritty!