Lemon Quest is our first-ever non-alcoholic wheat brew!
Thursday, April 15, 2021
---
Born at the crossroad of exploration and goodness, Lemon Quest is an off-centered alternative that brings all the flavor you've come to know and love from Dogfish Head … with none of the alcohol. That's right, our latest journey has crafted a non-alcoholic brew that calls to beer lovers and adventure seekers alike!
Brewed with real lemon puree, blueberry juice, acai berries, monk fruit, sea salt and special, Hopsteiner Polyphenol-Rich Hop Pellets™, Lemon Quest is a super-refreshing, active lifestyle-oriented, non-alcoholic wheat beer that clocks in with just 90 calories per 12 oz. can*. Bursting with invigorating flavors of bright-citrusy lemon, slightly sweet berries and just a bit of salt, Lemon Quest is the perfect pairing for your next adventure. So, grab your backpack, ice up the cooler and say it with us … Mother Nature, Let's Do This!
Developed in partnership with The Nature Conservancy (TNC), the world's leading environmental nonprofit, 'Mother Nature, Let's Do This!' is a yearlong initiative that challenges everyone to get outside and enjoy the splendor of the great outdoors. Whether it's a trail ride, a biking trip, a camping trip … whatever you love to do outside, embrace it. Find solace in nature and welcome the experiences you can only find by getting out.
"Because of its wholesome, all-natural ingredients and its connection to TNC, we've lovingly nicknamed Lemon Quest, 'the brew that gives back,'" says Dogfish Head founder & brewer Sam Calagione. "As a proud supporter of TNC, Dogfish Head will showcase the organization's logo on every package of Lemon Quest and will contribute more than $50K to TNC to celebrate our new product launch and the awesome collaborative work we've been doing to bring our 'Mother Nature, Let's Do This!' program to life"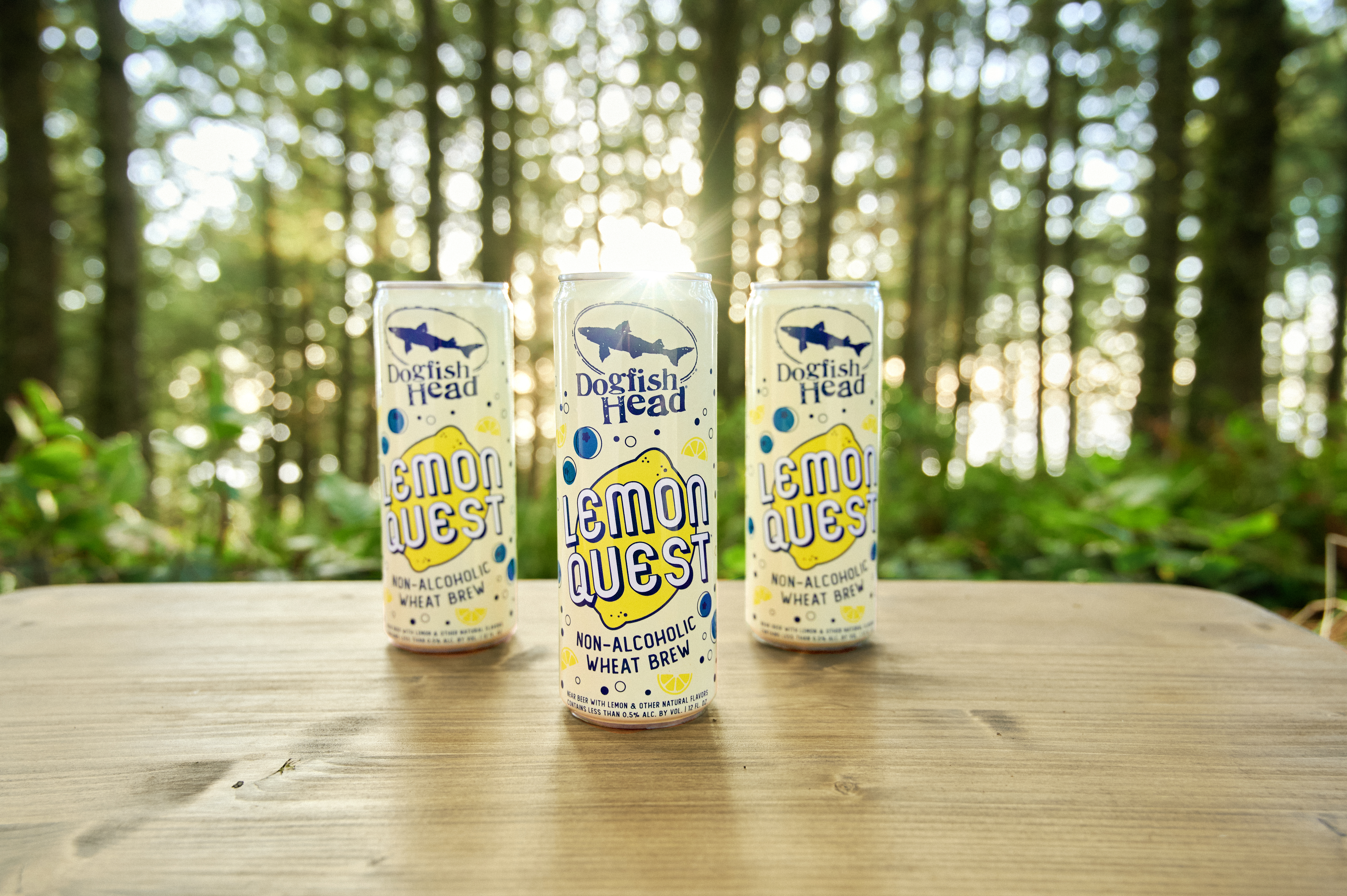 Our relationship with TNC began in 2007. Since then, we've worked hand-in-hand to raise funds for the conservation of TNC's preserved lands in Delaware, and to date, Dogfish has contributed more than $1MM to support TNC's Delaware Chapter. At the start of the year, we took our partnership to exhilarating new heights with the introduction of its national "Mother Nature, Let's Do This!" initiative. Each quarter, the program highlights different outdoor activities, from trail running to biking to paddling and everything in between. For participating drinkers, we've released an array of active lifestyle-themed, embroidered patches for them to "earn" and display on a special, TNC X Patagonia-branded beanie.
"For us, the work we are doing in concert with TNC is at the heart of Dogfish Head's brand mission. Without the bounty of Mother Nature, the source of our creative, all-natural brewing ingredients, our beers would not exist. It's not only where our off-centered ingredients are grown and where our co-workers go to play and seek creative inspiration," says Sam. "So, while our official 'Mother Nature, Let's Do This!' program is new this year, we've been living by this mantra since our inception in 1995 and will continue to do so wherever our adventure takes us … and for the next couple of months, that adventure is taking me and my wife, Mariah, on an eco-friendly road trip from Miami to Maine, so we can learn about all TNC's East coast initiatives."
"Every day, TNC works to solve the biggest challenges facing our planet from tackling climate change to conserving the lands and waters on which all life depends," says TNC's chief conservation officer, David Banks. "But, we can't do it alone. We rely on our network of partners around the world to identify, implement, and scale the innovative, ground-breaking solutions needed to make change. For years, we've worked with Dogfish Head to help advance our mission in the Mid-Atlantic. The 'Mother Nature, Let's Do This!' program is another way for us to connect with people across the country to raise awareness around these critically important issues for the benefit of people and nature."
Lemon Quest will be available nationwide beginning early May and releasing on Earth Day (Apr. 22) at our coastal Delaware properties … are you ready to do this?
To learn more about Mother Nature, Let's Do This, check out dogfish.com/mothernature.
*90 calories, 20g carbs, 6 g sugar, and 0g fat per 12 oz. serving.
Dogfish Head has contributed a minimum of $52,500 to The Nature Conservancy (TNC) for the "Mother Nature Let's Do This" promotion occurring between Jan. 1, 2021 and Dec. 31, 2021. The purchase of Lemon Quest will not result in a contribution to TNC. The mission of TNC is to conserve the lands and waters on which all life depends. More information about TNC is available by mail at 4245 N. Fairfax Drive, Arlington, Virginia 22203, by phone at (800) 628-6860 or at www.nature.org.